Online marketplaces, those giant shopping sites like eBay and Amazon Marketplace, can be a mixed blessing for brands and merchants.
Marketplaces offer retailers broad exposure to millions of consumers, as well as delivery, payment and other solutions. Still, most marketplaces leave merchants wanting in one very important aspect: brand control. While the platforms provide virtual shelf space for listing products, merchants are generally limited to one-size-fits-all templates for their online storefronts—thusrestricting their ability to set themselves apart from rivals with brand-building presentations and content.
Not all marketplaces are created equal, however. In China, where marketplaces are overwhelmingly favored by online shoppers, e-commerce leader Alibaba Group has been returning branding power to merchants through the company's Tmall.com B2C marketplace.
Tmall, which positions itself as China's top online destination for domestic and foreign branded merchandise, has developed a suite of tools that allows merchants to customize their Tmall.com storefronts with the logos, fonts and colors for which they're known the world over, as well as with videos, interactive features and other content. Moreover, merchants can combine these tools with Alibaba's trove of data on shopping behavior to tailor their storefronts to individual consumers visiting their e-shops at any given moment.
This approach gives merchants far more than a place on the internet to listand sellproducts. It offers them theability to present their brands as effectively asthey do on their company-run websites, boosting their opportunity toreach consumers among Alibaba's 400-million-plus active buyers and build lasting customer relationships.Merchants "have total control," said Paul Fu, the San Mateo, California-based head of Alibaba's International User Experience Design team.
This is a significantdeparture from the "one webpage to serve them all" marketplace model. Tmall offers as many as 55,000 different storefront templates across about 30 different business sectors for merchants to choose from. Another 3,000 templates exist for product pages, and there are a thousand designs for marketing material such as e-mails and SMS alerts, according to Fu. If these packaged solutions don't satisfy certain merchants, they can design their own right down to the page breaks and <p> tags, and then upload the code to Tmall.
Major international brands have used this enhanced flexibility to build unique and engaging Tmall storefronts. For example, GoPro, the U.S.-based maker of wearable video cameras, produced a series of videos that appear on its storefront showing GoPro cameras being used in extreme situations, such as geologists staring into the mouth of a volcano or snowboarders doing double backflips as they race down a mountain.
The Tmall storefronts of other household names such as Starbucks, L'Oreal, Maserati and Zara also offer fully branded experiences that mirror the look and feel of their corporate e-commerce sites, including multipage navigation according to product category and even full brand histories. Still others take the experience a step further in an attempt to boost the time consumers spend on their pages. Case in point: L'Oreal in the past has given consumers easy-to-follow guides and tips for using its beauty products.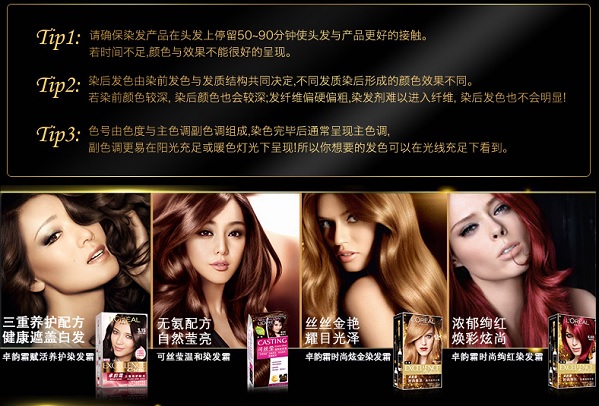 Fu says that Tmall storefronts are based on so-called "responsive" design, which means they look as good on mobile devices as they do on the web. But customization options for Tmall storefronts go even deeper.
Using consumer data collected by Tmall, merchants can present not just personalized product recommendations based on shopping history to storefront visitors, they can also offer different homepages tailored to particular types of shoppers. For example, German personal-care brand Nivea displays three different storefronts on Tmall depending on whether a shopper is a first-time visitor, new buyer or loyal fan. First-time visitors are shown low-cost products that may tempt them to experiment with the brand. Fans, meanwhile, see sets of higher-value products bundled together as a way to boost their total purchase.
By making it possible for merchants to tag and manage their customers by attributes and personalize storefronts for each visitor, individual customers are exposed to highly relevant content, which drives higher conversion rates.Fu said after Niveaimplemented personalized storefronts,"the data showed that the browsing conversion rate was improved by 70 percent and transactions increased by 150 percent—more than double the previous number of purchases," he said. Browsing conversion is the rate at which shoppers click through to find out more about a product.
Fu says Alibaba analyzes buyers based on five different behaviors: attention, interest, decision, action and sharing, all of which are part of the Tmall shopping cycle. A certain product may draw the attention of a shopper, which prompts him or her to click through to the seller's store where they can learn more about the item. Then they decide whether or not to bookmark it or add it to their shopping cart; a purchase constitutes action. Sharing comes after, once a consumer tells a friend about their purchase or leaves a review on a merchant's Tmall store.
"We provide this capability for the seller to do these kinds of very sophisticated analyses," Fu said. "Later, because we opened up this technology and data [to merchants], the seller can come up with their own model to do the analysis."
Still more tools are to come. Merchants currently log into a content-management system of sorts that lets them set up and manage their storefronts, including text, photos and slide show placement. They can also choose the products they want displayed as recommendations when a shopper is viewing, say, hand cream or razors or a sweater. Up next is a tool that will allow merchants to create banner advertisements on the fly, rather than turning to a designer to handle what is often a time-consuming task. That's expected this quarter.
Tmall also helps merchants synch their online stores with their bricks-and-mortar outlets. Fu said the goal is to make sure all points of sale are linked up, including mobile, desktop and offline. One key advantage for merchants to this so-called "omnichannel" approach is the ability to manage inventory across physical and virtual sales channels. Another is the ability to know a buyer's location so that the nearest warehouse is used for shipping, which speeds up delivery.
"All areas of the ecosystem are working together for merchants," Fu said. "Before they had to figure this out on their own. But now we've come up with a system, and built the right tools to help them."