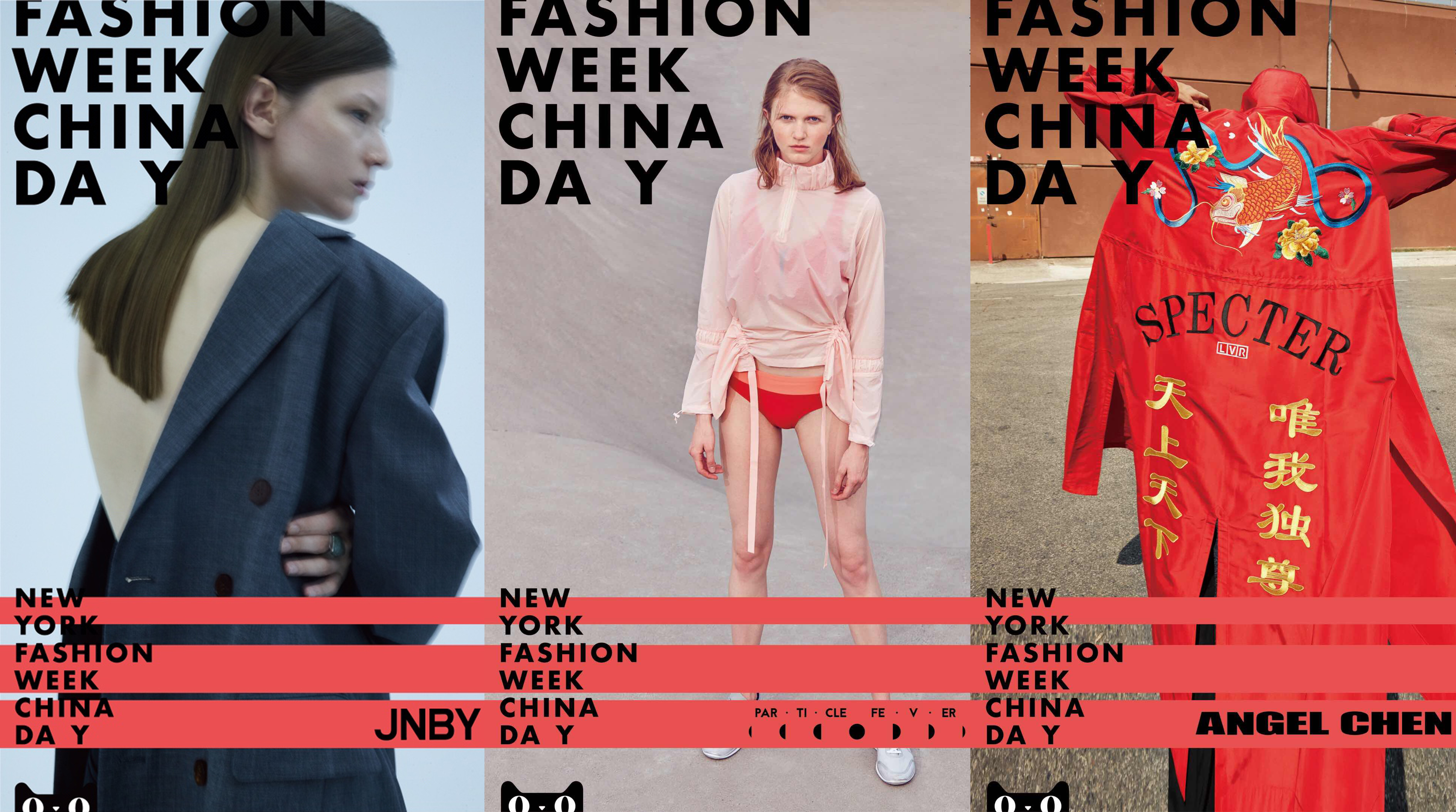 Tmall unveiled this year's line-up of Chinese fashion brands that will hit the runway during the upcoming New York Fashion Week, slated for Sept. 6-12.
After rigorous rounds of screening, the Alibaba Group-owned B2C marketplace has selected three brands to debut their spring-summer 2019 collections at a special China Day event on Sept. 10, including independent sportswear label Particle Fever, Hangzhou-based original designer brand JNBY and indie designer Angel Chen's namesake label. The designers will showcase their products in a "See Now, Buy Now" format, allowing Tmall consumers to purchase select items from their latest collections as they watch the fashion show on the Mobile Taobao app or Youku, Alibaba's video-streaming hub.
This will be the second NYFW season during which Tmall is showcasing local designers under the "Tmall China Day" banner. The show is part of Tmall's efforts to cultivate homegrown fashion talent and the growing creative culture in China, creating a new meaning for the term "Made in China" and promoting the trend of "Designed in China." The initiative aims to help Chinese brands expand globally, through designer-buyer matchmaking, e-commerce collaborations and showcases at fashion week events.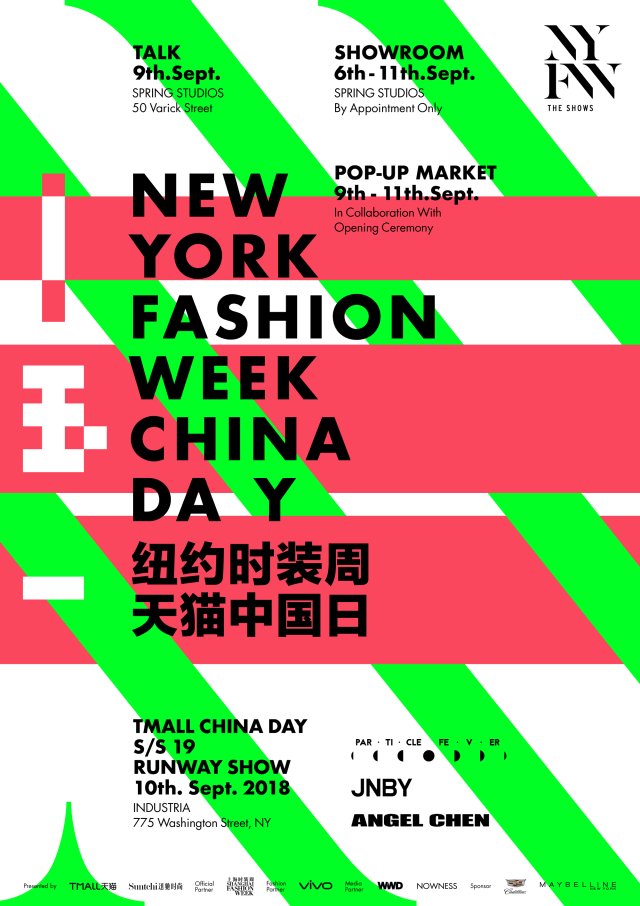 "As China's premier online shopping destination, Tmall is where China's consumers go to discover the newest fashions and latest designs, and how brands engage with Chinese consumers," said Jessica Liu, president of Tmall Fashion. "China Day is an opportunity for us to enable some of China's best, up-and-coming designers and established brands to showcase their collections on a global stage.We are proud to be a part of these designers' success in China, and believe in their ability to have even broader appeal and influence."
Shenzhen native Angel Chen said, through the event, she hopes her bold, free-spirited designs would resonate in the U.S. market, as well as receive fresh feedback and opportunities to connect with industry professionals.
"Thanks to advanced technology and online resources provided by Tmall China Day, we'll incorporate high-tech and interactive elements into our showcase, including live-streaming and virtual reality technologies, as well as features that allow consumers to instantly buy our garments as they watch the show," said Chen.
Recently, her team has been planning ahead for the "See Now, Buy Now" show to allow time for creation and production. "We need to estimate the expected volume of orders and production time, to respond and distribute quickly enough to customers on Tmall," she added.
The last batch of China Day designers, who participated in the February menswear show, have reported sales gains following the event, said Tmall. Individual designer Chen Peng said it has doubled its global retail channels to 80 outlets, among which North American retailers have increased by more than 50%. Fashion brand Peace Bird and streetwear label CLOT, founded by Hong Kong entrepreneur Kevin Poon and actor-musician Edison Chen, both said their runway presentation prompted various collaboration invitations from domestic and international fashion circles. Chinese sportswear giant Li Ning saw its stock soar by 50% in a single month.
As part of this season's Tmall China Day, Tmall will hold a panel on the globalization of Chinese design at Spring Studios on Sept. 9, featuring China and U.S.-based fashion designers, entrepreneurs and industry insiders.
Also new this season is its millennial-minded China Day pop-up market which will exhibit installations featuring iconic and popular Chinese brands—such as traditional medicine makerYunnan Baiyaoand the revived century-old beauty brandShanghai Vive—Sept. 9-10 at the fashion label Opening Ceremony's New York flagship. The pop-up market is also part of Tmall's effort to showcase "China cool", a phenomenon of Chinese brands gaining popularity with millennials who want authentic and hip design that integrates Chinese cultural elements.
"'China cool; is a celebration of the shift China is making from a manufacturing powerhouse, to a design and creativity powerhouse. We are paying very close attention to, and incubating, these up-and-coming 'China cool' brands because we believe they are on the leading edge of what Chinese consumers, and increasingly global consumers, will want in the near future," said Bo Liu, president of Tmall Marketing & Operations.