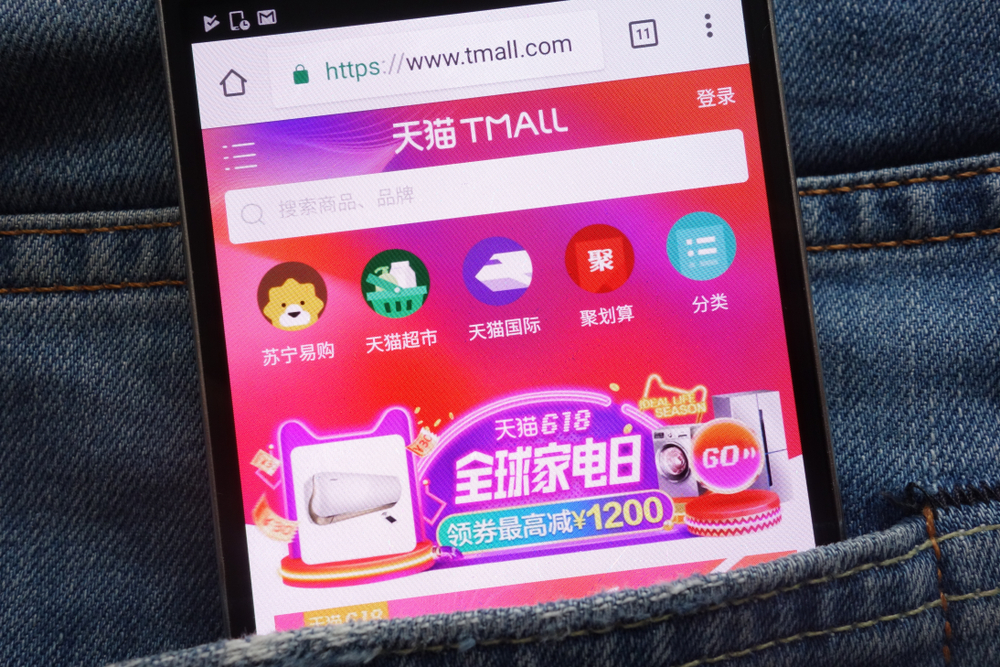 Updated Nov. 3, 2020
Partnerships with third-party platforms in China are having a positive impact on business, international brands have been saying as they reported earnings in recent quarters.
One example to show confidence in such partnerships was Starbucks, which continued to highlight the rapid expansion of its China business through digital partnerships with Alibaba in its earnings call in January. During the company's Investor Day last December, it announced a new virtual store that lets customers order their favorite Starbucks coffee and pastries across multiple Alibaba Group mobile apps. The move was one way to position the global coffee chain to take advantage of what's expected to be a 45% increase in China's total coffee market by 2022, Starbucks said.
The China market as a whole continues to entice brands looking for growth, especially given that China is already the biggest retail market in the world and will soon be the biggest market for a number of key sectors, such as beauty and fashion. Still, the most notable long-term opportunity for many international brands is the growth of e-commerce in the country, as China's online retail market will be more than double the size of the U.S. market in just another three years.
Perhaps it's no surprise, then, that many companies have singled out Tmall during their latest earnings reports, saying their partnerships with the country's largest B2C marketplace were helping them not only sell products, but build their brands as well.
We are tracking a few of those brands and the comments they made during their earnings calls below. Going forward, we will update this tracker quarterly with new mentions.
Company
Comments on Alibaba Partnership
Abercrombie & Fitch
"[We are] building a better strategy for Tmall versus what we had in the past. So we think it's a huge long-term opportunity for the company. We've had nice growth to this point but looking forward to accelerating that in the future." (March 4, 2020)

"We saw a lot of newness in Q1. A great example of that is a category that I call one-and-done for the Tmall consumer, that's rompers and jumpsuits. We had a very strong response to that." (May 29, 2019)

"We've had success on Tmall, China, where we saw a strong performance on Singles' Day." (March 9, 2019)

"We saw a solid start to the holiday season in November, with strong double-digit growth on Singles Day on Tmall." (November 29, 2018)

Adidas
"We're very clear what we are driving through our own platform…, the only exception is Tmall in China…because we're controlling what we're doing there…[in] full." (August 6, 2017)
Coty
"Our conversations with our leading licenses about launching on Tmall are progressing well, and we are optimistic about the long-term opportunity for our Luxury business with this leading e-retailer." (February 5, 2020)

"…the quality of the work that I'm seeing with digital innovation, with the partnership with Alibaba, with the work that we're doing with Tmall…We already have six brand stores on Tmall and we plan to have more in the next 12 months…" (May 10, 2018)

Canada Goose
"Online, both Mainland China through Tmall and the U.S., led the way, growing significantly relative to last year. That momentum speaks to the incredible digital runway we have in those 2 major markets." (February 7, 2020)

"Tmall app was obviously significant last year." (May 29, 2019)

"As we expected Tmall has proven to be the right way to serve our fans online in Mainland China. On Single's Day, we are one of the top 10 brands in our space, despite offering no promotions and having only been on the platform for just over a month." (February 14, 2019)

"All of our new stores put in a great performance relative to previous openings and Tmall also had a strong start." (February 14, 2019)

Estée Lauder
"Consumer demand has been especially compelling. In fact, for the Perfectionist Serum, its March launch on Alibaba Hey Box was one of Estée Lauder's best ever on the platform. Clinique Even Better Serum is far exceeding expectation in Mainland China and has been highly sought online in the United States. And La Mer launch contributed to significant share gains in luxury on Tmall." (May 1, 2020)

"Our brand expansion strategy on Tmall was a distinct advantage. As an example, following Tom Ford Beauty launch on Tmall in 2019, the brand executed its first Singles Day to tremendous success in both fragrance and makeup. Its performance was twice that of its Tmall launch day, which was our biggest launch ever on the platform." (February 6, 2020)

"Tmall is an exceptional partner, and we are having very good business with them. The strength of Tmall is that we control our business and the ability to deliver the right equity for the brands in the communication." (August 19, 2019)

"Today, it [Tmall] is the world's largest online luxury mall, and we are a top beauty house on the platform. We currently have nine brands live and more to come. Our Tmall business grew over 10x in the past 4 years. In fact, this year we generated $150 million at net in 24 hours on 11/11/2018." (March 6, 2019)

"In China, single-day activations boosted many of our brands on Tmall. Sales on our brand stores on Tmall on that day in November rose nearly 80%." (February 5, 2019)

"We had superb results on Tmall. And with the growing interest in makeup, M·A·C was the #1 prestige makeup brand on Tmall during the entire calendar 2018 and has become #2 in prestige makeup in the total market". (February 5, 2019)

"We continue to expand our brands on third-party platforms. We successfully launched Jo Malone on Tmall in China and five more brands on ASOS in the U.K., a destination that attracts millennials." (October 31, 2018)

"In Asia, our online sales doubled led by Tmall in China. M·A·C's first Super Brand Day on Tmall delivered terrific results. One of M·A·C's most popular products is lipstick, and it sold approximately 180,000 during that brand day. In March, we launched Darphin on Tmall, our eighth brand on the platform with promising initial results." (May 2, 2018)

Guess
"Our e-commerce business can also grow significantly considering that Guess ranked among the top 50 international brands doing business with Alibaba via Tmall on Double 12 last year." (June 6, 2019)

"Our e-commerce business in China, especially with Tmall, continues to gain momentum. This year, Singles Day, or Double 11, and Double 12 was again very strong for Tmall and Alibaba, and even stronger for us. We went up in the rankings of the top 100 international brands for both women's and men's on Double 11 and performed so strongly on Double 12 that we broke into the top 50 brands for women's and men's." (March 20, 2019)

"Our marketplace partnership with Tmall is growing at a rapid pace." (November 21, 2017)

H&M
"…we always do what's best for the company in the long term. So we have certain criteria that we look at for the different brands if we are to go on a marketplace. And right now, for the H&M brand, the only one that we are on is Tmall because it fits those criteria." (February 11, 2019)

"Sales of H&M on Tmall have got off to a very good start, with tens of millions of visitors in the first couple of months contributing to increasing sales in China." (June 28, 2018)

L'Oréal
"E-commerce has reached 16% of L'Oréal Luxe global sales, growing at plus 42% including stunning results on Tmall where Lancôme was the number-one beauty brand at 11.11 Singles' Day." (February 8, 2019)

"For luxury, clearly, one of the growth drivers of our business in China by the way has been e-commerce and our success on Tmall. And by definition Tmall is a fantastic way to reach consumers beyond the cities where we have counters which are mainly for brand like Lancôme … to tier 3 and some tier 4 cities." (February 8, 2019)

"The Division's e-commerce is accelerating, with the successful launch of its Yves Saint Laurent and Giorgio Armani brands on Tmall." (July 26, 2018)

Lululemon
"These results also include the great success of our Super Brand Day event with Tmall in April. The event garnered significant attention from the media and on social channels, and it was a great way for us to connect with both new and existing guests." (June 12, 2019)

"You look at our performance on Tmall being 175% up year-over-year. That's an incredible avenue for us to put eyeballs on the brand." (September 1, 2017)

Marriott
"In the first quarter of 2019, property revenue from our newly designed Alibaba channel more than tripled year-over-year, while the level of new Marriott Bonvoy enrollments in China doubled over the prior year quarter." (May 10, 2019)

"We are impressed by the power of the Alibaba platform. Through a targeted marketing program late last year with Alibaba, we signed up 600,000 new Marriott loyalty members in just eight weeks." (August 7, 2017)

Nestle
"…in China, where we had the 11.11 Singles' Day, where we increased our sales in Tmall by 56%." (May 7, 2019)

"Digital momentum in the quarter was fueled by nike.com and our partnership with Tmall, with both being amplified by a record shattering singles day for the Nike brand." (December 21, 2017)

Nike
"Nike owned stores were up double-digits fueled by key consumer moments like 6/18, where Nike was the number one sports brand on Tmall." (September 22, 2020)

"Singles' Day showed the current strength of our brand and product portfolio with the Chinese consumer. Through Singles' Day, we created demand, generating nearly $0.5 billion in revenue." (December 19, 2019)

"In China, Singles Day once again broke records. Nike earned the #1 Sport Brand on Tmall, with our overall business for the day, up over 40% from last year's Singles Day. " (December 20, 2018)

P&G
"We performed very well in the two major online events in the quarter, which were our 11/11 and 12/12, becoming the number one diaper brand…on Alibaba." (January 23, 2019)
Ralph Lauren
"We drove a successful 618 campaign in Mainland China, including our first brand live stream event on Tmall." (August 4, 2020)

"[In China] we continue to see strong momentum in our distribution with pure play partners including Tmall … during the quarter with very positive brand exposure." (February 5, 2019)

"This growth [in China, via Tmall] was supported by targeted marketing through social media and influencer engagements." (July 29, 2018)

Richemont
"Online retail continued to perform well with double-digit growth. This was aided by the launch of Cartier flagship store on Alibaba's Tmall Luxury Pavilion in the fourth quarter, which had strong initial takeup." (May 15, 2020)
Starbucks
"In China, since we began our China digital partnership with Alibaba two years ago, we've worked together to deliver innovative digital services to our customers and transform the coffee industry in China." (July 28, 2020)

"Our first quarter digital strength in China was further evidenced by record sales on Alibaba's Singles' Day shopping festival, the No. 1 card position on Tmall." (January 28, 2020)

"The benefit from our unique Starbucks virtual store integrated throughout the Alibaba ecosystem is largely still ahead of us as awareness and adoption build." (January 24, 2019)

"The partnership itself encompasses the entire Alibaba ecosystem, including Ele.me, Hema, Tmall, Taobao and Alipay. The partnership itself enables delivery, order fulfillment, membership integration and a new virtual store platform. Together, Starbucks and Alibaba will create a seamless and even more personalized experience offline and online that will completely transform the digital reach for Starbucks in the market." (December 13, 2018)

The Alibaba partnership "would be rocket fuel for our holistic digital flywheel strategy in China." (November 1, 2018)

Skechers USA
"Q4 is largely influenced by Singles' Day. So that's the event we all have to watch. Early indications are good." (October 29, 2020)

"Tmall is a fantastic partner for Skechers. It has been for a very long time." (February 6, 2020)

Tapestry (Coach)
"In China, interestingly, the Coach brand is the #1 ranked brand on the Tmall platform. So we are reaching consumers through that channel, and that's obviously an important channel to reach a number of consumers in that market."
(October 29, 2020)

"Since we began working with Tmall about a year ago, we have experienced tremendous results on their Luxury Pavilion. More recently, we were the first to partner with them on their Luxury Soho platform, focused on the younger, brand-savvy consumer. And we were the #1 handbag brand on the platform in the month of June." (August 13, 2020)

"We launched with Tmall, had a series of soft openings and then grand opening in December. And immediately, we saw that the brand – it became the top handbag brand on Tmall in December and the period leading up to Chinese New Year." (February 6, 2020)

Tiffany & Co.
"To expand with Tiffany's digital presence in China, I'm pleased to say that we will partner with [Tmall's] Luxury Pavilion." (August 28, 2018)
Urban Outfitters
"UO continues to see exceptional growth in China on [the] Tmall Global platform. And this summer, the brand will launch on the larger Tmall Classic platform as well." (March 5, 2019)

"One recent example of this success is the brand's results from Singles Day on Tmall Global. Singles Day is the biggest one-day sales event in the world, and this year, the Urban brand achieved the #1 apparel brand on Tmall Global." (November 19, 2018)
Source: Company Reports