"Adversity is a necessary ingredient in the making of great men and companies," Alibaba founder and Executive Chairman Jack Ma wrote to staff on April 20, 2005. The letter, which for the first time he defined Alibaba's company culture and values, announced the launch of AliDay, an annual celebration of Alibaba employees and their families set on the anniversary of a critical time in Alibaba history. This is how AliDay came to be:
In November 2002, after almost four years as a company, Alibaba was on the verge of turning cash positive. But the spread in China of Severe Acute Respiratory Syndrome, a potentially lethal disease, cast a shadow on what should have been a happy occasion.
Then things got worse. The following May, an employee showed symptoms of SARS after returning from a business trip to the southern city of Guangzhou. As a safety precaution, all 400 staff were sent home to stay in a self-imposed quarantine.
First Uncertainty, then Unity
It couldn't have come at a worse time. Alibaba.com, a B2B marketplace connecting Chinese manufacturers with companies in the West, was going strong. And Taobao, a consumer-facing shopping site, was slated to launch that month. Alibaba couldn't afford to suspend operations.
"When SARS happened, it was a big hit for the company because we didn't know if our business will actually be around tomorrow. There were so many uncertainties," recalled Annie Xu, who joined the company in 2000 and now serves as head of human resources for in North America.
Even Ma later admitted that he was caught off-guard by the outbreak and the need to quarantine employees. "We originally wanted to challenge SARS, but in the end, we were challenged by SARS," he said, speaking in 2005.
The crisis threatened to end the still-young company. Instead, it turned out to be a watershed moment for Alibaba, and one that would come to define its approach to work.
A Family Affair
While the employees did head home to protect themselves and their families, they took their work with them. And their computers and paperwork and phones. For eight days, their homes were the office. Customers never noticed the difference.
WATCH: An Employee of 19 Years Shares What AliDay Means to Her
Family members also pitched in. Some helped answer customer calls, while others cooked meals or watched children so that Alibaba staff could focus on keeping the company afloat.
The employees' mission – "to make it easy to do business anywhere" – became more than just a tagline, and Alibaba became something more than just a company.
Since then, Alibaba has grown to become one of the biggest tech companies in the world, and its marketplaces have nearly 700 million monthly active users.
Alibaba's 'Thanksgiving'
A year later, an employee suggested a day to commemorate the way all Aliren, as Alibaba employees are known, and their families came together during that time. Ma agreed, naming May 10 – the day Taobao launched in 2003, in the midst of the SARS crisis – Ali Day.
"Every 10th of May, we will host a series of activities to acknowledge and inspire the spirit of Alibaba in every Aliren. You will see, hear and feel the corporate values of Alibaba in stories of people around us. You will know how these values have worked miracles in ordinary life," Ma said in the 2005 letter.
Later, Ma would call AliDay Alibaba's Thanksgiving Day.
A Day of Fun and Connection
On AliDay, family and friends are invited to Alibaba's offices around the world to celebrate the spirit that drove 18 founders to build a multibillion-dollar company.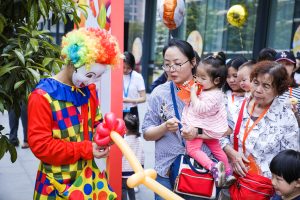 Senior executives hold forums to answer their questions, and they enjoy music and dance performances by Alibaba employees. The indoor basketball court turns into a giant playground for children, while older family members can have their blood pressure or eyesight checked. In 2018, almost 10,000 family members and friends visited the company's Xixi headquarters alone.
The best-known part of AliDay, at least to media, might be the "wedding," though it is only a celebration of employees who have been married over the previous year. Ma often officiates, offering words of wisdom to the new couples.
One Team
After spending 19 years with the company, Xu has witnessed the company's successes and setbacks. What kept the company moving forward, she said, is the sense of solidarity among the employees. The SARS experience, as daunting as it was, was an important catalyst that helped Alibaba become the company it is today, she said.
"Before [SARS], we were an internet company doing great things. But after SARS, we discovered Alibaba has the Aliren spirit. That is, we don't give up. We are one team and our family members are part of the Alibaba ecosystem," Xu said.