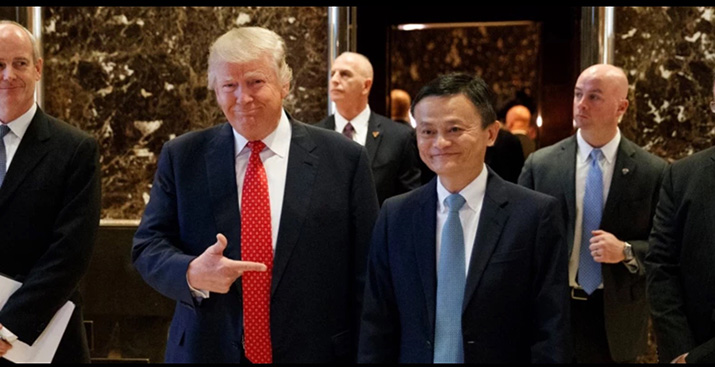 This article was originally published by Forbes.
Two events within a few weeks highlight the highs and lows of China e-commerce giant Alibaba's U.S. connectivity. To be fair, these events also highlight the highs and lows of the United States in its China undertakings. As with many generalizations, there is more than meets the eye. On December 21, the United States Trade Representative put Alibaba Group's giant C2C online shopping website Taobao on its "notorious markets" watchlist of marketplaces that have counterfeits. A painful slam, but less than three weeks later, on January 9, Alibaba Executive Chairman Jack Ma met with President-elect Donald Trump in a meeting brimming with bonhomie. There were smiles all around as Ma stated that U.S. exports to China through the Alibaba e-commerce platforms would support one million new jobs in America and Trump embraced Ma as if he were his long-lost brother.
So which Alibaba is it? Is it a company that supports, or at least tolerates, intellectual piracy, or is it a company that supports exports from the U.S. and the jobs that result? In the same spirit, which U.S. are we seeing? One that is essentially a traffic cop, writing tickets (perhaps unfairly) or one that tries to foster growth and exports?
The short answer is: both. There are piracy challenges at Alibaba and there is all sorts of good news as well. (In my view the good news significantly outweighs the challenges.) And regarding the U.S. Government, there is definitely the need for a policing role in intellectual property and there is the need to focus on growth as well. In my view, the government would be well-advised to put most of its efforts on growth, which by itself can also partially ameliorate the piracy problems.
First, let's look at the bad news, the challenge of intellectual piracy. In fact, counterfeiting is a global plague that affects many of the largest open online marketplaces, not just Chinese sites. Still, China's position as a source of much of the world's counterfeit goods prompts concerns among merchants and manufacturers who worry that entering the China market will expose their products to the threat of copycats. As founder of a company that helps Western retailers sell online to Chinese consumers, I believe merchants who write off China solely due to this concern have it exactly backwards. I have written extensively about this issue over the years and the key lesson is that the most effective tool to combat piracy in China is to have an official e-commerce store in China so that consumers can find the legal products. If you stay out of the market, you are conceding the entire market to the pirates.
In China, growing middle-class affluence means the trend is your friend. Chinese consumers are increasingly sophisticated, intolerant of shoddy merchandise, and interested in trusted, foreign-made goods. The official sites are gaining market share and the grey market/black market sites are losing appeal
Second, the good news, the enormous market potential in China. In its just-released annual report, Tmall Global, the cross-border arm of Alibaba's giant B2C site Tmall, disclosed that the number of international brands selling to Chinese consumers through its platform soared 169 percent last year to 14,500, up from 5,400 at the end of 2015. More than 80% of those international brands, which include well-known names such as Macy's and Target, did not have any presence in China prior to their launch on Tmall Global. (Full disclosure: I work with Tmall Global setting up China online operations for Western brands.)
These brands aren't just playing defense against counterfeiters. China's consumer market likely surpassed the U.S. this year to become the world's largest, representing a tremendous opportunity for retailers willing to invest time and capital in cultivating a customer base there. The country's middle class is 300 million strong, almost the size of the total U.S. population, and selling directly online is the most efficient way to reach them.
Moreover, China's online shoppers are young, tech-savvy and increasingly interested in foreign products because they believe they offer greater safety and higher quality than domestic goods. It's not surprising that beauty products, mostly coming from Japan and Korea, were the most popular product categories on Tmall Global last year. U.S. brands ranked No. 2 (behind Japan) thanks to demand for health foods and supplements, baby products and formula.
Demand for other foreign goods is growing as well. Tmall Global now sports 3,700 product categories, 1,700 of which were added in 2016. But here's the headline number: Market research firm eMarketer predicts that China's cross-border e-commerce sales will reach $150 billion by 2020, up from $85 billion this year. The most direct way to tap this growth opportunity is to open an e-commerce store on one of the big China marketplaces.
In pointing out these advantages and the sheer scale of the China market, I'm not downplaying the headaches caused by counterfeiters. Alibaba has been making progress in reducing the number of bad listings and bad actors on Taobao as well as in the development of technological tools such as image recognition to help spot potentially infringing listings, but the company acknowledges there is much more work to do.
Still, brands contemplating China should not give undue weight to the threat posed by counterfeiting. Finding the right balance between risk and reward is always tricky, but in China, the potential rewards for U.S. brands are increasingly compelling.
The future of Alibaba in America? Pretty darn bright.
Frank Lavin is the CEO of Export Now, the leading operator of China e-commerce stores for international brands. He previously worked on China issues in government, finance, and communications.