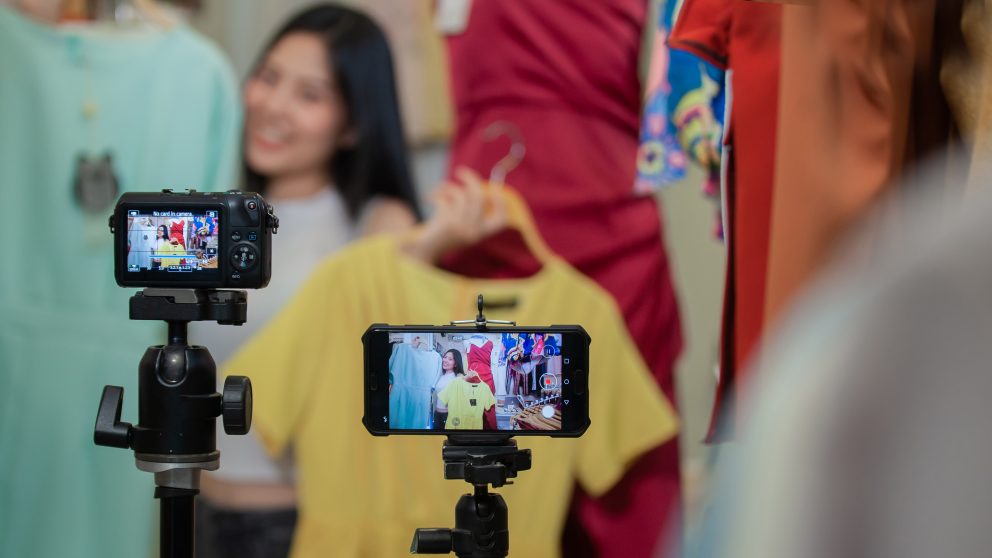 The coronavirus pandemic is transforming the way consumers shop, the products they buy and what they can afford, upending the world of marketing and advertising.
In a state of flux, retailers are turning to their marketing teams to help them talk to consumers and adapt their messaging as economies slowly recover, Alibaba Group's Chief Marketing Officer (CMO) Chris Tung said on Friday.
Tung was participating remotely in the annual Viva Technology conference, one of the largest start-up and technology events in Europe.
"I see the role of CMO being more important than ever in driving growth and helping the rest of the organization adapt to a new world," Tung told a live audience in Paris and virtual viewers worldwide, many of whom were marketing professionals.
Tung called out two major trends that marketing teams should prioritize over the coming years: the integration of offline and online retail as well as how product innovation is changing in a more digital world.
"The marketing organization is best suited to adapt to a digitized world, and has the ability to understand consumers and what they want more deeply than anyone else," said Tung, who acts as sort of CMO for CMOs among the more than 250,000 brands who sell on Alibaba's platforms, including its China commerce marketplaces, Taobao and Tmall.
Tung joined Alibaba as CMO in 2016, before that he held executive positions at blue-chip companies PepsiCo China, Proctor & Gamble and L'Oréal. He has managed four of the top 100 most valuable global brands.
The integration of the offline and the online retail environment is gathering momentum in China.
"It's now moving at warp speed," Tung said, adding that the lines between offline and offline retail are blurring and will soon be erased in China. Marketing teams should consider how the consumers' experience in a store relates to e-commerce, and strive to make them complementary.
Alibaba's department store chain Intime has more than 100 locations across China. In most cases, department stores were hit very hard by the pandemic because they rely on foot traffic. However, because Alibaba had digitized Intime's inventory, the firm could quickly adapt to changed circumstances.
Sales associates became full-time livestreamers during lockdowns and floor managers took responsibility for scheduling the events.
The predictive models that marketers used before the pandemic are now largely redundant, and organizations are looking for fresh insights into fast-changing consumer behavior.
"I see the role of CMO being more important than ever in driving growth and helping the rest of the organization adapt to a new world"

Alibaba CMO, Chris Tung
Data insights
Alibaba's nearly 900 million consumers on its platform generate a tremendous amount of insights into what Chinese consumers want. The group partners with brands to co-create products specifically designed to meet the needs or preferences of Chinese consumers.
The key takeaway for marketers is that the product innovation process should be more informed by real-time data and analytics, while time-to-market should be shorter.
"Speed and intelligence are everything," said Tung, who has spearheaded Alibaba's efforts to improve the effectiveness of marketing and advertising by leveraging Alibaba's big data.
Earlier this month, Diane von Furstenberg live-streamed sales of her iconic wrap dresses during China's second-largest shopping festival of the year, 6.18. She is one of a swelling number of designer brands seeking growth in the world's second-largest economy during the coronavirus pandemic.
Hangzhou-headquartered Alibaba hosts more than 200 luxury brands, many of which are livestreaming to the nearly 900 million consumers on its digital shopping platform.
Tung sees China-style online video streaming events gaining traction globally as more brands see the benefits of the digital sales channel. The medium is a powerful tool for marketing teams, offering brands a two-way conversation that can inform inventory management, product selection, pricing and even innovation.
"China experienced many of the same changes in consumer behavior we saw in many parts of the world, but the one that is truly a China phenomenon that has captured the imagination of the retail world, is the rise of livestreaming," said Tung.
As the pandemic spread and lockdowns proliferated, businesses had to pivot online to prop up sales. China was the first to suffer the effects of the pandemic, and the first major economy to start recovering.
Livestreaming was already popular in China before the pandemic but has gathered momentum over the past year. In 2021, e-commerce livestreaming will tally RMB1.9 trillion (US$300 billion), up from RMB451 billion in 2019, according to a 2020 report by consultancy iResearch.
"When the pandemic hit, lifestreaming became a lifeline for all kinds of business," said Tung.
Influencers, also widely known in China as key opinion leaders (KOLs), livestream professionally and number in the thousands. When Kim Kardashian launched her namesake fragrance in China, she partnered with one of China's most popular livestreamers, Viya, and sold her entire stock within minutes.
When the pandemic hit, physical retailers needed a way to stay afloat, so store associates became livestream hosts; farmers used livestreaming to sell their produce directly to consumers; museums like the Louvre and the British Museum used livestreaming to stay relevant among Chinese consumers for when travel opens up again.
"I firmly believe it [livestreaming] will catch on, in some form or other, around the world soon," Alibaba's Tung said.
Luxury looks to China
The pandemic was an especially big challenge for luxury, which has been slower to digitize than other categories. The common belief among luxury brands was that the in-store experience was irreplaceable.
A huge portion of Chinese consumers' luxury purchases occurs when they travel overseas, and their shopping trips have become a mainstay of retailers' earnings. The Chinese consumer will account for 40% of the luxury market by 2025, up from 32% in 2018, forecast consultancy McKinsey in a recent report.
However, when the pandemic hit, tourism ground to a standstill. To circumvent travel restrictions, designers seized on livestreaming digital platforms, which also gave them an opportunity to connect with their consumers in new and more intimate ways.
Cartier, Prada and Marc Jacobs among others joined its platform last year, boosting sales at Alibaba's Luxury Pavilion 160% year on year.
"The pace of change is breath-taking," said Tung.
Sign up for our newsletter to receive the latest Alibaba updates in your inbox every week.