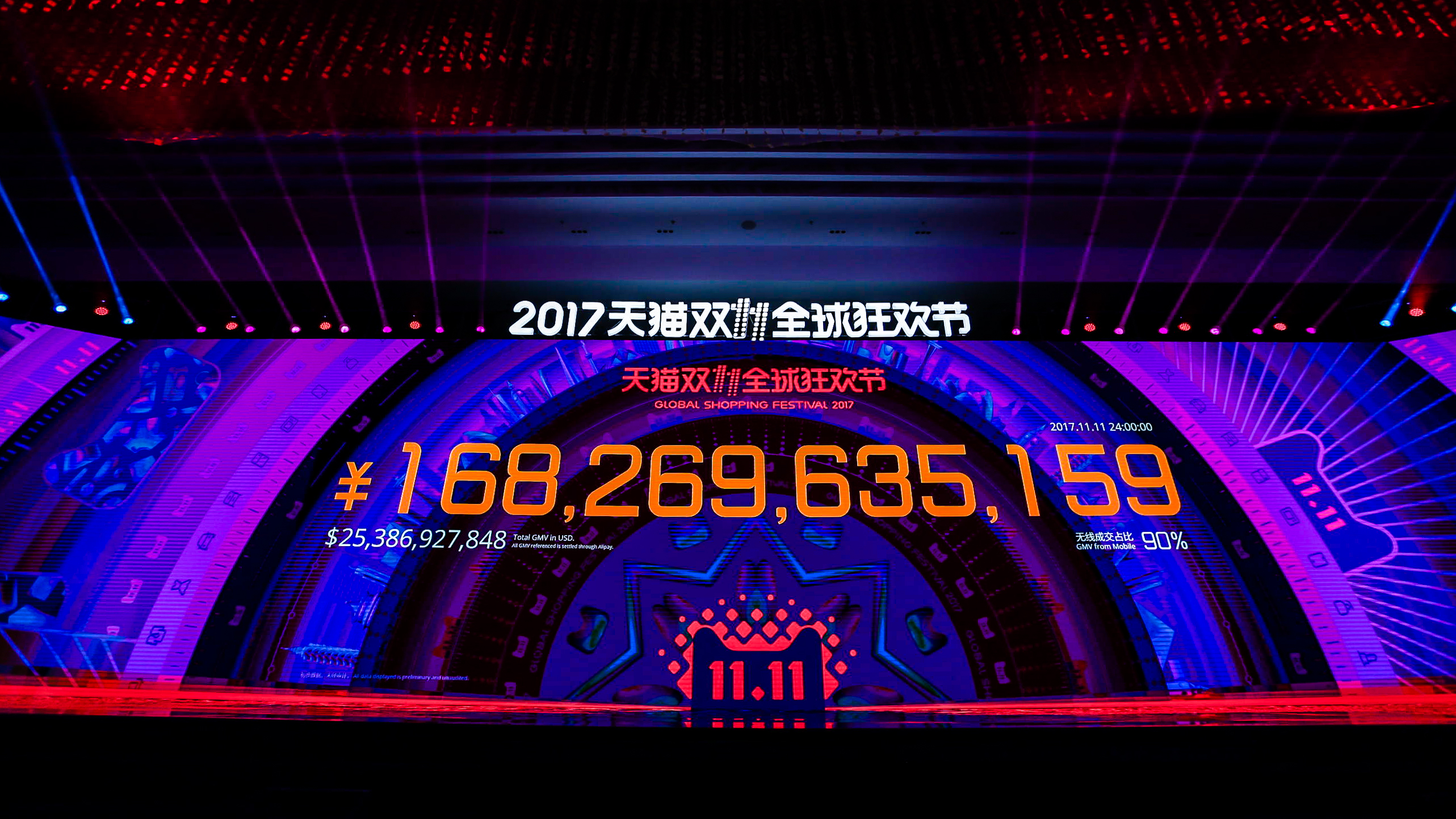 When the gross merchandise volume numbers stopped rolling on the big screen at midnight, the 2017 11.11 Global Shopping Festival easily shattered last year's record.
GMV clocked in at RMB168.3 billion – $25.3 billion – 39% above last year's RMB120.7 billion ($17.8 billion). Records fell fast and frequently in the first few hours, with 2016's GMV eclipsed after just 13 hours and nine minutes into the shopping extravaganza. The number of 11.11 delivery orders was 812 million versus 657 million last year, up 23%. And the percentage of GMV generated by mobile users was 90% – a clear sign that Alibaba has realized the goal it set several years ago to migrate consumers to the platform they hold in their hand.
Alibaba Cloud processed 325,000 orders per second at peak. Alipay processed 1.5 billion payment transactions in total, up 41% from 2016, and processed 256,000 transactions per second at peak
From there, this year's 11.11 was bigger and better than last year's in pretty much every way.
But as Alibaba CEO Daniel Zhang has repeatedly stressed, 11.11 is about much more to the group than GMV and ever-rising numbers.
"I've talked with a lot of brand partners, and all of them recognize the importance of good sales. But more importantly, they know 11.11 isn't just about sales. It's about consumer engagement and brand-building," Zhang said. "Success on 11.11 comes because every participant contributes the best resources, the best products and the best services to customers on that day."
From the start of its event promotion three weeks ago, Alibaba looked to elevate this year's 11.11 from a shopping day to a virtual holiday, complete with a motto – "Wishing you a Happy 11.11" – that closely resembles the sort of greetings Chinese all over the world exchange at the Lunar New Year.
This year's 11.11 was also about further validating the New Retail model Alibaba has been rolling out with merchants and brands, helping them introduce technology that seamlessly melds their online and offline operations and consumer experiences.
Watch: How New Retail is Changing Everything
Over 140,000 brands and merchants, 60,000 of which were international, took part in Tmall's shopping extravaganza, offering 15 million product listings to consumers. And more brands than ever stepped up digital efforts to increase customer engagement. Some, including Pizza Hut, took part in the Catch the Cat augmented-reality game, which entertained customers and offered them discount coupons for items purchased during 11.11. Others, like Nike, took part in an interactive trivia gamethat Alibaba launched on its Tmall and Taobao apps.
Via pop-up smart stores and in-store technology, Alibaba and brands helped drive online traffic to brick-and-mortar stores, further erasing the boundaries between the two. Maybelline featured technology that allowed customers to try on lipstick virtually, and a denim pop-up smart store let customers use a virtual fitting room to see how they'd look in the item they selected and made ordering easier. w
Watch: A Look Inside a Tmall Pop-up Smart Store
The efforts are working. Alibaba said 167 merchants each generated over RMB100 million (US$15.1 million) in sales, 17 merchants surpassed RMB500 million (US$75.4 million) and 6 merchants surpassed RMB1 billion (US$150.9 million).
"Inspired organizations tap into the consumer insight," said Bill Partyka, president and CEO of Gerber Products Co. "And what started as a one-dimensional relationship with the consumer via e-commerce, now, they are expecting an omnichannel experience. So, the convergence of offline to online, to me, that's the natural progression that's going to take place."
Watch: Tmall Reinvents the Fitting Room
Alibaba again held a "See Now, Buy Now" fashion show, broadcasting over seven platforms and offering viewers on each an innovative way to place an immediate pre-order for items they saw on the runway. Dozens of the world's premium and luxury brands, including Rimowa and Estee Lauder, participated, while Robert Geller and Jason Wu brought New York Fashion Week spirit to China in their debut show. Brands offered promotions, special or limited editions and exclusive new products to viewers during the interactive event.
Watch: Customers Embrace 'See Now, Buy Now' Fashion Show
And for the second year in a row, Alibaba offered its most-loyal customers and viewers a gala that featured international and Chinese stars, such as Pharrell Williams, Jessie J and Zhang Ziyi. The variety show production included other entertaining acts and giveaways of "red envelopes."
While still a relatively small part of 11.11, Alibaba's expansion of efforts to bring more stores and retail consumers online – even down to the "mom-and-pop" convenience store and the village level – means a broadening of its reach across China and its consumer base. That kind of diversity and spread in consumers and merchants is healthy for nearly any business.
Watch: Mom-and-Pop Stores Get a High-Tech Makeover
"In order for businesses to grow, they must begin to engage and sell to new consumers," said Tom Birtwhistle, a director at PWC's digital strategy practice. That means a growing focus on China's tier-two and tier-three cities and rural areas, as growth in spending among top-tier city-dwellers begins to slow.
Even as Alibaba emphasizes the importance of New Retail and inclusion, 11.11 has not strayed far from its origins nine years ago. It's an event about brands and for brands that are trying to engage existing customers and find new ones. Brands have said they like the data they get from Alibaba, and the size and scale of the customer information they get from 11.11 alone tells them a lot about who those consumers are and what they want.
Ultimately, the future of 11.11 will depend on how brands like it and if it's able to keep generating sales for them and build their customer base. That highlights the importance of GMV quality, which comes generally from having the world's strongest and hottest brands participating in an event.
"Quality is defined by participation. Who's participating? What is the quality of the brands?" said PWC's Birtwhistle. "If they're there, if they want to associate with it, there must be something more to it."