Editor's Note: This story was updated on Nov. 2.
Tmall on Tuesday broadcast a star-studded, interactive fashion show, with models and celebrities showcasing items from over 50 designer brands—available for purchase online, on the spot—as part of Alibaba Group's ramp up to the 11.11 Global Shopping Festival next month.
With "retail as entertainment" the core theme for this year's Double 11, the "See Now Buy Now" fashion show not only let viewers make real-time purchases of any items on the runway from their mobile phones, they were also treated to an onstage line-up of chart-topping Asian artists, including Taiwanese-American pop star Vanness Wu, China's rapping sensation VAVA, and singer Li Yuchun. Chinese actress Fan Bingbing also appeared as an ambassador for luggage brand Rimowa.
Viewers across China tuned into the show over seven online and offline media outlets, including Alibaba's own video platform, Youku, terrestrial Beijing TV, smart TV platform CIBN, social media platform Weibo, news aggregator Toutiao and on the Taobao and Tmall shopping apps. Each format offered its own way for viewers to purchase items they saw on the catwalk in real-time, whether through the apps, links to product pages for Weibo users, or an interactive webpage that brought up product information for TV viewers when they shook their mobile phones.
WATCH: Alibaba merged retail and entertainment at its annual runway extravaganza as a way to boost the bond between brands and consumers.
The orders placed during See Now Buy Now are counted as pre-sales for 11.11, and transactions are completed by shoppers after the clock strikes midnight that evening. This year, the pre-sales from the fashion show more than doubled–118 percent–over last year's figures. The growth speaks to Alibaba's ability to connect apparel brands to consumers by leveraging both its media and e-commerce platforms. Moreover, it underscores that "retail-tainment" is a crucial strategy for international brands seeking to widen their presence and deepen their engagement with consumers in China.
Many brands took advantage of the opportunity to interact with consumers and make a lasting impression through fashion, songs, dance and technology.
Adidas used 3D mapping technology to project images onto models as they cruised the runway, while Tag Hauer dancers wowed the audience in fluorescent, glow-in-the-dark costumes. And Pandora combined its designs with video and light projections to create a unique brand experience for the show.
In its second year, See Now Buy Now has also become a premier ground for brands to debut their latest collections, giving Tmall members exclusive access to the newest trends. China's beloved Hollywood star, Fan Binging, drew a roar from the crowd when she appeared on stage with a limited edition hand-painted Rimowa suitcase by her side. Cosmetic giant Estee Lauder launched a special edition lipstick created by supermodel Kendall Jenner exclusively for Chinese consumers on Tmall.
"The show was excellent. It changed my perception of several brands, such as G-Star, which is a lot trendier than I previously thought," said Dennis Chen, an attendee at the event.
The ability for consumers to make real-time purchases also meant participating merchants—MAC, Burberry, Paul Smith, Levi, Estee Lauder, G-Star, Kappa, Daphne, Furla, Victoria's Secret, to name a few—can receive immediate feedback on customer preference and buying behavior, said Alibaba Chief Marketing Officer Chris Tung.
WATCH: Alibaba CMO Chris Tung says See Now Buy Now boosts the brand experience.
Through Tmall and Alibaba's 500 million-plus mobile users, merchants worldwide can capitalize on the rapidly growing purchasing power of Chinese fashion lovers who are becoming more sophisticated in taste and less patient at waiting for their favorite brands to hit a physical shop.
"The value and reach of a customer-engaging fashion show like See Now Buy Now is far greater for brands than just placing their products at a traditional brick-and-mortar store," Tung said.
Tmall also unveiled a "virtual dressing room" at this year's show, which allowed customers to "try on" clothes by matching their headshots with the outfit of their choice.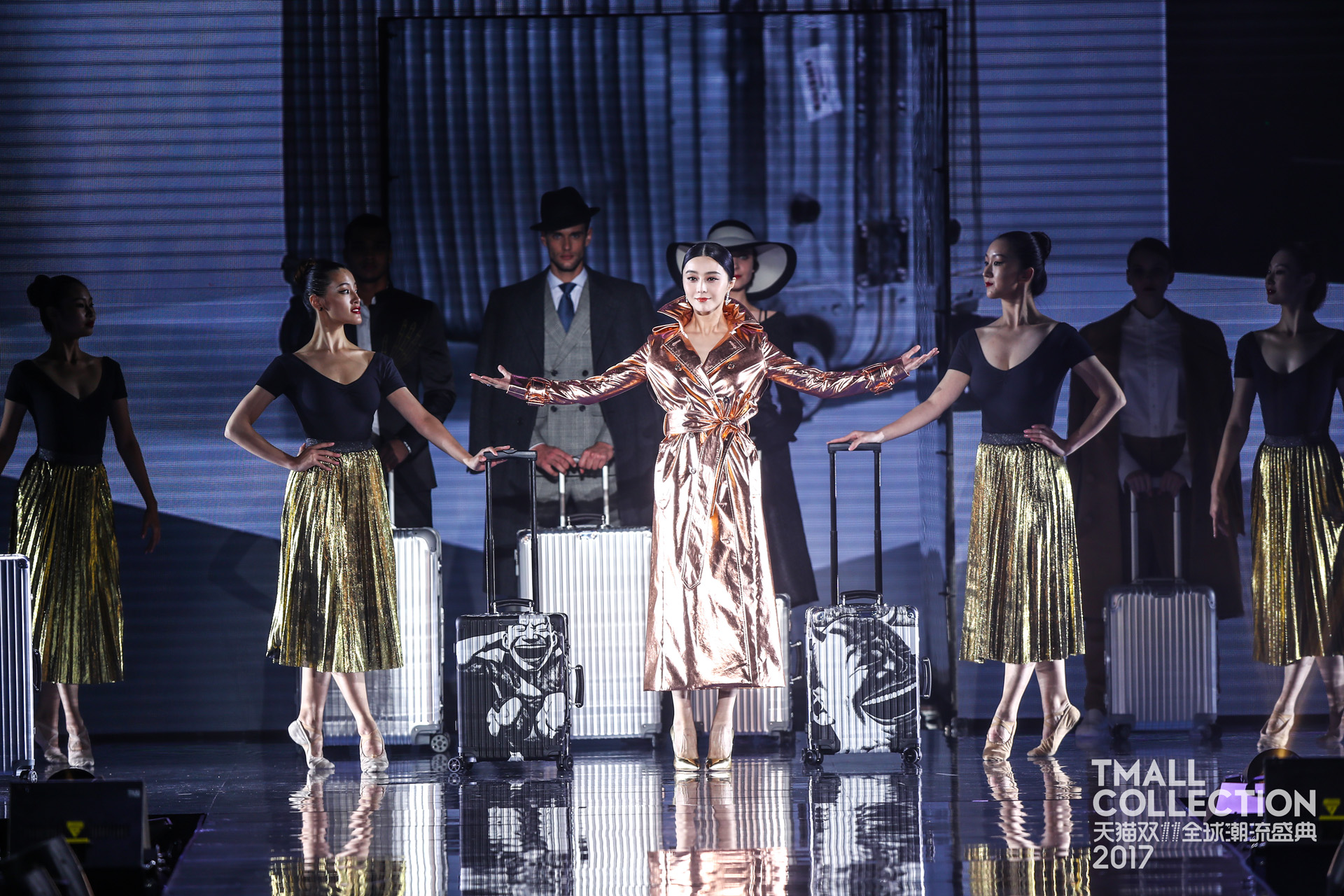 For well-established brands like Gap, which has participated See Now Buy Now and 11.11 for two and five years, respectively, Tmall is an indispensable distribution channel and powerful marketing opportunity to shore up customer loyalty in China, especially ahead of Double 11.
"We are very honored to take part in the global shopping festival again this year. We discovered that [for customers], it is a very unique experience to be able to buy and watch the fashion show at the same time," said Cherry Zhu, Gap's e-Commerce director in China.
For up-and-coming designers like New York-based Robert Geller, who is making a foray into the China market, the Tmall platform offers instant exposure to millions of Chinese customers who otherwise might not have a chance to view his work.
"To be here and to see the potential, for me, is a way to introduce my brand on maybe the best possible platform," said Geller.