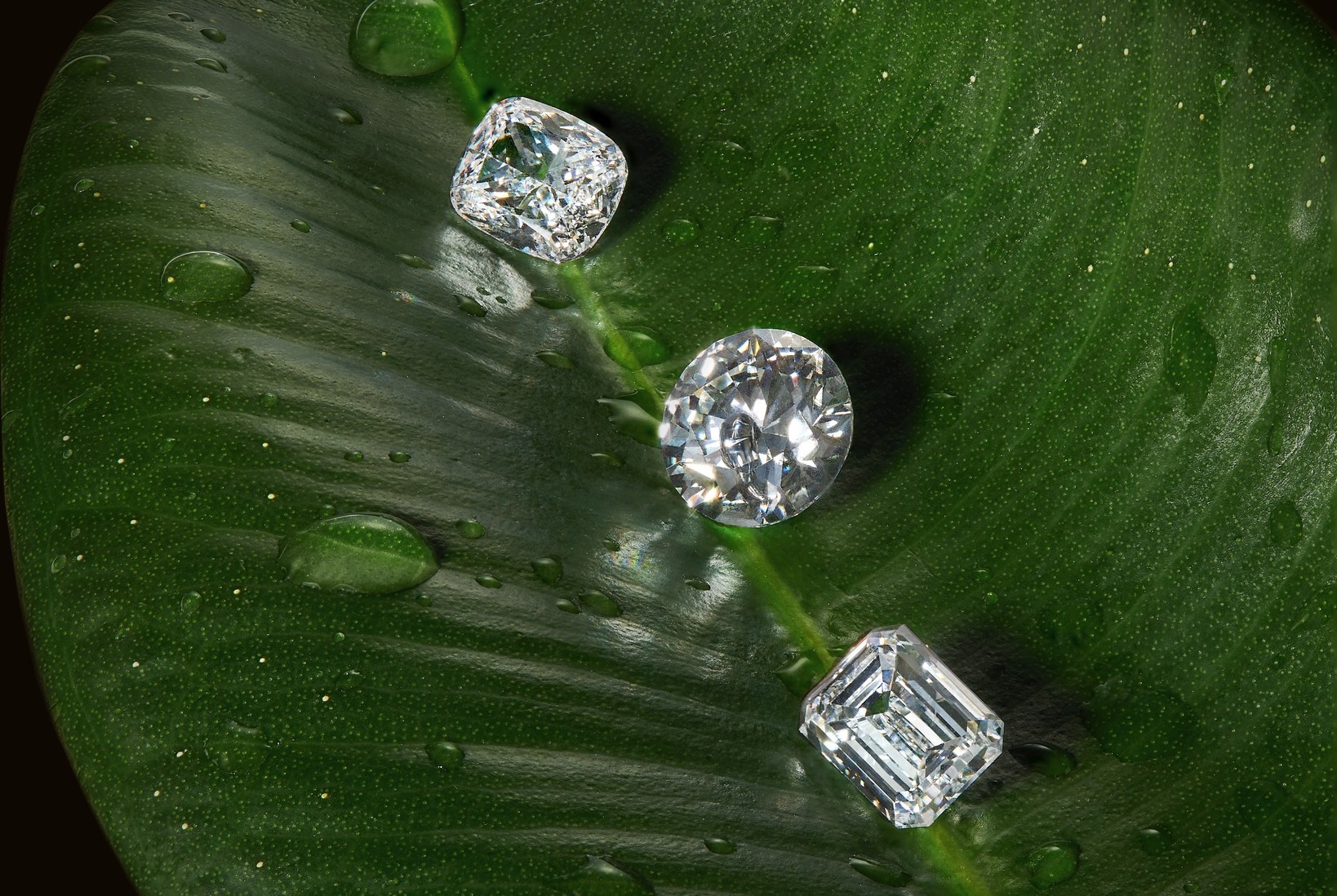 The columned marble rooms of Paris' hallowed Place Vendome, stomping ground of luxury shoppers and designers, seem an unlikely place for revolutionaries to gather.
But French start-up Courbet's founders have made it their base for shaking up the diamond industry, shattering myths and offering eco-friendly, more affordable alternatives in the form of lab-grown jewels.
"We were driven by our values to create this brand [because] nothing is changing in the jewelry industry," Courbet co-founder Marie-Ann Wachtmeister told Alizila.
The global mined diamond industry is highly polluting as miners dig deeper and deeper into the earth for their bounty. At the same time, the gems change hands many times before reaching consumers, raising both the stones' financial and ethical costs.
Wachtmeister and her business partner and Courbet co-founder Manuel Mallen have been working in France since 2018. They are part of a small group of start-ups taking on industry giants like De Beers and Tiffany, who made their names on the notion that diamonds are exceptional.
"The first big lie is that diamonds are rare," said Mallen. In 2021 alone, 116 million carats of diamonds were extracted by mining per Statista estimates, adding to the billions of carats already excavated over the past two centuries.
What's more, it is actually three times more expensive to make a diamond than extract one from the earth. Still, their natural counterparts are sold at a higher price because they pass through the hands of 12 intermediaries on average.
No longer. Now, Courbet is expanding outside of France for the first time and bringing its affordable diamonds to China, where people are hungry for sustainable options.
Just over three-quarters of shoppers in the country ranked the environment as a top consideration while making purchases last year, compared with 53% of global respondents, according to a report by consultancy Accenture.
"China has a true need for green products anchored in their everyday life, where they suffer from pollution and the environmental consequences of climate change and consumption," said Wachtmeister, who is also Courbet's creative director.
Green en Chine
Courbet hopes to satisfy Chinese consumers' demand for sustainable products with its environmentally responsible jewelry.
Its lab-grown diamonds, indistinguishable from mined ones, are the biggest draw.
Like all lab-grown diamonds, they follow the same criteria as mined diamonds established by the International Gemological Institute in 1975 to measure carat, cut, color and clarity – better known as the 4C's.
But Courbet's commitment to the earth goes far beyond the stone.
All its necklaces, rings and everything in between are made with upcycled gold from electronic devices and industrial waste.
"Gold is a fantastic recycled material. There is more gold above the earth than there is below," said Mallen.
The brand also packages its products in recycled leather boxes, dyed with organic inks and folded origami-style to avoid using glue, and will reach carbon neutrality by 2023.
Turning Point
Courbet is only one company, but it forms part of a broader shift away from traditional diamond mining practices, which eat up fuel and belch out greenhouse gases.
A carat of polished diamond from a mine produces 160 kg of CO2 on average, according to a report by the Diamond Producers Association, meaning that the 116 million carats of diamonds mined in 2021 released 18.5 million tonnes of emissions.
To be sure, manufactured diamonds still have a carbon footprint as the two ways to grow them both require intense energy.
The high pressure, high temperature method subjects tiny diamond seeds to conditions mimicking the extreme heat and pressure deep within the earth. At the same time, chemical vapor deposition recreates the low-pressure conditions that allow diamonds to form on meteorites.
However, producers are working to minimize their impact by tapping renewable energy, according to Wachtmeister.
"Electricity is the main cause of [their] carbon footprint, so many producers are moving towards clean sources of energy," she added, from solar power to wind-generated energy. Courbet hopes to source its diamonds entirely from producers who do so shortly.
Digital Dazzle
To win over environmentally conscious consumers, Courbet is leveraging AI and digital tools.
"We propose video chats and video meetings so that the client can have a very nice experience talking to our salespeople who will show them the pieces," Wachtmeister explained to Alizila in the fall when the brand launched its Tmall store.
A customizable feature on the company website enables shoppers to build their ideal diamond and view a detailed rendering in real-time.
"You can configure the whole ring and change the stone, the color, the setting…you can change everything," said Mallen.
Aside from visualizing products, Courbet is inserting digital know-how into the rocks themselves.
Customers are protected against theft with a blockchain-enabled identification system. Submit the diamond's unique identifier online, and you will see grading information, production history, gem weight, and even to whom the piece belongs.
The jewelry is also available for purchase with major cryptocurrencies such as Bitcoin in-store and online in most countries, making Courbet products accessible the world over, according to Wachtmeister.
"Physically we are in France and China, but digitally we are everywhere."