Working at Alibaba means adopting a corporate ethos that places ideals above money, founder Jack Ma told former staff Thursday.
"'Alispirit is what sets us apart from other people," Ma said, addressing over 1,000 so-called "Aliren" – those who have worked at the group for three years or more and what former employees are called. "We're here together today, not only because we worked for the same company, but because we also share a common style and pursuit. It wasn't financial interests that brought us together. It was ideals."
Ma, who is Alibaba's executive chairman, was joined at the gathering by CEO Daniel Zhang and Ant Financial CEO Eric Jing. It was the group's third Alumni Meeting Day on the Hangzhou campus. The biennial tradition of inviting former employees back for a reunion with old friends and colleagues, share experiences and hear from current Alibaba staff and executives started in 2014.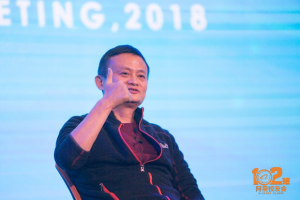 Ma, Zhang and Jing discussed the noteworthy milestones reached since the last reunion and spoke about the aspirations for years ahead. Ma pointed to the company ethos that he said has driven Alibaba since its inception in 1999, an irrepressible spirit and vision, including making it easier for everyone to do business anywhere.
Jing said Ant, an Alibaba affiliate, is fully onboard with the group's ideals.
"We firmly believe in the greatness of small, that inclusion will improve lives and that technology will be driving force in making the world a better place," he said.
By nearly every measure, Alibaba has been enormously successful. The company still holds the record for the world's largest-ever initial public offering and ranks among the world's top technology companies in terms of market value.
To maintain that status, Ma said, the company will need to remain flexible and forward-thinking to stay ahead of competitors.
"We set goals with a 10-year plan in mind," he said. "Without this big picture 10-year planning, there wouldn't be Alibaba Cloud, Alipay, Ant Financial and other business units we see now at Alibaba."
"We still have 83 years to go before we reach 102 years. There is no room for complacency," Ma said, referring to the company's plan to span three centuries: the 20th, 21st and 22nd.
Zhang noted that the foundation in financial services, payments, logistics and cloud computing that Alibaba laid down 10 years ago has become the basic infrastructure of China's digital economy. As the company moves forward, the focus will be on tapping growing domestic consumption of physical goods, digital products and services and on-demand local services.
Those driving forces – along with the ability of Alibaba's vast ecosystem to serve over 600 million consumers – will be what pushes gross merchandise value to $1 trillion in the near future.
"That won't be the final destination, but the starting point of the next leg of our journey," Zhang said, reiterating Alibaba's goal of one day serving two billion consumers.
Still Ali After Alibaba
Ma said for the company to achieve its vision of making it easy to do business anywhere, it requires a concerted effort from employees — both current and former — and ecosystem partners are essential.
"In the past, I've said my hope is that one day 200 of world's top 500 companies would be led by former Alibaba employees. Now, I'd like to make a small tweak to that dream: In the future, at China's 500 leading 'good' companies, there would be 200 CEOs coming from Alibaba."
Alibaba alumnus Li Yanzhu said seven years at the company left him with a strong sense of accountability and purpose. That's why his auto dealership, Maihaoche, is about more than just selling cars.
"We realized that even if we did do spectacular, we'd just be another dealership in the market and not contributing to the industry at all," Li said.
So, Li and his team researched how China's auto industry works and how it had evolved. Their plan: to solve the biggest problem faced by the sector. What they came up with was an one-stop-shop for car dealers, including financing, logistics, storage and even software as a service.
"That was when I felt relieved of the burden of being an Aliren," he added.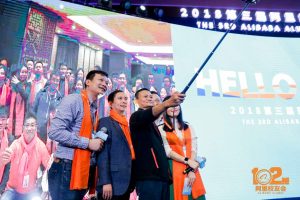 'Next Year I Will be an Alumni, Too'
For Ma, the meeting was bittersweet: It was his last as an employee, as he will retire from Alibaba next September.
"We're lucky to have participated in the formation this company, especially me to have 20 years of experience in this company," he said. "My departure does not equal to retirement. Whenever Alibaba calls for me, I'll be here 24 hours a day, 365 days a year."
"No matter what happens to Alibaba in the future, I will be there to cheer everyone on. If you need us, anytime, any place, we will be there."