Alibaba Group said on Tuesday it has upsized its share repurchase program to US$15 billion from US$10 billion through 2022, the largest in the tech giant's history demonstrating confidence in its long-term sustainable development and value creation.
The Hangzhou-headquartered company also said that it had repurchased about US$3.7 billion worth of its American depositary shares (ADSs) since April.
The company's revenue jumped 34% in the quarter ended June 30, propelled by strong momentum at businesses across its digital ecosystem.
Revenue surged to RMB205.7 billion (US$31.9 billion), up from the RMB153.8 billion posted in an exceptionally robust quarter a year earlier as the coronavirus pandemic in China drove a massive shift online across society.
Annual active consumers on Alibaba's ecosystem reached 1.18 billion in the twelve months ended June 30, up 45 million from a quarter earlier.
"Alibaba started the new fiscal year by delivering a healthy quarter," said Daniel Zhang, Chairman and Chief Executive Officer of Alibaba Group. "Over more than twenty years of growth, we have developed a company that spans across both consumer and industrial internet, with multiple engines driving our long-term growth."
Backing Future Growth
Alibaba's adjusted EBITDA dipped 5% year-over-year to RMB48,628 million as Alibaba invested in its Community Marketplaces, bargains app Taobao Deals, Local Consumer Services and its Singapore-headquartered e-commerce platform Lazada.
The company also upped spending on China's largest second-hand digital marketplace Idle Fish, livestreaming e-commerce channel Taobao Live, as well as boosted support for merchants.
"As we said in last quarter's results announcement, we are investing our excess profits and additional capital to support our merchants and invest in strategic areas to better serve customers and penetrate into new addressable markets," said Maggie Wu, Chief Financial Officer of Alibaba Group.
Shopping for Everyone
Alibaba's core China retail marketplaces expanded in the world's largest consumption market by serving the diverse demands of Chinese consumers, from value-seeking customers on Taobao Deals to big-spenders on its upmarket e-commerce platform, Tmall Luxury Pavilion.
Mobile monthly active users (MAU) on its China retail marketplaces hit 939 million in June, up 14 million from March.
Investment by the group helped propel the number of annual active consumers using Taobao Deals to over 190 million in the year ended June 30; Idle Fish's MAU superseded 100 million.
At this year's 6.18 mid-year shopping festival in China around 250,000 merchants and brands participated, more than double last year, and leveraged the occasion to launch over 1 million new products. By taking part, these brands and merchants acquired tens of millions of new members between June 1 and June 20, the duration of the shopping festival. Membership means that brands can directly engage with customers on exclusive offers and privileges.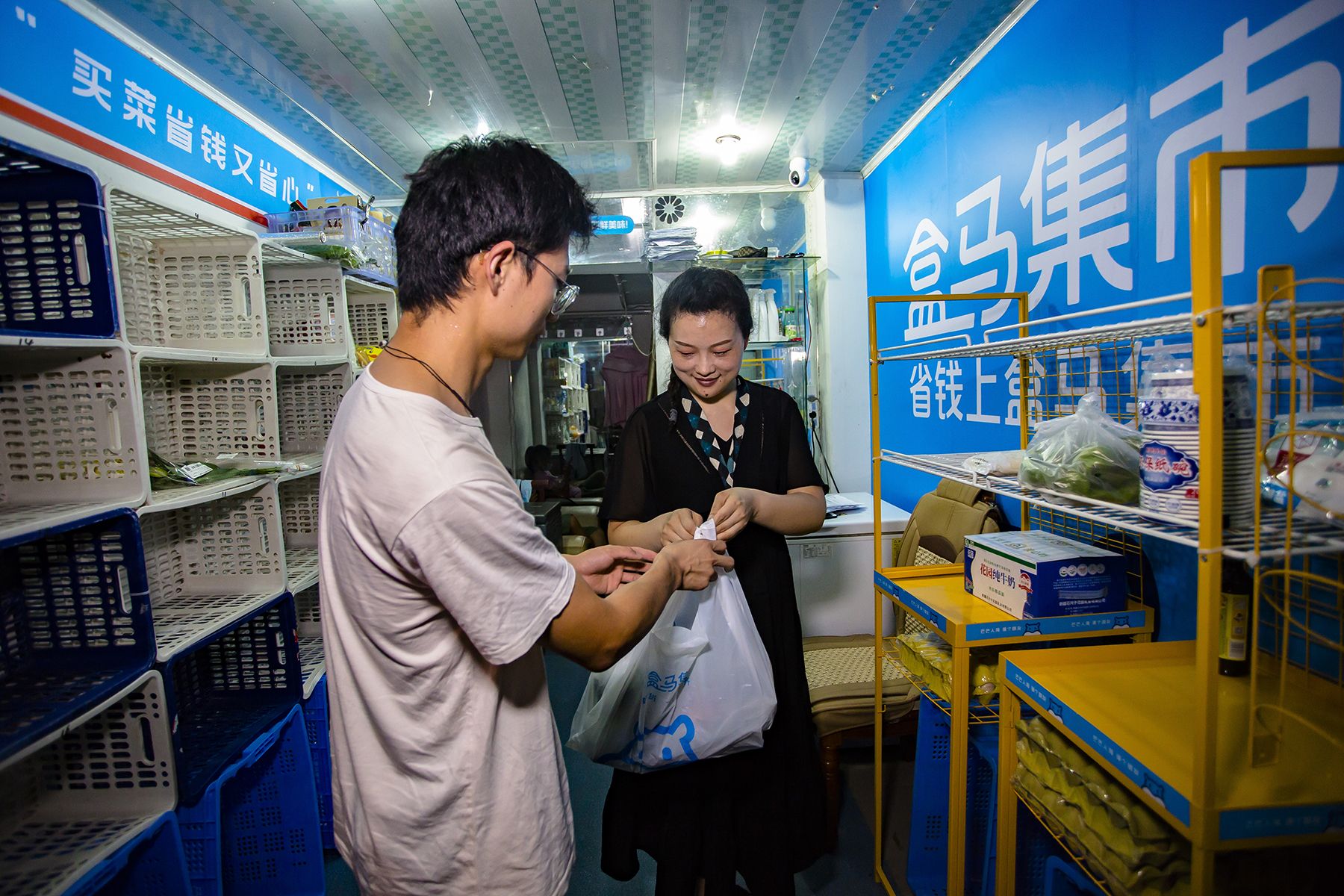 New Retail
Alibaba's multi-format New Retail businesses, which seamlessly integrate online and offline shopping, built on an expanding digital supply chain and increasingly diversified fulfillment services.
The company's rapidly growing community marketplace, which offers a local neighborhood next-day pick-up service, penetrated deeper into less-developed and rural areas. The service's gross merchandise value (GMV) and the gross floor area of regional distribution centers swelled around 200% and 260% quarter-over-quarter respectively.
Hypermarket chain Sun Art's online orders grew about 28% during the quarter, year-over-year. Sun Art is the top supplier to Alibaba's community marketplaces. As of June 30, Sun Art had stores in 235 cities across 29 provinces in China.
Local Consumer Services
Online food delivery platform, Ele.me, stepped up its investments in user acquisition and user experience enhancement, resulting in strong order growth during the quarter of over 50% year-over-year.
Cainiao Network
The logistics network's revenue grew 50% year-over-year to RMB11.6 billion, primarily driven by increasing merchant adoption of services by the group's fast-growing cross-border businesses, including AliExpress and Tmall Global.
International
Lazada recorded over 90% year-over-year order growth for the quarter. The improving frequency of visits by users for the last six consecutive quarters has been noteworthy.
Cloud Computing
Cloud computing revenue grew 29% year-over-year to RMB16.1 billion as customers in the internet, financial services and retail industries migrated operations to the cloud in droves.
Similar to the last quarter, the slower year-on-year revenue growth was primarily due to revenue decline from a top cloud customer.
One of Alibaba Cloud's key strategic initiatives is the integration of DingTalk,  an application development platform and collaboration platform for enterprise customers, which started early this year. Since the integration kicked off, more customers have adopted both cloud and DingTalk, including large enterprises such as Fosun Group, Shandong Energy and Mengniu Dairy.
Starting in the June 2021 quarter, Alibaba reclassified the financial performance of DingTalk to the cloud computing segment. The change lowered cloud computing's profitability and added minimal revenue during the quarter because the group is still investing in growing DingTalk.
In collaboration with Olympic Broadcasting Services (OBS), Alibaba's cloud solutions are supporting service delivery for Rights-Holding Broadcasters for the first time during the Olympic Games Tokyo 2020. OBS's content delivery platform has fully migrated to the cloud for delivering short-form content, content asset management and content production.
Digital Media & Entertainment
Youku's daily average subscriber base expanded 17% year-over-year. Youku also narrowed its losses.
"We believe in the growth of the Chinese economy and long-term value creation of Alibaba, and we will continue to strengthen our technology advantage in improving the consumer experience and helping our enterprise customers to accomplish successful digital transformations," said Alibaba's Zhang.
To read Alibaba Group's press release covering the results in greater detail, click here
Sign up for our newsletter to receive the latest Alibaba updates in your inbox every week