In 2009, to celebrate the opening of a new headquarters in Hangzhou, China, Alibaba Group held a swimming race across the city's Qiantang River. But as employees came ashore, they carried with them plastic bags and other garbage they'd picked up along the way. Shocked by the state of the river, a source of water for Hangzhou, Alibaba took steps to change it.
"From that day, we decided to donate 0.3 percent of our annual revenues to establish a foundation to protect the environment of the city, the nation and the world," Executive Chairman Jack Ma said on Saturday, speaking during Alibaba's inaugural Xin Philanthropy Conference, which was dedicated to the still-nascent sector in China.
Attendees including United Nations Secretary-General Ban Ki-moon, former U.K. Prime Minister Gordon Brown, martial arts legend Jet Li and soon-to-be NBA Hall of Famer Yao Ming, as well as hundreds of nonprofits, NGOs and social entrepreneurs, gathered in Hangzhou to discuss giving back in the world's second-largest economy and how to increase philanthropy's effectiveness and reach.
Ma said that philanthropy needed to move beyond traditional notions of giving to a more commercial approach that brings together governments, scientists and companies to tackle the world's most pressing issues, such as climate change, healthcare and lack of access to education. "These forces together could be a huge power for good," he said.
According to Alibaba Foundation Chairman Jin Jianhang, technology has an important role to play as well.
"E-commerce, cloud computing, logistics and internet finance aren't just the infrastructure for business but for philanthropy as well," he said during an afternoon breakout session.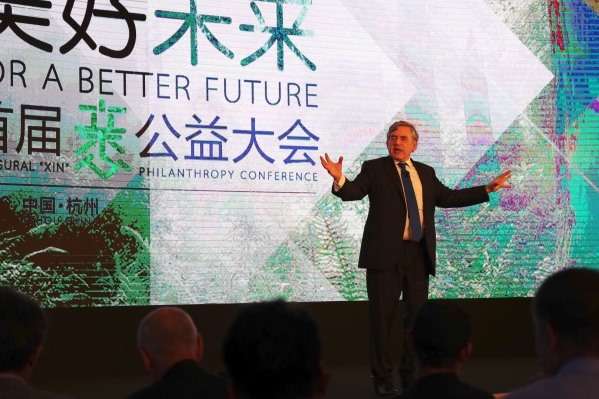 Jin pointed to a number of Alibaba's philanthropic initiatives that were driven by tech, including crowdfunding campaigns on Alipay after natural disasters such as the 2008 Sichuan earthquake. Alibaba Cloud also makes public the latest information about air pollution in China, which the company says prompts businesses to take responsibility to protect the environment. And in fiscal year 2016, Alibaba collected $23.8 million from merchants on its platforms who donated a small portion of a transaction toward Alibaba's efforts. About 1.5 million sellers and 280 million buyers participated in the program.
Facebook CEO Mark Zuckerberg, who sent a pre-recorded video message to the conference, similarly emphasized the importance of technology. He said the social-networking site's goal is "to give everyone the tools to connect and organize around things that they care about." As an example, he described how Facebook users crowdsourced $15 million for relief aid after an earthquake killed over 8,000 people in Nepal last year.
"My personal philosophy around giving is to invest in people and technology that will allow us to improve millions of lives, not just over the next five years but for the next five decades," Zuckerberg said.
For former U.K. Prime Minister Brown, education was the focus. He said the success of the global economy would depend on getting access to education to the 60 million children who do not currently attend school. "Every single economy, like China, as it moves from a manufacturing-driven economy to a consumer and innovation-based economy, will need more than anything else the education and skills of people in the future," he said.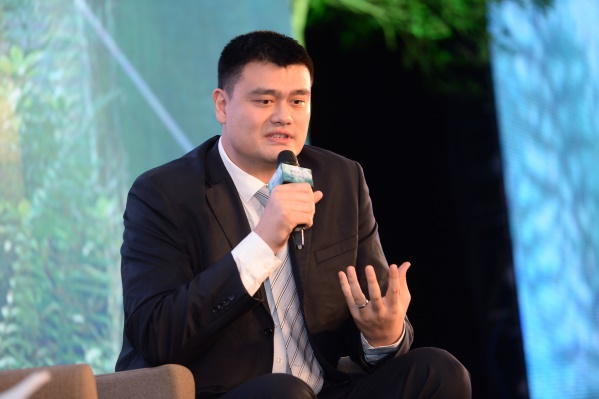 Within China, organizations like the Yao Ming Foundation and Jet Li's One Foundation are taking the lead in growing the philanthropy sector. Yao has created a primary school basketball program that teaches kids in the rural countryside, not just the sport, but other skills such as leadership and teamwork. The One Foundation, meanwhile, supports disaster relief as well as programs for kids with autism.
Both recognized that the sectoris still in its early stages. While a new charity law passed in March is a good start, according to Yao, improvement is still needed. One drawback is the budget restrictions that the new regulation puts on nonprofits, which can make it difficult to attract talent.
"People who come for the dream and the mission do exist, but they need to have a certain economic foundation before they join," Yao said.