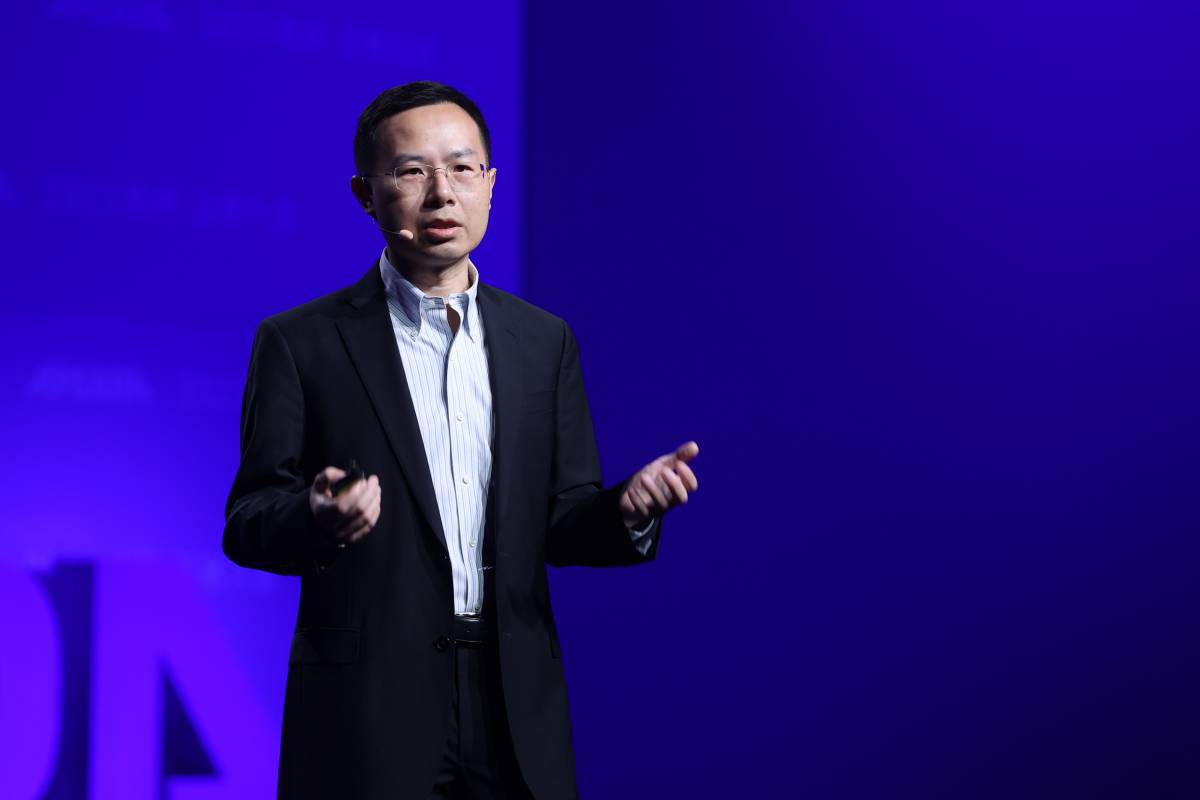 Millions of developers have tapped Alibaba Cloud's open-source AI model community ModelScope to gain access to over 2,300 AI models since its launch a year ago, creating the largest AI model community in China.
Alibaba Cloud's other recent initiatives include opening access to the 7 billion-parameter version of Tongyi Qianwen, Qwen-7B, and its conversationally fine-tuned version, Qwen-7B-Chat, as well as two large vision language models.
We caught up with Alibaba Cloud's Chief Technology Officer Zhou Jingren on the anniversary of ModelScope's launch to reflect on the year's milestones.
The following Q&A has been edited
Q. It's been a year since Alibaba Cloud's "Model-as-a-Service" initiative was brought to life in the form of the ModelScope (open-source) AI model community. What gave you the idea in the first place?
A. A year ago, Alibaba Cloud conceptualized "Model-as-a-Service" (MaaS) to transform models into readily available and deployable services.
We then launched ModelScope, an open-source AI model community that exemplifies MaaS. ModelScope offers a comprehensive array of tools that simplify AI model development, from model experiments, downloads, fine-tuning, inference to deployment and customization.
Today, ModelScope is the largest AI model community in China and the preferred platform for open-sourced models.
As an open-source community, ModelScope's primary objective is to simplify AI model development and reduce associated costs. Developers and researchers can easily test the models online for free, develop customized AI applications by fine-tuning existing models, and run the models online on Alibaba Cloud, deploy them on other cloud platforms, or use them in a local setting.

MaaS and the launch of ModelScope underscore our unwavering commitment to promoting transparent and inclusive technology by lowering the barriers to building and running AI models. These efforts, we hope, can enable research institutes and smaller companies to integrate AI seamlessly into their research and business operations.
Q. What have you achieved so far with the MaaS initiative?

A. Today ModelScope has become the largest AI model community in China, boasting over 2.8 million active developers, and it has made more than 2,300 models available, with over 100 million model downloads to date. The models include large language models (LLMs), text-to-image, text-to-video, speech, natural language processing, and computer vision.

In terms of proprietary model development, we launched our LLM, Tongyi Qianwen, in April, and the image generation foundation model, Tongyi Wanxiang, in June. We just launched Tongyi Qianwen 2.0, an upgrade to its predecessor. These foundation models are now publicly available, and anyone can access our leading-edge large models through the website (tongyi.aliyun.com) and the mobile application.

For SMEs and startups who prefer using smaller models for AI development in a more cost-effective way, we open-sourced the 7 billion-parameter version of Tongyi Qianwen, Qwen-7B, and its conversationally fine-tuned version, Qwen-7B-Chat in August. In the same month, we open sourced another two large vision language models that understand images and text. In October, we continued our open-source efforts by making our 14 billion-parameter version of Tongyi Qianwen available on ModelScope.
In addition to assisting developers perform complex and specialized AI tasks, we unveiled ModelScopeGPT, a versatile framework designed to facilitate AI application development across language, vision, and speech domains.

Q. What has been the broader impact of Alibaba Cloud's MaaS?

A. With ModelScope, we aim to simplify and reduce the cost of developing, customizing, and deploying AI models for developers and corporations, thereby enabling the creation of revolutionary AI applications that have a positive impact on society.
For instance, FaceChain, a third-party application based on multiple AI models on ModelScope, can generate a portrait from just one or two uploaded photos. We leveraged this model to help some elderly individuals in China develop digital portraits, which delighted them.
To encourage innovation and breed entrepreneurship, we also held an AI Hackathon during this year's Apsara conference, in partnership with startup and university communities in China, offering mentoring, technological resources, and prizes of free cloud computing resources.
Q. How can enterprise customers reap the benefits of MaaS?
A. We are committed to making our AI models and underlying technology accessible to our customers and developers, allowing them to create customized AI features in a cost-effective way. Corporate users can access our comprehensive offerings, from the robust cloud computing (or IaaS, infrastructure-as-a-service) required to build and train AI models, various AI development platforms and tools (or PaaS, platform-as-a-service), to a broad range of models including generic LLMs and industry-specific LLMs (MaaS, model-as-a-service).
In addition, we have been working closely with our partners to develop enterprise-specific and industry-specific AI models that can help customers better tackle the pain points in their specific sectors. That's why we launched the "Tongyi Qianwen Partnership Program" in April, which aims to co-create with our partners domain-specific LLMs tailored for different industries, including petrochemicals, electricity, transportation, hospitality, enterprise services, telecommunications and finance. Together with our industrial partners, we can deliver more tangible value to enterprise customers to suit their specific business needs.
Q. How will you grow the ModelScope community and bring benefits of generative AI benefits to more businesses and developers?
A. ModelScope was launched with a clear purpose: to make AI models more accessible and easier to use.
We will continue collaborating closely with developers, researchers, and corporations to onboard high-quality models, provide a wide spectrum of model-building tools, and foster discussions on AI model development.
Growing the community requires collective, long-term, relentless effort. But we believe Alibaba Cloud, with its wholistic offering, from cloud computing to AI development tools, to various models, can catalyze the growth of the AI model community, and ultimately, enable more businesses, especially SMEs startups, and developers to contribute to, and benefit from, this thriving ecosystem.