Alibaba Group's cloud computing subsidiary Alibaba Cloud said on Monday its partner network has swelled to around 12,000 companies, up from 11,000 last year, as it continues to invest in building relationships worldwide, according to platform executives.
Alibaba Cloud's roster of partners helps the platform better serve end users. Partner companies range from independent software vendors and consultancies to channel partners, who resell Alibaba Cloud products or provide add-on services, and managed service partners, who offer consulting, design and integration assistance.
Alibaba Cloud will offer discounts and rebates for resellers and distributors, incentives for independent software vendors and joint product or service launch initiatives for all partners as part of a $1 billion investment plan launched in September 2022 to support partners' technology innovation over the next two fiscal years.
"Partners play an essential role in enhancing and delivering Alibaba Cloud's services and offering to our global customers," Selina Yuan, President of International Business at Alibaba Cloud, said in a statement following the cloud computing company's Partner Summit 2023 in Singapore.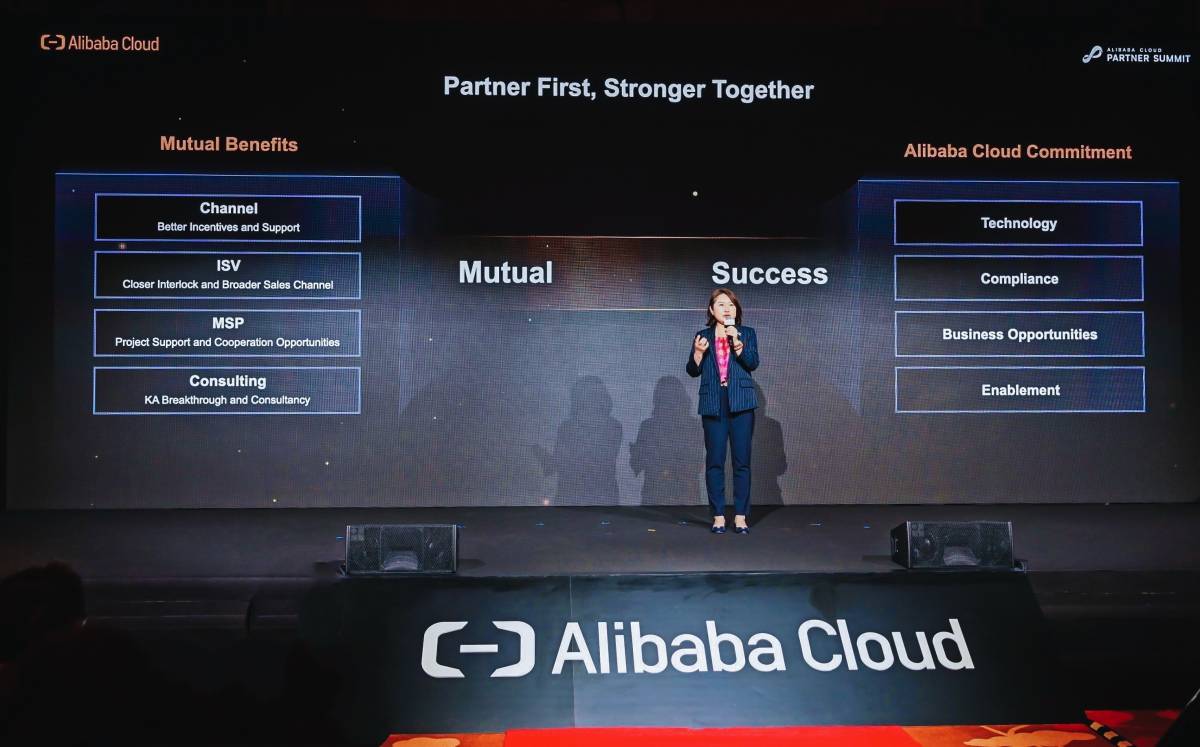 IBM Partnership
To address cloud security concerns, Alibaba Cloud also debuted a joint security solution in partnership with technology multinational IBM on Monday.
As more companies migrate onto the cloud, new threats are emerging from cybercriminals and other bad actors.
Monthly attempts at thread hijacking, when a person inserts themselves into email chains to spam victims, doubled year-on-year in 2022, with Asia Pacific leading other regions, according to IBM's X-Force Threat Intelligence Index 2023.
The companies' solution combines IBM's security products and Alibaba Cloud's security capabilities to detect ransomware, cloud attacks, insider threats and more.
"Together with partners, we can bring world-class technologies, products and solutions to our customers for their greater business success," Yuan added.
Looking Southeast
Alibaba Cloud is working with partners to increase the availability of cloud-based services and talent to Southeast Asia, the cloud computing company shared during the summit in Singapore.
The region experienced a surge in demand for cloud-related software and services during the pandemic, and even as borders reopen, interest in cloud computing continues to grow.
Businesses in Thailand, Indonesia and the Philippines are more likely to see higher investment in the cloud than their regional peers, according to a recent survey from Alibaba Cloud and global research firm Nielsen IQ.
Alibaba Cloud will cater to these clients and support regional economies with its SEA Talent Empowerment Program, with the goal of training 100,000 people across the region by the end of the current financial year, the company announced on Monday.
"We are committed to growing together with our global partners and providing them with even stronger support to expand their businesses in Southeast Asia and beyond," Edward Cai, Chief Commercial Officer at Alibaba Cloud Intelligence, said in the statement.
Dig deeper and discover more cloud computing stories from Alizila now