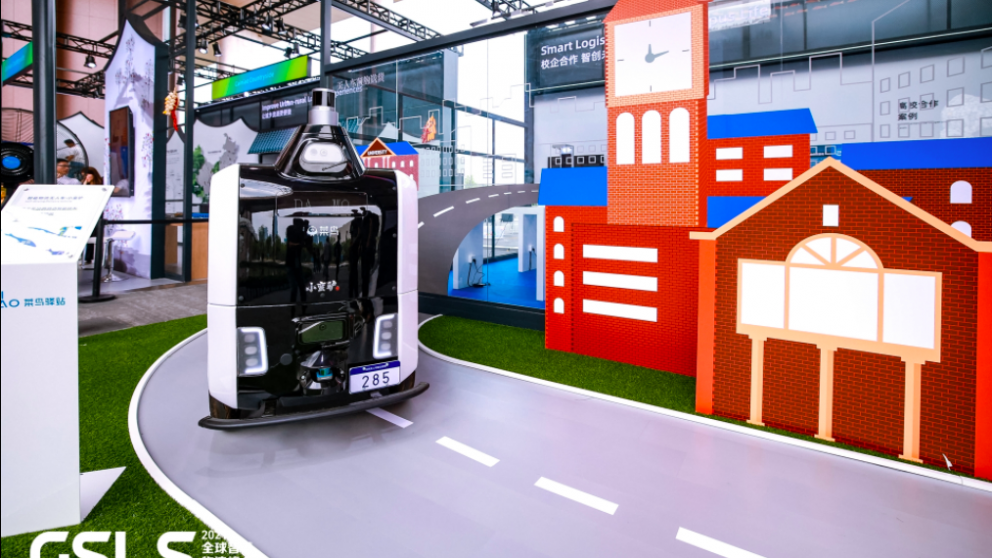 Alibaba Group said it plans to deploy 1,000 robots across Chinese university campuses and local communities over the next year as it steps up efforts to deliver packages faster and more cheaply.
The e-commerce giant's research arm, Hangzhou-headquartered DAMO Academy, together with the group's logistics arm Cainiao, have started mass-producing the small robots, known as 'Xiaomanlv'. The group also elaborated on its plans to develop larger, self-driving trucks to expand the radius of its deliveries.
"Autonomous driving technology is becoming a core technology in the digital era," Alibaba's Chief Technology Officer Cheng Li said.
Package deliveries surpassed 40 billion across mainland China this year up to June 1, close to the total number of deliveries for all of 2017, according to China's Post Office, as the coronavirus pandemic spurred online shopping.
The Xiaomanlv robots are designed to fulfil last-mile delivery requests for communities and campuses – students are prolific buyers from China's digital e-commerce sites such as Taobao and Tmall. Orders are sent to Cainiao stations within the campus and neighborhoods across several Chinese cities, including Hangzhou, Shanghai and Beijing.
Alibaba will work with Cainiao to turn autonomous-driving technology into applications that make everyday life easier, and then commercialize them.  
Such applications will "serve as an essential productivity tool in smart logistics" added Li during Cainiao's annual smart logistics summit in Hangzhou on Thursday. This year, the physical event was livestreamed to a global audience due to travel restrictions.
A host of technology giants and start-ups are making autonomous vehicles for passengers, such as Didi Chuxing, which filed for an initial public offering in New York on Thursday. In contrast, Alibaba's ecosystem is focused on the synergies that autonomous vehicles can bring to its core e-commerce businesses.
Step-by-step the deployment of robots is likely to expand as mass production ramps up.
Also during the summit, Cainiao said it has partnered with the government of island province Hainan to develop its smart supply chain.
The partnership involves Cainiao building a customs clearance system within the free-trade port. Pick-up should take less than 70 seconds to complete, less than half the time it takes currently.
Cainiao will also develop customized central warehouses tailored for luxury goods, pharmaceutical products, fragrances and cold-chain products to establish Hainan as a duty-free haven.
The goal is to attract over 1,000 merchants to the island, especially those that have yet to enter the China market giving Hainan citizens access to a wider range of imported goods, the company said on Thursday.
Hainan is China's largest Special Economic Zone, and a key port along the 21st Century Maritime Silk Road in China's Belt and Road Initiative. In June 2020, the Chinese authorities released a master plan to transform the entire island province into a free trade port.
Cainiao said in April it had launched seven weekly chartered flights linking Singapore directly to Hainan to support import-and-exports in the free trade zone. Goods can now be flown from Singapore to Hainan's duty-free stores within 15 hours, compared to the traditional shipping model that would take three days and above.
Sign up for our newsletter to receive the latest Alibaba updates in your inbox every week.