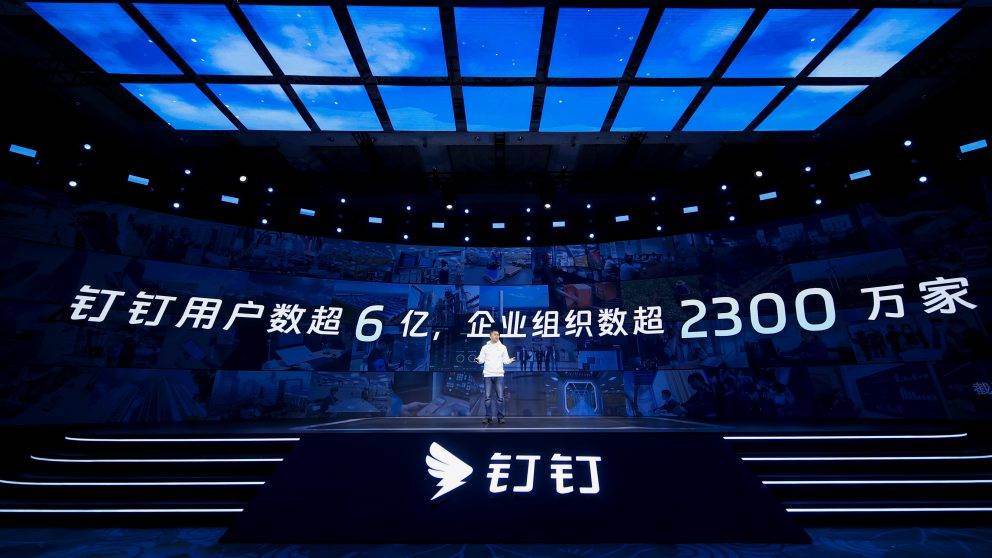 This week, Alibaba Group's workplace communication platform DingTalk said its corporate users had surpassed 23 million, and the daily average users paying for its services had surpassed 15 million.
In other news, the group also unveiled senior management changes, including Wu Zeming stepping into the Chief Technology Officer (CTO) role and Jeff Zhang focusing on the research and development.
Alibaba's DingTalk Tops 600 Million Users
Alibaba's workplace communication platform DingTalk hit 600 million users as of Sept. 30, its president Ye Jun said at a press conference on Tuesday.
Its corporate users have crossed over 23 million, and its daily average users paying for its services have hit 15 million. DingTalk laid out its commercialization plan earlier in the year.
The platform has vowed to help corporations accelerate their digitalization. It has made serving large enterprise clients its strategy and has launched three paid versions that allow corporations to customize their platforms.
At Tuesday's press conference, DingTalk also unveiled the latest version of its app, which includes updates to its online meeting services, online document editing, and approval workflow features. The updates aim to promote cross-company communication and improve supply-chain communication.
Alibaba Names New CTO, CEO Steps In As Interim Head of Alibaba Cloud
Alibaba Group unveiled senior management changes on Thursday, including Wu Zeming's rise to the platform company's C-suite as CTO.
In a separate move, Jeff Zhang will focus on his role as head of the Alibaba DAMO Academy and no longer serve as President of Alibaba Cloud Intelligence. Jeff will continue to be responsible for Alibaba's proprietary chip development team T-Head and Internet of Things (IoT) initiatives.
In Jeff's stead, Daniel Zhang, Chairman and CEO of Alibaba Group, will assume the role of acting President of Alibaba Cloud Intelligence and responsibility for the communication and collaboration platform DingTalk.
On April 1, 2023, Jane Jiang will succeed Judy Tong as Group Chief People Officer, a role she has held since 2017.
One of Alibaba's 18 original co-founders, Jiang is a senior executive in the company's human resources team, responsible for personnel management, including the safety, community-building and satisfaction of employees.
Read more about the management reshuffle here