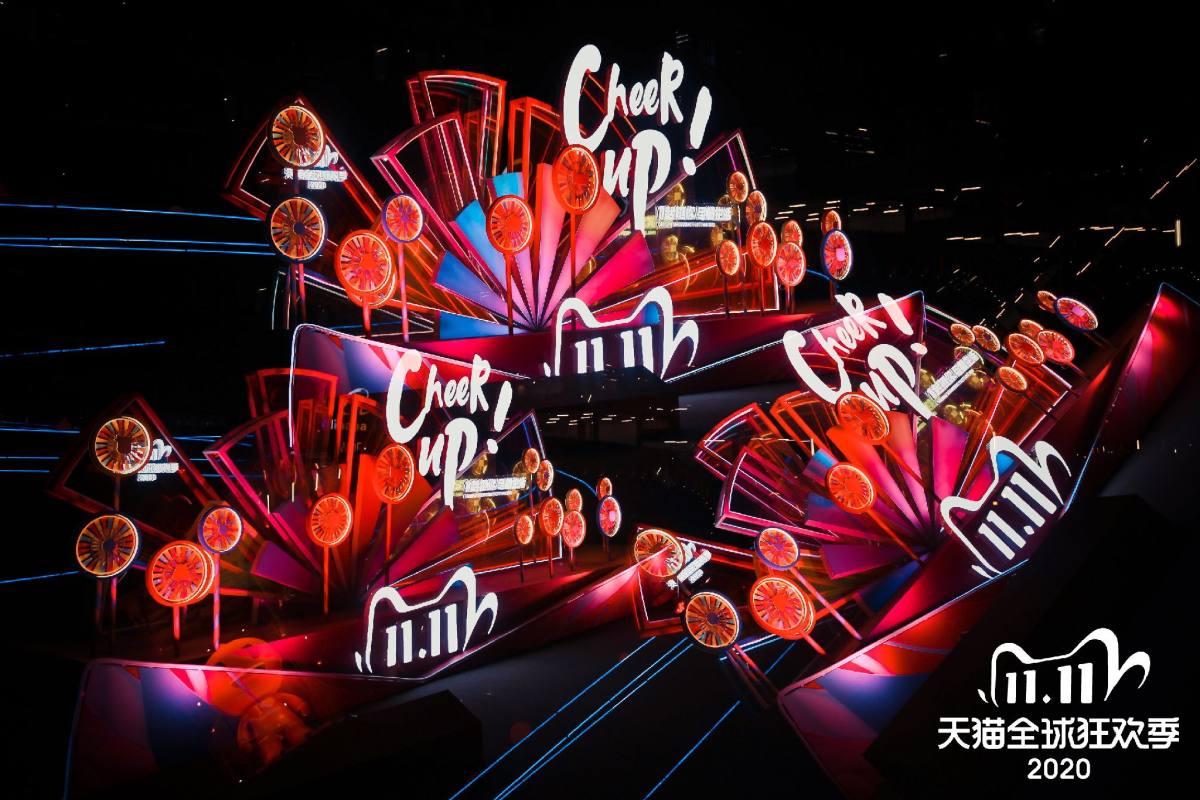 The Alibaba News Roundup is a weekly digest of events and happenings across the company. This week, we focus on our 11.11 Global Shopping Festival – the world's largest e-commerce shopping event. This year, we feature two shopping windows and we provide some highlights from the first, which ran from Nov. 1-3, along with a preview of what our international e-commerce platforms have planned, new technologies we are putting to work for brands, companies and consumers and more.
To receive the latest news directly in your inbox, sign up for the weekly Alizila newsletter.
Key Numbers in Run-up to 11.11 Global Shopping Festival
This year's 11.11 Global Shopping Festival offers two shopping windows to increase support for merchants affected by Covid-19 and offer more opportunities for consumers to snatch up good deals. The initial sales window ran from Nov. 1-3 and saw brands notch some impressive numbers, heightening anticipation for Nov. 11, when the second window opens for 24 hours. Some highlights from the Nov. 1-3 promotion include:
100 brands topped gross merchandise volume of RMB100 million in 111 minutes after sales officially began. They include Nike, Adidas, Apple, L'Oréal, Estée Lauder, Xiaomi and Haier.
The first parcel was delivered within 11 minutes to a customer in Wuhou District in Chengdu. The order, placed at 00:00 via the Ele.me app, was for mosquito-repellent incense liquid.
16 brands selling 3C (computers, communications and consumer electronics) products saw sales hit RMB100 million during the first hour of activity on Nov. 1.
Alibaba's cross-border e-commerce platform, Kaola, featured 300 livestreaming sessions for its global VIP members seeking products with prices comparable to those at duty-free stores.
Big 11.11 Plans from Lazada, AliExpress and Daraz
Alibaba's international e-commerce platforms are gearing up for 11.11, looking to make participation and engagement better than ever this year.
Lazada
Lazada is bringing back the biggest one-day sale to six markets in Southeast Asia, featuring more than 350,000 participating brands and merchants.
This year, Alibaba's flagship e-commerce platform in the region is offering over 200 million deals and more than 700 million vouchers with free shipping on select products.
To elevate its "shoppertainment" strategy, Lazada launched "Happy Bounce," an interactive new game where players can collect over US$2 million worth of coin rewards and vouchers and to be used towards their orders from 5,000 brands and merchants.
This 11.11, delivery volume is expected to surge by 30 times, and Lazada is working with a slate of fulfillment and logistics partners to handle orders across six countries.
AliExpress
This year, AliExpress, Alibaba Group's global retail online marketplace, is anticipating three times more participating merchants outside China and global consumers from over 200 countries and regions versus a year ago.
With localization a key focus, AliExpress is offering what's believed to be the world's first real-time livestreaming translation service on an e-commerce platform. Using this feature, viewers can read translated captions of what livestreamers are saying in real time. Supported language pairs are Chinese to English, Russian, Spanish and French, as well as English to Spanish, Russian and French.
AliExpress will also offer localized interactive features like lucky draws, games to win prizes and product showcases.
To heighten customer satisfaction, AliExpress is working with Cainiao and last-mile logistics partners to shorten cross-border delivery times. Selected goods are expected to reach consumers in Spain and France within 10 working days, 30% faster than normal delivery times.
Daraz
South Asia-based online shopping platform, Daraz, is expecting to attract around 7 million users in Pakistan, Bangladesh, Sri Lanka, Nepal and Myanmar during the 24-hour 11.11 event. It will feature more than 1,800 global and domestic brands this year.
The platform is offering games to enhance customers' shopping experience and is also introducing a feature for consumers to pay their utility bills on the app with a few taps.
Daraz Group CEO Bjarke Mikkelsen says he hopes the campaign plays a larger role in supporting businesses that suffered economic loss from the pandemic this year, highlighting the importance of a digital presence.
New AI Technologies for Enhanced Shopping Experience
Increasingly, Chinese consumers are coming to Alibaba's shopping sites as much for the experience as for consumption. This year, Alibaba's shopping platforms introduced AI features to boost shoppers' engagement and shopping experience. Virtual hosts will explain product details, respond to customer inquiries and play games with viewers during livestreaming sessions. The feature is based on DAMO Academy's multi-module technology that includes Natural Language Processing (NLP), image recognition, Text-to-Speech (TTS) and cloud-rendering technology. As already mentioned, AliExpress will use the world's first real-time livestreaming translation on an e-commerce platform, also tapping into DAMO Academy's technology to provide live captions to shoppers outside China. Consumers shopping for furniture can take 3D virtual tours on Taobao. Home furnishing brands like IKEA will use Taobao's computer graphics and 3D rendering technology to offer a more-immersive experience.
Doubling Down on Luxury
This year's 11.11 has seen the number of luxury brands double from last year, with nearly 200 designer and luxury labels joining the shopping festival.
All of Richemont's brands on Alibaba's Tmall Luxury Pavilion platform, including Cartier, Piaget, Montblanc and Chloé, are part of this milestone.
In this year's first shopping window, Moose Knuckles saw its GMV exceed last year's full-day 11.11 sales just 10 minutes after shopping started, Net-a-Porter within 12 minutes, Diane von Furstenberg in 23 minutes, Coach in 30 minutes and MCM in just an hour.
Some brands taking part in 11.11 for the first time also recorded impressive results in the first shopping window. Balenciaga beat its full-day sales record from the 6.18 Mid-Year Shopping Festival just 1 minute into shopping. Kenzo did the same in 3 minutes, and Chloé in 10 minutes.
Cartier leveraged Alibaba's annual shopping spree as an opportunity to engage high-end shoppers, broadcasting its first-ever jewelry show livestream on Taobao Live. The French luxury house showcased more than 400 timepieces and jewelry, including a necklace valued at RMB190 million(US$28.3 million) through livestreaming, attracting 770,000 viewers within two hours.
McDonald's China and Alibaba to Launch Cross-Platform Storefront
Before the kickoff of this year's 11.11 Global Shopping Festival, fast food chain McDonald's China announced a collaboration with Alibaba to launch a cross-platform storefront to integrate membership, marketing, coupon sales, on-demand delivery and pick-up features for consumers. This is the latest implementation case of the Alibaba Business Operating System, which caters to brands' specific digital transformation needs using different parts of Alibaba's ecosystem. For this year's shopping festival, McDonald's is working with Taobao, Tmall, Alipay, Koubei and Ele.me to provide exclusive bucket meals. Moving ahead, Alibaba will create a dedicated platform for McDonald's to access integrated analytics from its ecosystem to spot emerging trends, improve experiences and strengthen customer loyalty.
Beauty Brands Enjoying Strong Start at 11.11
Beauty has always been a popular category among Chinese shoppers during 11.11, and this year already looks to be the same, despite the coronavirus outbreak. Just 40 minutes into Nov. 1 sales, beauty products generated over RMB10 billion in GMV, and within the first hour, exceeded 150% year-over-year sales growth.
Estée Lauder was the first Tmall flagship store to surpass RMB1 billion in sales among American and European brands during 11.11; and in a little over nine hours, the brand broke its 11.11 record from last year.
Guerlain also shattered its own record in under an hour; Sisley did the same in just an hour and 15 seconds; Lancôme in under 14 hours; and L'Oréal within the first 11 hours.
Korean and Japanese brands like Amore Pacific, Shiseido and The History of Whoo also surpassed their performance from last year's entire 11.11 sales period.
It wasn't only established, big-name labels that saw stellar results: By the end of the first day, 34 emerging newcomers had achieved over RMB10 million each in sales.
Awareness for 'Sustainable Consumption' on Rise for 11.11
Sustainable consumption is a key theme for this year's 11.11. Millions of packages from Tmall merchants during the pre-sale period were shipped to Cainiao Smart Logistics Network's bonded warehouses to be packaged using recyclable materials.
This year, almost 100% of the packaging shipped from Cainiao warehouses is biodegradable, and nearly 50% of the paper packaging in its warehouses is tape-free.
Cainiao is encouraging consumers to recycle their own packaging as well. The Alibaba logistics unit has set up approximately 80,000 recycling stations across China, and consumers can redeem "green energy" points on the Cainiao app's mini program "Cainiao Ocean."
Alibaba's online grocery service, Tmall Supermarket, is also promoting the cause by using four million reusable boxes for its orders this year.