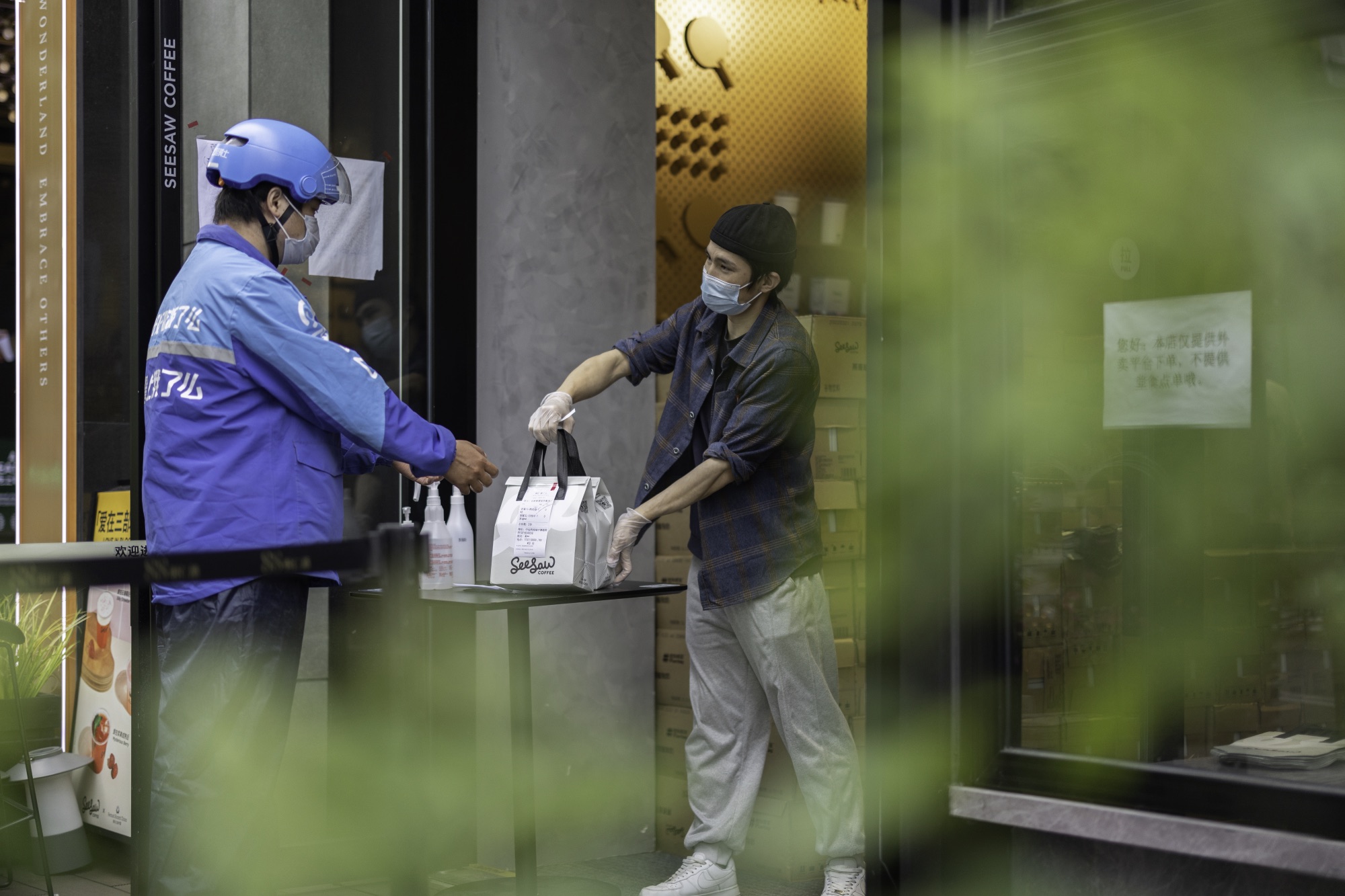 This week, Alibaba Group's delivery service Ele.me pledged RMB500 million ($75 million) to support merchants and consumers in Shanghai as the city emerges from lockdown.
In other news, the annual 6.18 Mid-year Shopping Festival kicked off as online retailers and physical stores across the country spread the sales spirit with discounts and vouchers.
Also this week, listed medical platform Alibaba Health reported a 32.6% increase in revenue for the 12 months ending March 31 and the company plans to buy 3% of its shares in the open market.
Ele.me to Offer Incentives to Boost Consumption
Alibaba's on-demand delivery service Ele.me shared this week that it will offer several rounds of incentives to support Shanghai merchants and encourage spending in the city.
Just 1,400 stores were able to stay open and serve Shanghai's roughly 25 million residents during the lockdowns in April and early May, according to the platform. As authorities loosen restrictions, life is getting back on track, but it is still tough for merchants.
Ele.me will launch RMB500 million in subsidies to boost confidence in the consumption market, with RMB200 million going to merchants and the rest distributed as red packets and promotions to consumers.
"It's such a huge relief that I don't need to worry about how to survive," a fruit vendor surnamed Li said in a statement.
The platform set aside an additional RMB70 million to ramp up efforts to improve employee benefits.
6.18 Presale Underway Online and Offline
Alibaba kicked off presales for its mid-year shopping festival at 8 p.m. on Thursday this week with a price freeze, discounts and vouchers for users.
B2C online marketplace Tmall launched a "price guarantee center" for all users ahead of the festival.
The function covers 19 million products and could protect customer rights until July 5.
Bargain shopping platform Taobao Deals is offering one million 10-yuan products for sale and promotion vouchers for customers.
The Alibaba-owned department store Intime slashed clothing prices by 32% and dine-in orders by 50%. Brick-and-mortar stores in Hangzhou, Xi'an, and 60 more cities will kick off a month-long carnival to enrich customers' shopping experience in June.
Alibaba Health Annual Revenue Up By Nearly A Third
Alibaba Health Information Technology, the listed wellness arm of Alibaba, reported revenue grew 32.6% for the fiscal year ending March 31, filings with the Hong Kong Stock Exchange revealed this week.
The company recorded revenue of RMB20.5 billion and gross profit of RMB4.1 billion during the reporting period, with Alibaba Health-branded pharmaceuticals accounting for nearly two-thirds of revenue.
Overall, revenue driven by its prescription drug business rose 105.2% year-on-year, and direct sales are carried out in partnership with hundreds of pharmaceutical brands including German drug manufacturer Bayer.
This is a good time to buy its shares, according to Alibaba Health Chairman and Chief Executive Officer Zhu Shunyan. The company will purchase roughly more than 400 million shares equal to 3% of total issued shares in the stock markt.
"The board believes that the current price of the shares traded on-market is undervalued, which represents a good opportunity," he said in a statement published on Wednesday by the HKEX.
Deliveries Speed Up, Prices Freeze During 6.18
Will customers receive their parcels on time for this year's 6.18 Mid-Year Shopping Festival? Alibaba's logistics platform Cainiao says yes, and it won't cost extra.
The platform has harnessed the power of China's largest autonomous logistics delivery fleet, made up of 350 vehicles, each capable of delivering up to 50 parcels an hour. These robots on wheels will join forces with thousands of delivery staff across more than 70 cities to make sure packages arrive on time.
Consumers will not need to pay extra despite the additional measures, as Cainiao's four partner logistics companies have agreed not to raise prices for the upcoming shopping festival.
Consumers are encouraged to go green this year. They will be able to trace their parcels' carbon footprints by scanning a QR code and will earn platform points for recycling the boxes.
Sustainability And Agility Key to Supply Chain, Says Gartner
Prioritizing supply chain sustainability and agility is key to securing a competitive advantage for companies, according to research and advisory firm Gartner.
The research firm identified four key trends and best practices, in a report published Thursday, such as investing in building ecosystems to address challenges on multiple fronts such as the pandemic, climate change and the Russia-Ukraine conflict. They are also nimbly driving transformation.
Sustainability and improving employees' digital literacy are two other items that top supply-chain leaders' agendas, according to Gartner.
Retailers, Platforms Lead From Front to Drive Sustainable Consumption: Davos
The world's biggest retail companies and e-commerce platforms are leveraging their global networks to deploy responsible consumption strategies, audiences heard on Tuesday at the World Economic Forum (WEF) in Davos, Switzerland.
"As it relates to sustainable and responsible consumption, we are either a big part of the problem or a big part of the solution," Alibaba Group President Michael Evans noted during a panel discussion.
The Hangzhou-based platform and other large multinational companies, such as cosmetics manufacturer L'Oréal and its portfolio of almost 40 global brands, are well-positioned to introduce sustainable solutions at scale.
The French beauty company recently rolled out a non-rinse conditioner that saves 100 litres of water per tube, impressive on its own but able to affect major change if even a fraction of L'Oréal customers get on board.
Read more here
Proenza Schouler Sends Love to Chinese Customers in Tmall Launch
The womenswear and accessories brand made its debut on Tmall via a livestream on May 20 to engage with local audiences directly, share their unique products and spread love.
May 20, better known as 5.20 or Chinese Valentine's Day, is a major shopping festival for romantics to celebrate with their loved ones, and the livestreaming session led by Proenza Schouler co-founders Jack McCollough and Lazaro Hernandez, focused on gifting.
The American brand brings luxury tailoring to fashion-forward businesswomen who aren't afraid to experiment with style.
Watch the video here
Why Property Developers Are Buying Real Estate in the Metaverse
Internet-based alternate reality the metaverse is unfurling into a world complete with art, property, and communities all its own.
Property developers are getting in on the action as non-fungible tokens (NFTs) and blockchain bolster confidence in ownership rights for plots of pixels.
"Ownership is so simple and also commercialization…everything is going to be in the metaverse," said Adrian Cheng, CEO of Hong Kong-headquartered New World Development, a major developer of malls, property and hotels in Greater China, speaking at a Jumpstarter event.
The Hong Kong-based businessman is showcasing NFT art at his group's K11 MUSEA mall in Hong Kong, which he may extend into the Sandbox. "It will be seamless in the future," he explained.
Learn more about digital ownership here
This article has been corrected to show the mechansim by which Alibaba Health is buying its shares in the open market