Leaders of two of the world's largest technology companies issued a stark warning on Wednesday: start embracing artificial intelligence or risk falling behind competitors.
Alibaba Group's Chairman and CEO Daniel Zhang and Siemens' CEO Roland Busch spoke at a virtual conference on Wednesday about the future of the digital economy, why manufacturers are lagging behind in the AI era, and ways the two tech giants could collaborate.
While Alibaba is a 24-year-old company born in China and Siemens is a 176-year-old German group, Zhang said everyone is grappling with the same challenges and opportunities AI creates.
Speaking to corporate leaders in the audience, Zhang said if your company fails to keep pace with budding AI technology, "you may be the loser for the next generation".
Zhang, also the Chairman and CEO of Alibaba Cloud Intelligence Group, predicted AI would have a profound impact in the coming 10 to 15 years, with everyone gaining access to an exclusive smart assistant and every household may have a smart family doctor.
Siemens' Busch said the pace of change is speeding up and pointed to the impact on society over the past six months of ChatGPT, an artificial intelligence chatbot developed by OpenAI.
"Those companies who miss the boat, who don't digitalize now, they will be the losers of tomorrow," Busch said on the panel with Zhang during Siemens' annual Digital Economy Forum.
Who Is Falling Behind?
While digitalization is changing our world, the pace of transformation differs by economic sector. So far, digitalization has swept through consumer-facing industries, giving birth to new careers and industries such as social media. However, it has yet to take off at scale among manufacturers.
That's because many small and medium-sized enterprises lack the technical capability and know-how to grasp the opportunity. SMEs need to be able to turn to an ecosystem that can help them easily build and deploy a platform, said Busch. Munich-headquartered Siemens launched Xcelerator, an open digital business platform, to help crack open exactly this bottleneck.
Zhang said companies see data as their most valuable asset but struggle to collect and unlock its value. Alibaba, which runs 1.6 million servers, aims to support customers and partners with a complete technology stack, including Asia's largest cloud infrastructure platform, a feature-rich platform-as-a-service, and Alibaba's AI large language model Tongyi Qianwen.
The manufacturing sector in particular is likely to see explosive growth in the next decade, Zhang said.
Industrial Metaverse
Busch believes digitalization will enter a new stage called the "industrial metaverse", a fully immersive digital representation of the real and digital worlds. Technologies such as cloud computing, artificial intelligence, and edge computing will accelerate the realization of this vision.
Siemens is striving to bridge the gap between the real and virtual worlds. "We live in both worlds," Busch said.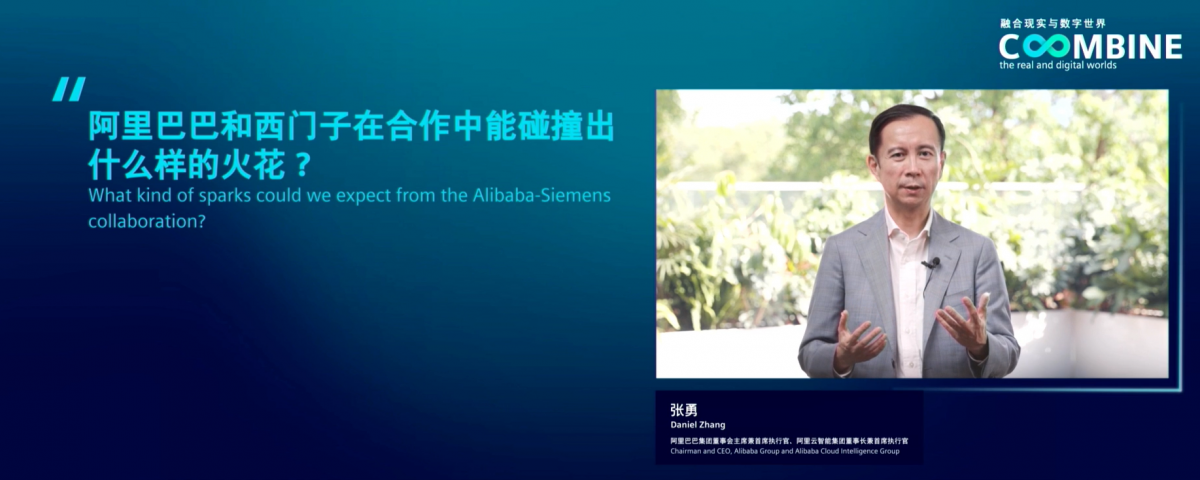 Alibaba and Siemens have worked together in the past. In 2018, they partnered to make MindSphere, Siemen's cloud-based open IoT system, available on Alibaba Cloud from 2019. Alibaba Cloud serves 4 million clients, the vast majority of whom are SMEs and developers.
Siemens also has a flagship store on Alibaba's 1688.com, China's largest integrated domestic wholesale marketplace.
Zhang and Busch also discussed how they could collaborate in the era of AI.
"What do we need, Daniel? We need your technology," said Busch.
Zhang said Siemens and Alibaba were working closely together to identify areas for collaboration. He also asked the audience to imagine the impact of empowering Siemens' digital solutions software with Alibaba's large language model in China.
"We can work a lot together," said Zhang.
Additional reporting by Elizabeth Utley
Check out other articles on artificial inteligence in China here