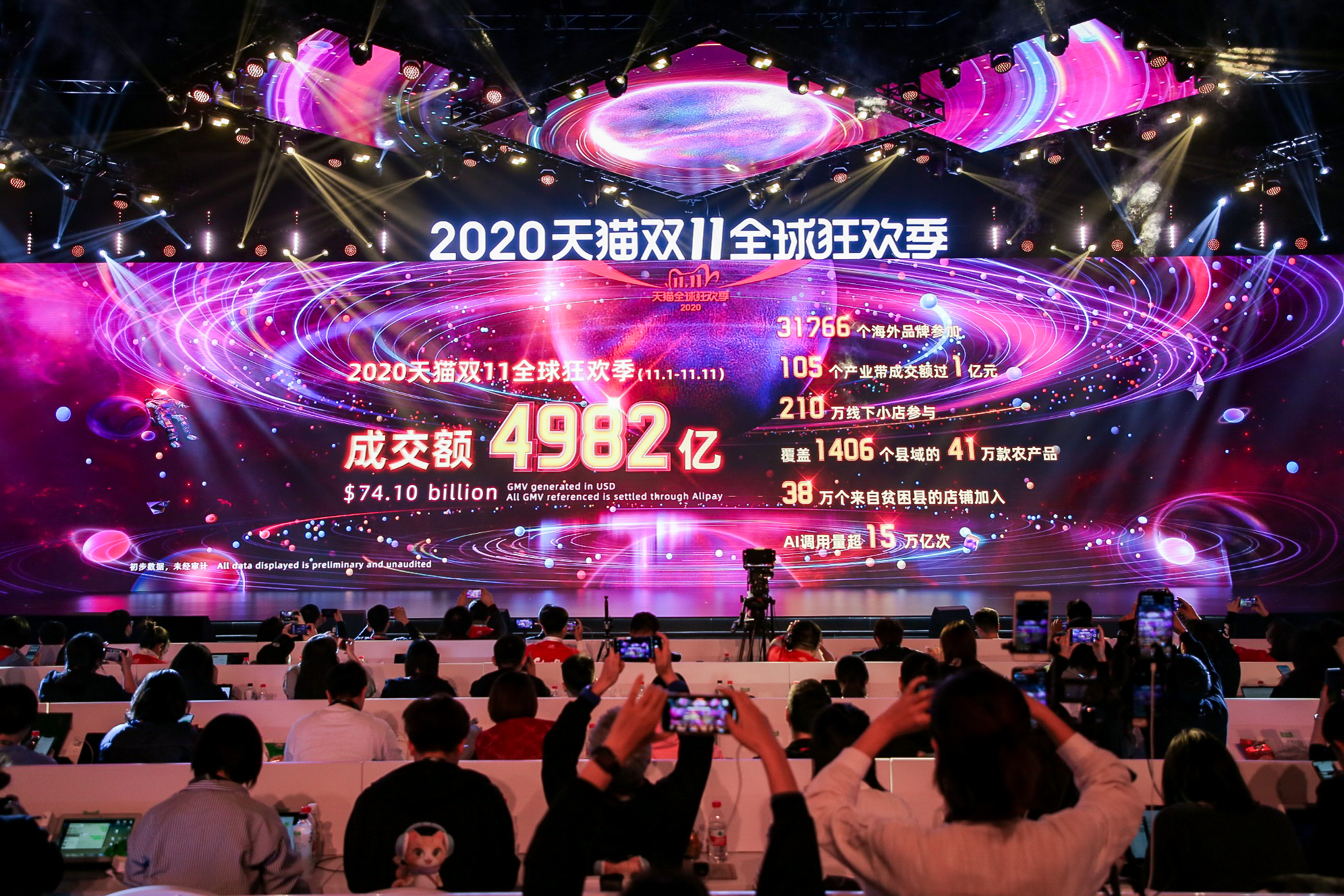 If there were any lingering doubts about the health of China's retail sector, the $74.1 billion in gross merchandise volume transacted during Alibaba's 2020 11.11 Global Shopping Festival should erase them.
The 11-day promotion – the world's largest shopping event – shattered multiple records, as Chinese consumers flocked to homegrown and international brands. This year, the event featured two shopping windows, the first from Nov. 1-3, and the second for 24 hours on Nov. 11 to offer more opportunities for brands and merchants to extend deals to consumers.
Total GMV for the event was calculated from Nov. 1-11, and easily beat last year's $38.4 billion figure. The GMV for U.S. brands taking part was $5.39 billion for the entire shopping period, the largest contribution from a single country or region outside of China, said Alibaba President Michael Evans. The results point to something very important for U.S. and other international brands.
"A China strategy – and a digital strategy – are going to be absolutely critical for success in the future," Evans said.
Overall, 474 brands participating in 11.11 each surpassed RMB100 million in GMV this year.
"The Chinese economy has bounced back to pre-pandemic levels," said Alibaba founder and Executive Vice-Chairman Joe Tsai.
But the shopping festival had an added dimension this year. With much of the world still feeling the effects of the Covid-19 pandemic, 11.11 offered international brands a welcome opportunity to sell into the world's second-largest economy. And for China's Millennial and Gen-Z consumers, who have been largely unable to travel internationally, attractive and innovative 11.11 deals from international brands were well-received.
Unprecedented International Brand Participation
Overall, 31,766 overseas brands offered goods on Alibaba's cross-border platforms this 11.11.
An increasing number of new brands joined Tmall Global – Alibaba's cross-border e-commerce platform – ahead of 11.11, viewing "huge domestic demand in the Chinese market as a source of hope," said Alvin Liu, Tmall Import and Export general manager. This year, over 26,000 brands from 84 countries and regions took part in 11.11, offering 1.2 million new products from overseas to Chinese consumers.
Watch: What brands have to say about Tmall Global
"We look forward to helping even more international brands accelerate their entry and growth in China," Liu said. "Without having to leave China, consumers can access a rich selection of products from around the globe, just using their smartphones."
Deepening Collaboration with Brands
The Global Shopping Festival, now in its 12th year, has evolved with Alibaba's changing relationship with brand partners over the years, said Alibaba Group Vice President Liu Bo. Initially, the event's focus was on transactions. Today, 11.11 has become a platform for comprehensive collaborations that include everything from product incubation to brand-building and marketing.
"We are happy to see deeper partnerships and a deeper impact on industries," Liu said.
Watch: Alibaba's Digital Economy Gears up for 11.11
The natural extension of that is the Alibaba Business Operating System, launched in January to empower brands and retailers to accelerate or refine their digital transformations and sharpen their competitive edge in China. A cross-functional Alibaba team helps partners harness all the services they need from Alibaba's digital ecosystem, including retail, payment, digital marketing, logistics, cloud-computing, on-demand local services or anything else. International brands tapping the ABOS include McDonald's, Starbucks, Unilever and L'Oréal – all active in this year's 11.11.
"Shoppers wait for this moment and want to be surprised, excited by brands. Brands need to reinvent themselves every year, and probably in China, nearly every month," said L'Oréal China CEO and President Fabrice Megarbane. "So, I feel this festival is the perfect opportunity to question ourselves: Are we relevant enough and are we explaining enough about our innovation?"
Watch: How L'Oréal Reinvents Itself for 11.11
Domestic producers in China's industrial heartland have also had it rough this year, first with local orders, then international ones, drying up. Alibaba has spent a large part of the post-pandemic period in China stepping up the "New Manufacturing" efforts it began several years ago to digitize factories and enable them to operate more efficiently, supplying more-customized, smaller batches of products at greater speed. The results of the digital imperative were on display at this year's 11.11, helping previously offline factories get back on their feet and chart a new digital course forward.
"As this is the first 11.11 following the pandemic, we have benefited from the robust recovery of consumption in China," said Tmall and Taobao President Jiang Fan. "We hope that 11.11 can provide a platform, especially for SMEs, emerging brands and manufacturers."
Digital Breathes New Life into Luxury
With the reduction of foot traffic to their brick-and-mortar stores during the pandemic, international luxury brands took the opportunity to work more closely with the three-year-old Tmall Luxury Pavilion this year.
"Covid-19 has changed the world, and we all went more digital. So, what was already a very strong digitalization has just accelerated another source of convenience for the customer," said Coach China President and CEO Yann Bozec.
Watch: Coach China President & CEO on 11.11 and Digitization
Nearly 200 luxury and designer brands on Tmall Luxury Pavilion participated in this year's 11.11, doubling the number of brands from last year. Many top luxury brands also joined for the first time, including Prada, Cartier, Vacheron Constantin, Piaget, Balenciaga, Kenzo and Chloe.
According to Alibaba's latest figures, over 90% of the participating brands' GMV had surpassed their 11.11 full-day sales records from last year, including Net-a-Porter, Bottega Veneta, Qeelin, Coach, Michael Kors — all of which had hit that milestone within the first hour of the event.
Notably, the jewelry category saw the fastest growth, exceeding the category's total sales from last year in just half an hour, both on the pavilion and other Alibaba platforms.
About 70% of the paying customers of luxury products on Tmall Luxury Pavilion this 11.11 were making their first luxury purchase there. And this group of new luxury customers represents nearly 70% of the total luxury-goods sales generated on the Pavilion during 11.11.
Initially skeptical about watering down brand equity, luxury brands now see the benefits of working with Alibaba's online luxury platform, which enables them to maintain their own look, feel and caché, while reaching an entirely new clientele online. Luxury brands also appreciate the insight they get from the data the platform provides them with and no longer worry that online will take away from their offline retail business.
"We love how the platform helps us expand consumer touchpoints without having to expand physically, and we can easily analyze their shopping behaviors, such as what they are buying and what time of day they tend to shop," said Longchamp General Manager of China Josephine Liang. "The more we work together with Luxury Pavilion, the more we realize that online and offline channels are not cannibalizing each other."
Livestreaming Moves Front-and-Center
Once new and "nice to have," livestreaming to educate consumers and sell products has taken center stage in China's online shopping, as consumers seek a fully immersive experience.
"Shopping is a sport and entertainment," said Tsai. "It's not just going onto a website and scrolling through a product catalogue."
Watch: Why Livestreaming Matters in China
This year, 28 livestreaming channels on Taobao Live each surpassed RMB100 million in GMV. Their ranks include pioneers and stars, such as Viya Huang and Austin Li.
But the livestreaming market has become much more diverse and nuanced since last year. Some companies are training up and bringing on their top executives to connect with consumers.
Watch: Magic Johnson livestreaming for 11.11
Tmall Global has enlisted superstars such as Taylor Swift, Selena Gomez and Earvin "Magic" Johnson in its "Walk of Fame" influencer program. Johnson this year livestreamed for Uncle Bud's, as the U.S. hemp and CBD products brand debuted in China for 11.11.
For Bissell, the 143-year-old Michigan-based floor-cleaning products company, 16 straight hours of livestreaming its vacuums and other products during 11.11 was critical to more-than-quadrupling its sales from a year earlier, said Managing Director for Asia Max Bissell.
DAMO Academy Technology Has a Moment
Livestreaming got an extra assist this year from Alibaba's DAMO research academy, which offered a couple of key homegrown artificial intelligence-based advances in the technology.
First, merchants streaming on Taobao Live for 11.11 were this year able to harness DAMO's "virtual anchor" technology to keep their channels going 24/7. The AI-powered avatars interact with audiences and answer their questions about consumer products using intelligent cognitive and perception technologies. The virtual anchors rely on multi-module algorithms that include natural language processing and speech recognition.
DAMO also championed real-time translation capability during 11.11 livestreaming sessions on international e-commerce platform AliExpress. The technology is based on a self-developed speech algorithm that cancels out ambient and irrelevant noise, understands slang, colloquialisms and industry terms. It works with multiple language pairs, allowing viewers to watch a Chinese livestream and see what's being said, real-time, in English, Russian, Spanish or French.
Watch: Real-time Translation for Livestreaming
DAMO was also behind the technology for the newest autonomous delivery robot in Alibaba logistic unit Cainiao's fleet. The XiaomanLV was deployed at Zhejiang University, wending its way safely and carefully through complex traffic conditions on and around the campus. It was expected to deliver 30,000 packages during this year's 11.11.
Alibaba Cloud Upgrades 11.11's Digital Infrastructure
One unsung hero in ensuring 11.11 is always able to scale is the cloud infrastructure provided by Alibaba Cloud.
Last year, Alibaba Cloud focused on bringing as much of 11.11's technology onto its cloud services. This year, it went further, deploying cloud-native technologies that supercharged the shopping event's infrastructure.
At its peak, the technology allowed processing of a record 583,000 orders per second just 26 seconds after midnight on Nov. 11. That is over 1,400 times the capabilities at Alibaba's debut 11.11 festival 12 years ago.
Alibaba Cloud technology forms an elastic infrastructure to handle sudden volume surges with zero downtime. Optimal elasticity and scheduling capacity led to an 80% reduction of computing resources for every 10,000 transactions conducted, compared to four years ago.
Cainiao Breaks Another Delivery Order Record
Logistics are another unsexy, but vital, backbone to a successful 11.11. After handling 1.88 billion 11.11-related delivery orders last year, Alibaba's Cainiao logistics unit this year broke that record handily, processing 2.32 billion.
During this year's 11.11 pre-sales period, Cainiao's smart logistics platform leveraged AI algorithms to assign and ship packages to with a certain range of consumers, said Sun Jian, who headed up this year's 11.11 logistics efforts. That meant that packages could be more-quickly dispatched to buyers once 11.11 officially started.
Cainiao operated over 700 chartered flights to ensure fulfillment of cross-border product deliveries, and to speed up delivery of overseas goods to China, Cainiao worked with international merchants to move their products into seven Cainiao e-hubs. Cainiao also rolled out new self-service technology at its post stations to enable fast parcel collection by consumers.
The two shopping windows during this 11.11 allowed Cainiao to improve the delivery experience for consumers. In-between the two windows, Cainiao ramped up efforts to assist merchants in different international locations to assemble their stock for Chinese consumers.
Cainiao also got into the livestreaming game in a big way this year, introducing cameras at different shipping and collection points so consumers could check up on the status of their packages. Over 100 million consumers tuned into Cainiao's livestreams.
Making Green Inroads
Alibaba continued efforts this year to make a package-heavy event as green as possible.
Nearly 100% of the packaging shipped from Cainiao warehouses was biodegradable, nearly 50% of the paper packaging in its warehouses were tape-free. Consumers were encouraged to recycle their own packaging, with Cainiao setting up around 80,000 recycling stations in China. Uers get to redeem "green energy" points on Cainiao's mini-program, called "Cainiao Ocean."
Alibaba's online grocery service, Tmall Supermarket, also stepped up sustainability efforts, using 4 million reusable boxes for orders made on its platforms during 11.11.
Brands partnered with Alibaba to roll out green initiatives. All of L'Oréal's products sold on Tmall this 11.11 are being shipped to consumer in environmentally friendly packaging. Last week, Unilever piloted a new artificial intelligence-powered recycling device with Alibaba to scan garbage and determine whether it's plastic. It then collects recyclables to process, resue and even repurpose into new product packaging. The first batch of devices has been deployed in select communities, on university campuses and at Lingshoutong mom-and-pop convenience stores in Shanghai and Hangzhou.