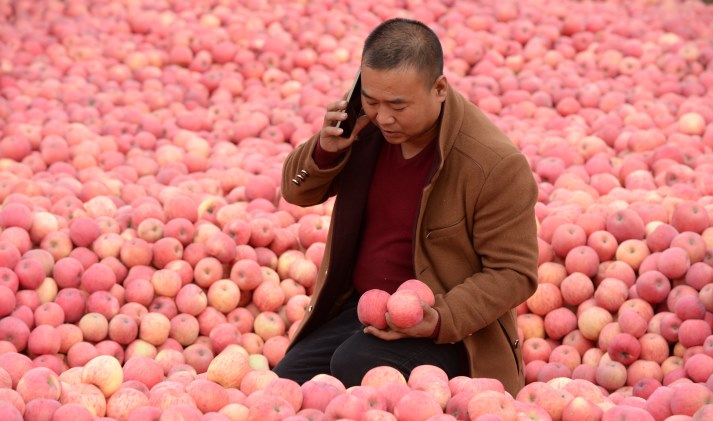 Alibaba Group is continuing its push to develop e-commerce in China's less-wealthy rural regions, with the number of rural service centers soaring more than eightfold since the end of June last year.
Alibaba has established rural service centers in some 16,000 villages in 29 provinces, up from 1,803 centers nearly 11 months ago, according to statistics released in May 25 during a company sponsored rural e-commerce summit held in Shandong Province.
Operated by independent local entrepreneurs, Alibaba's rural service centers represent the tip of the spear for the company's drive to spread e-commerce and online financial services beyond China's big, relatively wealthy cities. The centers provide internet access and training to consumers and businesses, helping them buy and sell through Alibaba's online marketplaces.
In January, Alibaba Group CEO Daniel Zhang said a 2016 strategic priority is "to ramp up our efforts to bring quality goods to rural buyers, and deliver local produce to urban customers, so the rural market can be connected to the whole country and even the whole world." Alibaba in 2014 announced plans to invest 10 billion yuan ($1.6 billion) to build 100,000 service centers in rural areas in China in three to five years.
According to a report from AliResearch, Alibaba's research arm, e-commerce orders placed by rural consumers or placed with rural sellers resulted in the delivery of more than 7 billion packages in 2015, up from 4.5 billion the previous year. Meanwhile, GMV generated through e-tailers located in 832 counties designated by Beijing as impoverished increased 81 percent in 2015 to RMB 21.56 billion ($3.3 billion), according to the report, which looked at e-commerce activity in rural counties last year.
Mobile GMV accounted for more than 60 percent of total GMV generated by rural consumers last year, according to AliResearch.
During the summit, Alibaba officials highlighted several initiatives that have been gaining traction in the countryside, including the development of a channel for the online sale of agricultural products from provinces including Shandong, Guizhou and Shaanxi. Aided by improved logistics, the channel, which was launched last year, allows farmers to sell organic and other produce to urban buyers on a pre-order basis. The AliResearch report said GMV of agricultural products sold on Alibaba platforms by residentsof less-developed counties grew 65 percent in 2015.
Alibaba Group fintech affiliate Ant Financial has also been active in rural China, offering services including online payments, insurance products and small loans to farmers through Alibaba's rural service centers. Some 120 million rural residents bought insurance through Ant in 2015, while 20 million took out business loans, according to the AliReseach report.
Alibaba also announced the launch of a new rural initiative called "smart county" at the summit, through which Alibaba's cloud computing arm, Alibaba Cloud, and Ant Financial will provide technical support to local governments as well as access to public services through Ant's Alipay super app. The program is currently being tested in small cities in Shandong, Zhejiang, and Guizhou provinces.