From strategic partnerships with the world's top international brands to a record-smashing day of online shopping, 2015 saw Alibaba Group continue to innovate within China and further extend its reach around the world. Pair those moments with Jack Ma's vigorous globe-trotting, and selecting just a handful of highlights that best represent the e-commerce giant's growth becomes more challenging every year. That said, we think the following 10 events best represent Alibaba's ambitions and offer clues as to what's in store for the coming year. Here areAlibaba's Top 10 Moments of 2015:
1. A New Chief Takes the Reins
Widely known as the architect behind Alibaba's 11.11 Shopping Festival, the world's largest online shopping event, Daniel Zhang was named chief executive officer on May 7. Zhang first joined the company in 2007 as chief financial officer of Taobao Marketplace and turned the e-commerce site into a major online shopping destination for millions of Chinese consumers and brands. He is also known for transitioning Taobao and other Alibaba online properties to mobile.
2. Women in Focus
Alibaba's commitment to empowering women is represented in its ranks: Nearly 35 percent of management are female, and 26 percent of senior management are female. In a step to further that mission, the company sponsored its first ever Global Conference on Women and Entrepreneurship in May. Distinguished panelists included Jessica Alba, actress and founder of the Honest Company; Arianna Huffington, co-founder and publisher of The Huffington Post; and Barbara Woodward, British ambassador to China. The panelists shared insights and inspiration with 500 young women from industries such as finance, technology, media and fashion.
3. Alibaba Invades America?
Since Alibaba's $25 billion initial public offering on the New York Stock Exchange in 2014, Jack Ma has been asked repeatedly, "When is Alibaba invading America?" To clarify the company's global strategy, Ma spent a week in the U.S. last June, highlighted by a speech before The Economic Club of New York. His message: Alibaba wants to eventually earn 50 percent of its revenues from overseas markets. Ma's other major U.S. stop included a town hall meeting in Chicago with Mayor Rahm Emanuel.
4. Cherry Garcia in China
The name Unilever may not come to mind among China's shoppers when they're loading up their carts, whether online or off. But certainly many of the 400 plus household products made by the British-Dutch corporate giant do. Among them are Dove soap, Ben & Jerry's ice cream and Lipton tea. In a move to boost its profile and facilitate cross-border sales in China, Unilever announced a partnership with Alibaba to tap into the growing demand for high-quality goods in rural areas using the Chinese company's e-commerce platforms. Unilever also plans to tap into Alibaba's Big Data services to analyze consumer habits and preferences to better serve its Chinese customers.
5. O2O on the Grow
One of the biggest trends in shopping is the marriage of Internet technology and brick-and-mortar stores, better known as online-to-offline (O2O), or omnichannel, retail. This allows consumers to take advantage of online deals for goods and services online and use them offline at stores and shops. Alibaba moved quickly to capture a piece of this market, announcing in August that it was investing $4.63 billion for a near 20 percent stake in Chinese consumer electronics chain Suning. Suning has more than 1,600 stores in 289 Chinese cities, and a vast logistics network that includes eight national distribution centers. Suning hopes to leverage Alibaba's e-commerce expertise to serve consumers in more rural areas of the country.
6. London Calling
Continuing with its cross-border ambitions, Alibaba announced in October that it would expand its London office to serve as the company's European hub. The company also announced the opening of a country office in Milan, Italy. Both locations are expected to ease the process by which European brands and companies of all sizes enter China's consumer marketplace. That includes streamlining import and export operations, as well as helping to facilitate the crucial trademark registration process.
7. Single's Day Shatters Sales Record
Alibaba's 11.11 Shopping Festival possibly set another Guinness World Record for "highest online sales revenue generated by a single company in 24 hours" with $14.8 billion in gross merchandise volume. That surpassed the record-setting 2014 figure of $9.3 billion by 60 percent. The company also set eight other Guinness World Records during this year's 11.11 event. Meanwhile, B2C marketplace AliExpress demonstrated the festival's growing appeal beyond China's borders: Consumers from 212 countries and regions, including Spain, the U.S., Russia and Israel, among others, placed orders during the 24-hour shopping frenzy. It was a star-studded affair as well, with Hollywood heavyweights such as Daniel Craig and Kevin Spacey showing up for a special 11.11 eve gala that wastelevised and streamed to millions of Chinese viewers. Spacey appeared via video as U.S. President Frank Underwood, his character on the Netflix series House of Cards.
8. Wading Deeper Into the Stream
More than 500 million users in China get their kickswatching weepy Korean dramas, U.S. blockbusters and user-generated content on online video site Youku Tudou. In November, Alibaba announced it entered into an agreement to go from being a minority stakeholder in the company to full owner by purchasing the remainder of the company's shares that it did not already beneficially own. Youku Tudou is expected to provide Alibaba with more opportunity to expand its entertainment and media ecosystem through the integration of advertising and consumer businesses.
9. Jack Meets Obama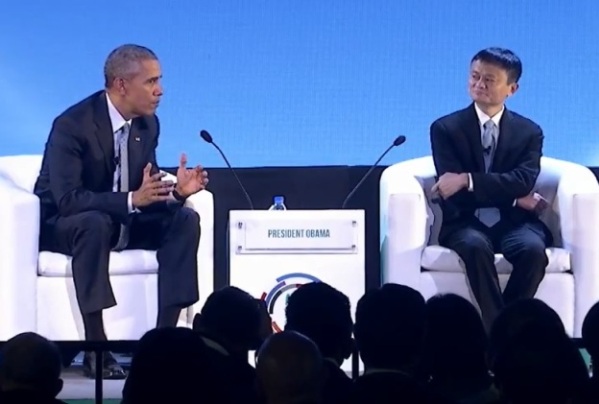 During a break at November's Asia-Pacific Cooperation Summit in Manila, President Barack Obama convened an onstage Q&A with Jack Ma to talk about climate change. When the president asked Ma for his thoughts about how government can encourage companies to invest in environmentally friendly technologies, the Chinese billionaire said the answer was simple: "Just reduce the tax, or no tax, for these guys." The quip earned peals of laughter, but actions by Ma demonstrate a serious side when it comes to environmental protection. At the COP21 Summit in Paris one month later, Ma said in a keynote speech that solving climate issues is not just for politicians but for "government, business leaders, scientists, working together."
10. Mickey Mouse in the House
In its ongoing drive to bring more entertainment to Chinese consumers, Alibaba in December announced a multiyear deal with Walt Disney Co. to sell a new smart device for the home featuring Disney content through Tmall.com. The Mickey Mouse-shaped device requires only an Internet connection and a subscription to stream DisneyLife, a collection of films, animated series, games and e-books. Still to come is a travel service for planning visits to Hong Kong Disneyland and Shanghai Disneyland, the latter of which is expected to open in 2016.