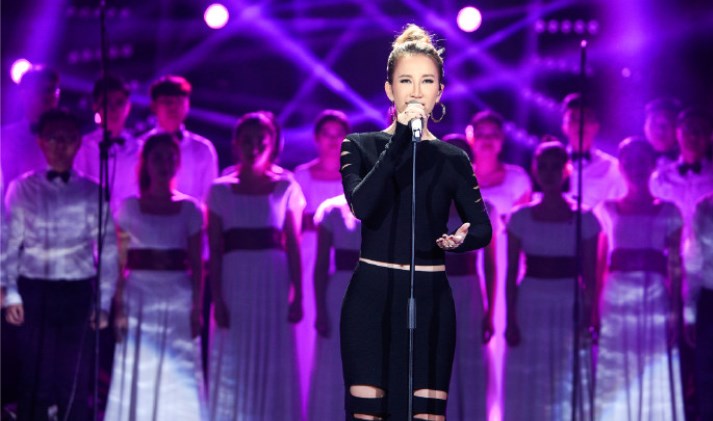 (Update: Alibaba's Ai program on April 8 correctly predicted the winner andrunners-upfor the season finale of Chinese reality show "I Am a Singer." The winner was Chinese-American singer CoCo Lee.)
Last month artificial intelligence technology reached a widelyheralded milestone when a Google computer program called AlphaGo defeated the Go master Lee Se-dol at the ancient board game in a five-game series.
Impressive, but can AliphaGo do this? On April 8, a computer program developed by Alibaba Group will attempt to predict the winner of a popular Chinese reality TV show by analyzing not potential moves on a glorified checkerboard but a range of complex and amorphous factors such as social media feedback, responses from a studio audience, and the "energy" of performers.
The reality show in question is "I Ama Singer," an annualmusical competition that pits well-known Asian pop stars—this week's season-endingfinalefeatures CoCo Lee, Hacken Lee, Jeff Chang and Joey Yung—against each other. Alibaba's cloud-computing arm, Alibaba Cloud, is using the competition to showcase a program it developed in-house called Apsara-I (Ai) that is able to gather insights from a multitude of inputs, can learn by analyzing data and even has the potential to understand human emotions, according to the company.
Artificial intelligence is being developed for numerous applications such as medical diagnosis, stock trading, and scientific research. Predicting the outcome of a reality TV show may be less serious, but it is challenging because results can be influenced by diverse variables including the nuanced performances of competitors and, in the case of "I Ama Singer," a panel of 500 public judges. The outcome "is very random and almost impossible to predict using human intelligence," said Dr. Min Wanli, Alibaba Cloud's chief scientist for Ai.
Alibaba hopes Ai can make successful real-time predictions by "utilizing neurological networks, social computing and emotional perception." We don't know what that means, either, but the program is said to be able to absorb data in real time to compare such things as the voice pitch and energy of the singers during the contest, the popularity of the songs they choose to sing, the fervor of theirfans, audience feedback at the venue, and even the tenor of online discussions in social media.
Ai—which can learn at a pace that is 10,000 times faster than humans, Alibaba says—has also been fed data on millions of songs to add to its knowledge base. The program will update its prediction every five seconds after the contest starts on Friday night; the final result will be broadcast online.
Alibaba Cloud, which launched an artificial intelligence R&D program in 2012, said it has used Ai toforecasttrafficconditions and in voice-recognition applications. In the future, Ai will used in weather forecasting, to predict box-office results of movies, and in "smart" personal-assistant software, among other fields.
First, though, the program will have to get past the reality-TV challenge. Will Ai succeed?
Being only human, we can't predict. But Alibaba Cloud said in a dry run conducted on April 1 during an earlier round of "I Ama Singer," the program correctly picked two out of the top three performers. "We believe that it will achieve a better performance after learning and evolving over the past week," Alibaba Cloud said.