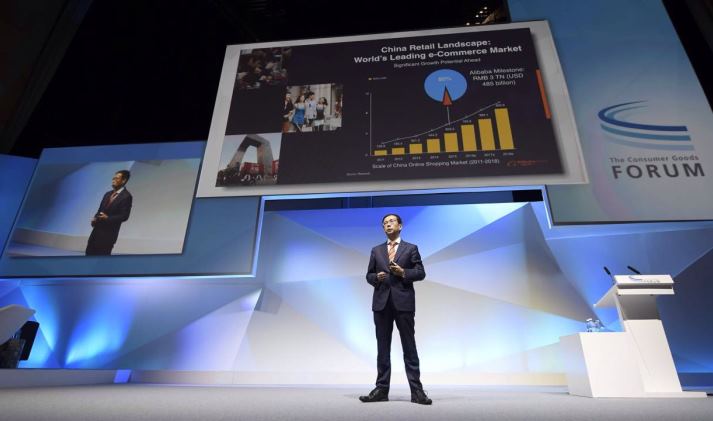 Speaking at the Consumer Goods Forum Summit in Cape Town, South Africa on Thursday, Alibaba Group CEO Daniel Zhang noted two distinct groups of attendees: manufacturers and retailers. Alibaba, he said, is neither.
Alibaba, China's largest e-commerce company, makes nothing and it doesn't buyorsell products. The company runs online marketplaces, meaning it acts as a digital conduit linkingmerchants and consumers. But, asZhang has pointed out often in recent months, Alibaba is expanding its operations far beyond it's core marketplaces business.
Today, Alibaba calls itselfan "e-commerce media ecosystem" that can help merchants reach hundreds of millions of online shoppers. This single platform, encompassing mobile devices as well as China's popular social media outlets and content portals, offers merchants multiple digital solutions for reaching new consumers, building brands, and fostering closer customer relationships.
"Our mission is to make it easy for our partners to do business anywhere," he said. "Only a platform model can achieve that."
At the Cape Town summit, Zhang outlined in greater detail the current China retail landscape and how Alibabaispositioned to tap into the country's historic shift to an economy driven more by consumer spending. Here are some of the highlightsbased onslides taken from Zhang's presentation:
Online shopping in China continues to rapidly gain ground on conventional retailing. Total online spending is expected to reach RMB 7.5 trillion ( $1.1 trillion) by 2018, according to iResearch.
For fiscal year 2016, about RMB 3 trillion ($485 billion) worth of goods were sold on Alibaba's China marketplaces, a milestone for the company. That's about 80 percent of the $600 billion e-commerce market in China during that period, and about 10 percent of the total retail market in China of $4.5 trillion.
Zhang predicted that by FY2020, Alibaba will generate over RMB 6 trillion ($1 trillion) in gross merchandise volume. That would make it the first such company to ever hit that mark.
"That's our clear goal in the next three to four years," he said.
Here's the Alibaba ecosystem. The company is well known for its e-commerce platform,which includesglobal wholesale site Alibaba.com, brand-focused shopping website Tmall.com, and the massive Taobao online marketplace. But the company also offers online payments and logistics and marketing services, as well as access to new China customers through the company's digital media and entertainment properties and access to new markets outside of China such as Southeast Asia through the Lazadashopping site.
Cloud computing is also now a primary focus for Alibaba, Zhang said, because the world continues to become ever more digital and that requires a huge amount of computing capacity. Zhang called data the "blood of new economy."
"In substance, Alibaba is a data company," he said. All of its businesses throw off data, which is used to "refuel the business and refuel the participants in the ecosystems to help our partners to do business easier anywhere in this fast-changing digital world."
Zhang also emphasized that Alibaba's e-commerce sitesare increasingly becoming lifestyle channels for Chinese consumers. Taobao especially is a place for consumers to spend their time, he said. Consumers on Taobao can share products they like with other users, post questions about products and answer those questions of other users, and commune with like-minded shoppers around product categories from apparel to outdoor equipment.
Alibaba is also leveraging other technologies such as live streaming to allow brands to engage consumers in real time. Zhang said cosmetics brand Maybelline hired Hong Kong pop star Angelababy to promote a new lip gloss through a live-streaming event; more than 10,000 units were sold in just two hours.
"The most important thing is not about the sales volume," Zhang said. "It's about 5 million people who watched the live streaming which creates tremendous brand and product recognition."
To further prove his point about engagement onAlibaba's e-commerce platform, Zhang said the average Mobile Taobao user spends more than 20 minutes a day on the app. Compare that with the amount of time comScore reported users spend on YouTube (17 minutes), all of Yahoo's sites (9 minutes) or even Twitter (just one minute).
"This is quite long considering the nature of shopping," Zhang said.
The point Zhang made this slide was clear: Merchants need to employ at least about five different companies in order to execute a sales and marketing strategy in the U.S. They might do branding and advertising on YouTube and Facebook, while keywords are purchased to generate placement in Google Search results. Then they sell their products through Amazon.
But with Alibaba, they get all of those services from the same company with Taobao and Tmall, media and web properties Youku Tudou and UC Browser, and marketing platform Alimama.
"We have very strong retail marketplaces, very strong media platforms," Zhang said. "We want to integrate them so that people can do branding, customer engagement and all these exercises, and finally convert to sales."
How extensive is Alibaba's network? According to Zhang, all of the company's mobile assets, including the Alipay super-app can reach 95 percent of China's mobile internet users.
Merchants are able to leverage this closed-loop ecosystem because Alibaba tracks users across all of its sites using a unified ID system. That data can then be used to find target audiences and even tailor virtual storefronts according to the preferences of individual consumers.
Zhang said this is all part of Alibaba's "four-in-one ecosystem," which includes brand building, customer management, channel expansion and product innovation.
As an example of the first two, Zhang pointed to cosmetics brand Olay, which launched a marketing campaign on Youku Tudou to attract potential buyers of its skin care products. By tracking the unified IDs of users who had viewed the campaign on Youku, Alibaba was also to target the same users when they logged onto Tmall. Those users who viewed the campaign on both Youku and then later Tmall were 151 percent more likely to purchase than other visitors to only Olay's Tmall store, Zhang said.
For channel expansion, Alibaba has pushed beyond urban, middle-class Chinese shoppers to those in the country's rural provinces. With globalization a key part of Alibaba's growth strategy, consumers in overseas markets such as Southeast Asia and India are also increasingly within the reach of Alibaba's platform.
Brands can also leverage Alibaba to optimize the products they sell and develop new ones that respond to regional tastes, Zhang said. Many merchants periodically do consumer surveys to find out what customers want, but that typically takes eight weeks of sampling, questionnaires and data analysis. But with Alibaba and its 400 million active users, those merchants can do a much broader sampling online. Pampers, Zhang noted, used Alibaba in this way and completed its survey in just a week.
"This is real consumer insight for people to develop new products," he said.