Inthe retailing business, it's fairly common knowledge that China is home to the world's most prolific online shoppers. Last year almost 419 million mainlandersmade purchases via the Web, more than any other country, and they spent more online than consumers elsewhere by a wide margin ($672 billion, nearly twice U.S. online spending in 2015).
If these facts suggest to you that e-commerce in China has matured and growth is running out of steam as the country's economy slows, think again. China retail consumption in general continues to increase briskly and online shopping in particular continues to boom. Analysts reckon this is due to a combination of potent demographic and cultural trends that show no signs of abating: the growing spending power of upper middle class and affluent households; the coming of age of a generation of college-educated consumers; rising aspirations among hundreds of millions of people in China's less-developed cities and rural areas; a powerful shift away from shopping at brick-and-mortar stores to mobile e-commerce driven by widespread smartphone adoption.
Will China still be on top at the close of the decade? A recent forecast on worldwide e-commerce sales through 2019 by independent research firm eMarketer saysyes, emphatically so. Below, charts adapted from eMarketer's report show how the country is set to become an even more dominant e-commerce force in coming years.
In 2019, China will spend more online than any other country: nearly $2 trillion, more than 3.6 times as much as the U.S.
China will also have the most online shoppers.
Yet only half of China's population will be shopping online in four years, leaving room for more growth (it's a very big market).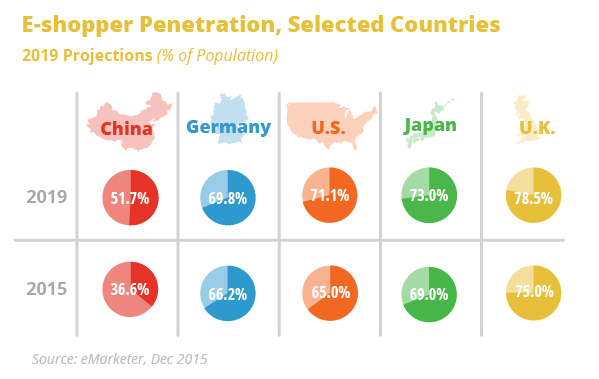 In 2019, one out of every three of China's retail dollars will be spent online, the highest ratio in the world.
Still,online sales will continue to grow, and at a world-beating rate.
Looking at e-commerce as a global market, China will account for the largest share of worldwide online shoppers in 2019. By far.
And 55 cents of every dollar spent online around the world will come from a Chinese consumer. That's dominance.