Alibaba's efforts to turn more of China's rural residents into online shoppers appears to have paid off during the e-commerce giant's 11.11 Global Shopping Festival as thousands of villagers joined the 24-hour sale for the first time. GMV generated at Alibaba's over 8,000 village-level service centers across the country reached more than RMB 200 million ($31.4 million) with several hours left in the 24-hour sale, according to Alibaba.
To make sure rural residents, who are less affluent than their cousins in China's large cities, got some love during the sale, Alibaba's Rural Taobao shopping channel created a list of 34 products popular with rural shoppers for pre-sale promotions. Best-selling items large appliances and consumer electronics such as TVs are among the list.
And to make sure that buyers in more remote areas received goods in a timely manner, the website warehoused inventory in Alibaba Group county operation centers according to sales projections developed from geographic online shopping patterns. The data-enhanced planning paid off. Rural Taobao reported a shopper living in Zhuping Village in Chongqing ordered a TV for his new home right after the sale began at midnight and took deliver just an hour and 48 minutes later, marking the first order delivered to rural region during this year's 11.11 sale.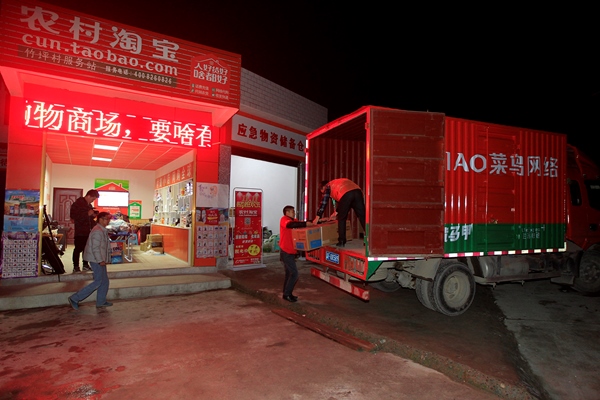 Alibaba is investing $1.6 billion over the next three to five years to build a network of thousands of service centers and distribution facilities in areas that lack adequate retail and logistics infrastructure. More than 8,000 are already operating, Alibaba says. Villagers can shop at these physical outlets, with the help of local operators called Rural Taobao partners. Coordinated by Alibaba's logistics arm Cainiao, goods ordered online are delivered to county operation centers where they are distributed to local couriers for last-mile delivery.
For the 11.11 sale, manufacturers and merchants introduced cheaper products suited for rural consumers. TV maker Hisense, for example, offered a low-priced 39-inch model with less functionality than typical models demanded by urban residents. By engaging with villagers and encouraging them to join 11.11, "we hope they can enjoy the same happiness and convenience through e-commerce that city residents enjoy," said AlibabaCEO Daniel Zhang at the event's media center in Beijing's Water Cube. Zhang also announced Alibaba plans to hold another 11.11-like shopping festival around Chinese New Year next year that would benefit more rural shoppers.
In addition to TVs, other top-selling products favored by rural buyers include high-pressure car washers andBuick Excelle car models, as well as daily necessities like Head & Shoulders shampoo, thermal underwear, and laundrydetergent, according to Alibaba.