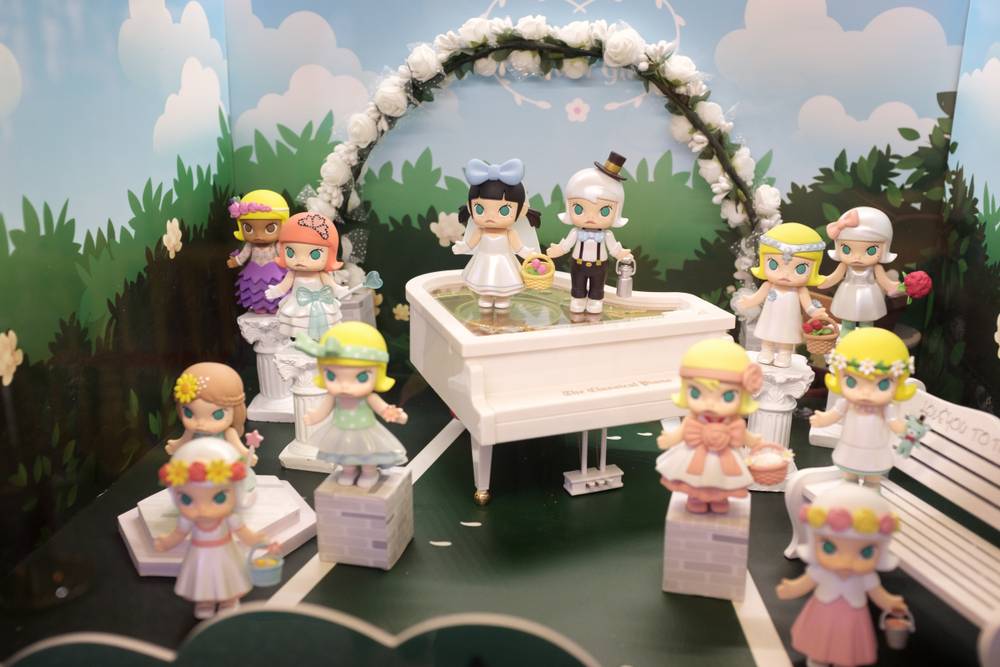 From street art-inspired figurines to cutesy dolls, younger generations of Chinese consumers are driving a boom in popularity – and prices – for collectible toys.
The total gross merchandise value (GMV) of collectible toys on Alibaba Group's B2C marketplace Tmall soared 694% during the 11.11 Global Shopping Festival this year, compared with a year earlier.
"Younger Chinese consumers view the toys as carriers of their individuality and aesthetics," said Zhu Yimin, director analyst at business consulting firm Frost & Sullivan.
Collectible toys, or "chao wan" in Mandarin, span toys derived from anime, films, or other forms of pop culture. Designer toys, often produced in limited editions in collaboration with artists, also fall into this category.
"In China, it's a new cool way of collecting something urban, with style," B2C Research Director Steffi Noel at Shanghai-based Daxue Consulting told Alizila.
Designer toys first appeared in the 1990s in Hong Kong and Japan and rapidly moved westwards. American artist Kaws, born Brian Donnelly, issued his first vinyl figurine inspired by Mickey Mouse in 1999.
Many of the world's most famous street artists, including Banksy, Takashi Murakami, and Shepard Fairey, have similarly turned cartoon characters into three-dimensional collectibles in partnership with toy makers.
While toys by artists like KAWS may fetch hundreds of thousands of dollars, there is a collectible toy for every price range.
In China, over 45% of toy purchases in the first quarter of 2021 were made by consumers born after 1995, according to a report by Guangdong-based iiMedia Research.
"Designer toys bring a sense of spiritual sustenance to younger generations in China who are not keen on having babies," Zuo Yan, e-commerce manager at the collectible toy brand Finding Unicorn, said in an interview with Alizila.
China could become one of the world's biggest markets for collectible toys. In 2017, China's collectible toy business accounted for 11.18% global sales, rising to 19.17% in 2020, according to iiMedia Research.
The report also noted that China's designer toy market was worth over RMB38.4 billion ($5.2 billion) in 2021 and will grow to RMB57.4 billion in 2023.
A Surprise In Store
The toy trend coincides with increasing sales of blind boxes in China, so named because shoppers have no idea what's inside.
Finding Unicorn, the brand behind the colorful pop art-styled Farmer BOB figurines, took blind boxes to the next level on Tmall. It released a limited-edition Farmer BOB blind box at RMB89 a piece during the shopping festival 11.11, which sold out in minutes.
"Blind boxes bring Chinese consumers surprises. The excitement peaks when people fully unpack the mystery box to reveal a premium-valued toy inside," Finding Unicorn's Zuo noted in Mandarin.
Toy collectors usually keep an eye out for seasonal drop debuts and collections with resale value.
The limited-edition Farmer BOB collection is known for a markup in value in the second-hand trading market.
"The scarcity of designer toys will push the prices up to a high second-hand trading value, which translates to the collectible value of the toys," said Frost & Sullivan's Zhu in Mandarin during an interview with Alizila.
Earlier this year, Finding Unicorn released a co-branded limited-edition Farmer BOB with the Italian luxury vehicle brand Maserati.
The 3,000 Farmer BOB figures Finding Unicorn dropped at its Tmall Flagship store were sold out immediately and can now easily fetch prices above RMB3,000 each on Alibaba's upcycling marketplace Idle Fish – quadruple their original price at their debut in April. Over 203,000 people signed up for the lottery on Tmall to get one of the 9-inch figurines dressed like a sports car racer.
"Designer toys have become a wealth management product for some Chinese people," Daxue's Noel noted.
Emotional Attachment
While collectible toys present a business opportunity to some, others are drawn by a genuine enthusiasm for the characters.
"It brings companionship just like what people can get from their pets," Zuo at Finding Unicorn explained.
Designer toy fans enthusiastically share their feelings and preferences through social media. They gather to show off the latest hauls and swap tips on trends, even attracting prominent investors such as the venture capital firm Sequoia China.
Frost & Sullivan's Zhu said that people who buy from the same collection tend to share similar values, generating a greater sense of belonging.
"Whether the consumer buys or collects, he or she can see part of his or her self from the toy, which forms an emotional interaction and a sense of identity," Zhu noted.