Skills training and technology were in focus at two of Alibaba Group's annual philanthropy gatherings in the past week, with Executive Chairman Jack Ma and Executive Vice Chairman Joe Tsai emphasizing education and digitization as the key to successfully reduce poverty in China.
On Sunday, Ma's namesake philanthropic organization, The Jack Ma Foundation, held its yearly awards for outstanding educators on the southern Chinese island of Sanya, while Alibaba's Poverty Relief Fund last week held its annual conference in Hangzhou. The takeaway from both events: Skills training, especially digital skills, were essential for helping the disadvantaged how to participate in China's growing economy.
In Hangzhou, Ma said that science and technology must play a central role in reducing poverty and improving the quality of life in rural China. New technologies and consumer insights can help farmers to optimize their work processes and increase their competitiveness, which is more important than mere monetary donations.
"We must not just help farmers increase their revenue," Ma said. "We have to help them improve the way they generate revenue."
By analyzing consumers' shopping preferences, it was discovered that most Chinese consumers prefer to buy sweet melons that weigh around two kilograms. With further research coupled with technology, now farmers can customize their production and ensure their melons meet the demands of most Chinese online consumers. The result: the price of sweet melons have increased four-folds.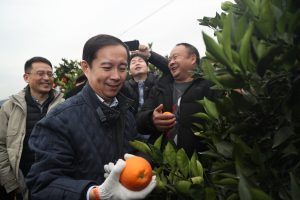 Training China's Future Workforce
In Sanya, Tsai, who last year formed his own China-based foundation, stressed the importance of vocational training. According to government statistics, about 42% of the 14 million middle-school graduates in China don't attend high school. Instead, they move straight into low-skilled jobs. Skills-based training would help these graduates have a smoother transition as they step into the workforce, Tsai said.
However, China's current vocational training system faces two main issues, namely a dearth of quality vocational instructors and a lack of teaching materials that have kept pace with changes of the industry, Tsai noted. As the operator of China's biggest online shopping sites, it was a logical move for Alibaba to help restructure the curriculum of selected vocational training schools and offer more support on the topic of e-commerce, he said.
"By pooling together some Alibaba resources, including Taobao University and our current trainers, we can train the teachers to know more about ecommerce," he said. Last year, a group of vocational instructors from various parts of China were invited to Alibaba's headquarters in Hangzhou for training," he said.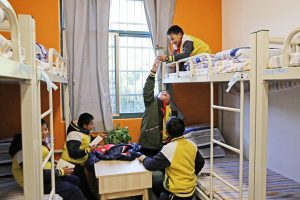 In China, a child's academic achievement is a major source of pride for the parents, Tsai pointed out, which means vocational students often suffer a social stigma from peer who are on the college track. But such discrimination should be eliminated, said Tsai, adding that the first step is to educate the parents.
Echoing that sentiment, Ma, former English teacher, encouraged the attendees of the Sanya conference to broaden their idea of education from a singular focus on academics and grades to one that emphasizes holistic personal development.
"I have always felt that for a person to achieve success, one must have intelligence, wisdom as well as love," he said, stressing the importance of allowing the students to freely pursue their own passion, rather than be forced to pursuit a certain career path.
Public Service as a Company Value
In 2017, Alibaba established the $1.5 billion Poverty Relief Fund to underscore an important company value: giving back to the society. The fund is monitored by third-party organizations to ensure fairness and transparency. All employees of Alibaba are also strongly encouraged to do at least three hours of public service each year.
The Fund is chaired by Ma, who focuses on elevating the quality of education in rural areas. Shao Xiaofeng, one of Alibaba's 36 partners, serves as president, while four other partners – Alibaba Group CEO Daniel Zhang, Executive Vice Chairman Joe Tsai, Ant Financial CEO Eric Jing and Lazada Executive Chairwoman Lucy Peng – serve as vice chairs, each with their own areas of focus.
To date, the fund has helped over 260,000 young people enroll in vocation training, over 1,000 agricultural produce brands have been launched, and 4.25 million rural villagers have received insurance for the first time. In the area of women's empowerment, over 170,000 women have received health insurance.
At the same time, the emphasis on digitization has resulted in over RMB 63 billion ($10.1 million) in e-commerce sales in counties deemed "poverty-stricken" by the Chinese government since the Fund's launch, Alibaba reported.
The Importance of Public-Private Partnerships
At both events, Ma called on China's top business leaders to lend a hand in helping the country's disenfranchised population, saying that without the collective effort of the government and the corporate, the goal of alleviating poverty from China could be hard to reach in the near future.
"The government is the right hand and the business community is the left hand. The problem can only be tackled if both hands work together," Ma said.