There's a new fashion trend in China, one that never goes out of style.
That's thanks to Idle Fish, "Xianyu" in Chinese, Alibaba Group's secondhand marketplace that puts unwanted goods to use elsewhere, carving out a channel that makes recycling unwanted garments as easy as making an online purchase.
Since launching last March, Idle Fish has recycled over 8,500 tons of unwanted clothes, the company said. That's about 24 million pieces of clothing.
With a few taps on a smartphone, unwanted items are picked up, free of charge. Idle Fish then partners with recycling firms to extend the lifespan of products by reselling them secondhand or using them to make new industrial and agricultural products, such as soundproofing material for vehicles or shade cloths that help control temperatures for greenhouses and fish farms. Those products account for more than half of the recycled clothing.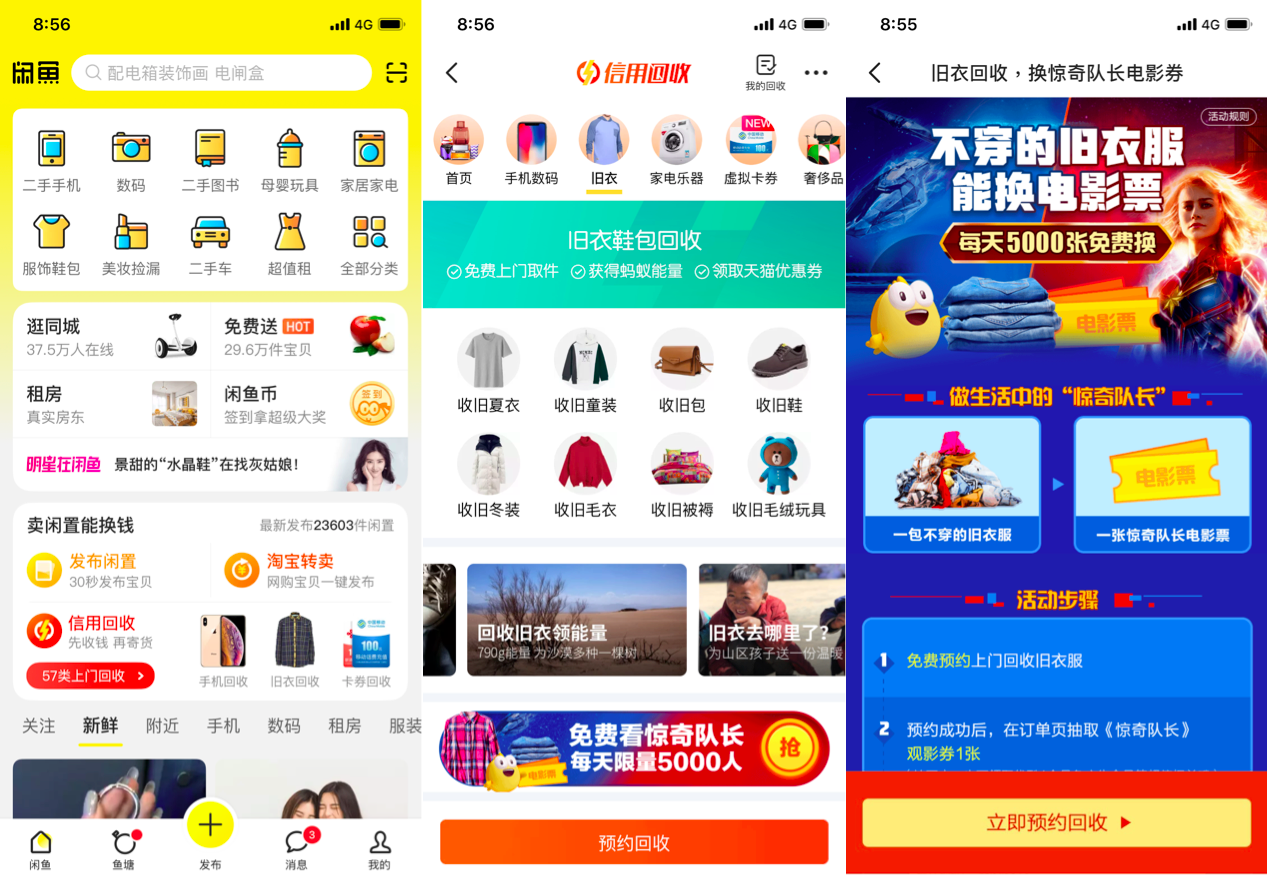 Among the fashion recyclers on the platform, 70% are women and about half fall within the 18-30 age group, according to Idle Fish. Its most active user recycled 1.2 tons worth of clothing this past year, with most recyclers based in major cities such as Shanghai, Beijing, Guangzhou, Hangzhou and Shenzhen, the company said.
Every second, the equivalent of one garbage truck of textiles is landfilled or burned globally, according to a 2017 report from the Ellen MacArthur Foundation. China alone throws away approximately 20 million tons of textiles a year, according to a 2014 report published by the National Development and Reform Commission.
Aside of clothing, Idle Fish users can get rid of everything from designer bags and books to refrigerators and smartphones – even cars. For premium-priced categories like cars and electronics, they tick boxes detailing the product's origin and condition and then receive an estimated payment for the recycled goods. While anyone can use the service, users with a Zhima credit score of over 600 can receive an initial payment via Alipay – of up to RMB 2,000 ($298) – even before couriers come pick up the recycled items.
From Recycling to Tree-Planting
Collaborating with Ant Financial, which operates Alipay, Idle Fish awards recyclers points toward "Ant Forest," a game that lives within Ant's Alipay mobile app. Ant Forest, which tracks a person's carbon footprint, allows users to collect "green power" points that accumulate through actions in the real world, such as opting to pay utility bills via the app instead of using paper or choosing public transport over driving their cars. After users earn a certain amount of green power, Ant Financial and its NGO partners plant a tree on their behalf.
Since the in-app feature started in 2016, 400 million Alipay users have activated their Ant Forest accounts, the Alibaba-affiliated company said. Ant has planted 55.52 million trees to date, reducing carbon emissions by 3.08 million tons, it said. According to Idle Fish, total recycling activity on its site in the past year translated into about 230,000 trees planted.
The new recycling service comes as Idle Fish expands beyond its core C2C secondhand goods market to include a wider range of services, such as home and apparel rentals and a new site for brand-certified stores, where brands sell sample items and overstock merchandise. Users can also join like-minded communities, or "fish ponds," based on their locations or common interests. There are currently more than 450,000 fish ponds on the site.
Taobao President Jiang Fan said the importance of Idle Fish will grow as China inevitably steers towards a more-sustainable "circular economy," an economic model that designs out waste and pollution and keeps products in use for as long as possible.
"A lot of people might ask why Alibaba needs Idle Fish, when it already has platforms like Taobao and Tmall," Jiang said. "We've seen a rapid rise in consumption, and accompanying that growth is a huge increase of idle goods that still have value."
"We believe that in the next three to five years, Idle Fish will become as popular as Taobao and reshape the lifestyles of China's younger generation, similar to how Taobao has before," he said.
Launched in 2014 by Alibaba's Taobao Marketplace, Idle Fish is now China's largest secondhand trading platform in terms of monthly active users, with more than 200 million of them, and over half of them born after 1990.