Freshippo supermarket is what you get when you imagine a seamless blend of the online and offline shopping experience, Alibaba Group CEO Daniel Zhang said Monday.
Zhang toured one of the 10 neighborhood stores in Shanghai with Executive Chairman Jack Ma last week andheld up the fresh-food focused Freshippo(also known as Hema) as an example of the "New Retail" model, which Alibaba has successfully incubated for the past two years. "New Retail" uses technology and data to merge online and offline shopping, offering consumers a more-efficient and more-flexible shopping experience.
TheFreshippoexperience starts with a download of the mobile app. That links right up to a customer's Taobao or Alipay account. Customers who don't have accounts yet can easily sign up. And then the shopping begins, wherever the customer is.
Watch: Tom Brennan takes us on a tour of aFreshipposupermarket in Shanghai
"Freshippo leverages data and smart logistics technology to seamlessly integrate online-offline systems, built to provide the unparalleled service of fresh food deliveries in 30 minutes," Zhang said.
Since 2015, Alibaba has opened 13 Freshippo markets. Apart from the 10 in Shanghai, there are two in Beijing and one in Ningbo. Each aims to serve a customer base within a three-kilometer radius to ensure fast, high-level service. Freshippo stores are fully mobile-powered and allow customers to use Alipay. The stores' sales per unit area are three-to-five times those of other supermarkets. They've also cracked a key problem of how to scale local deliveries, with each store able to fulfill thousands of orders a day.
The hyper-local business allows customers to shop from the comfort of their homes, using a mobile app.They can order fresh foodtocook it at homeor haveitprepared by theFreshippochefsanddeliveredwithin 30 minutes. Customerswho prefer the in-instore experience, can visit the supermarket to hand-select theirfresh food, such as seafood,and can choose to have it cooked for carry-out,delivered to their nearby home or office,or they can eat it on the spotthe store's dining area.
Watch: Jack Ma visits aFreshipposupermarket and samples some of its fresh food.
Freshippo's game-changer, as far as Chinese consumers are concerned, is the fresh seafood section. Shoppers can pick out their own lobster or other shellfish, but it right away and have it cooked up and ready for them to eat in the restaurant area when they complete the rest of their shopping.
The stores, themselves, look like normal neighborhood supermarkets, with a selection of packaged foods, produce, beverages and other goods. Every item has a scannable bar code, which yields price and product information, including origin and any backstory on the item, if there is one. Customers scan the codeand complete their electronic purchase through Alipay at a checkout registerbefore leaving the store.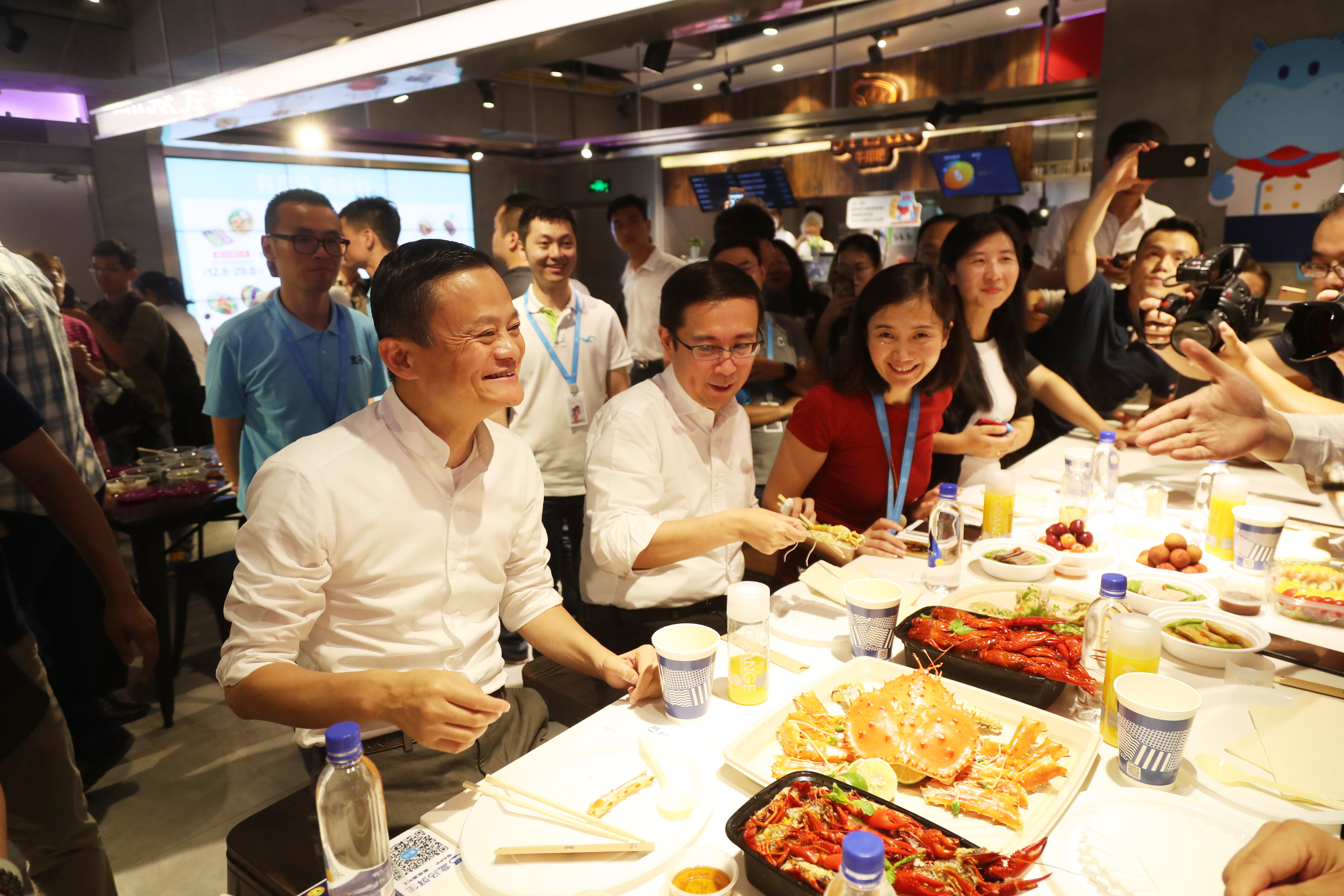 User experience is enhanced through big data. Because customers shop through the Freshippo mobile app, every purchase is logged, and preferences are saved. On the customer side, analytics offer up a personalized product page, and on the delivery side, machine algorithms plan delivery routes. The bar codes not only let customers trace product origin and track delivery, but are also a means for Freshippo to employ a smart supply-chain management system.
Freshippo's innovative fulfillment model is what allows it to deliver orders within a half-hour. The store doubles as warehouse, and order-fulfillment specialists can be seen moving up and down the aisleswith a scanner, reusable shopping bag and a special bar code for each order. They scan and pack up goods, putting the bags on a conveyor belt that carries orders to a delivery center adjacent to the store. Freshippo aims to be a zero-waste company, recycling containers used for delivery.
Zhang noted that Alibaba doesn't intend to operate a large grocery chain. As with Alibaba's investments in the Intime department store chain, the aim is to create showcases that demonstrate the benefits of "New Retail" to customers and other businesses that want to digitally transform themselves.E-commerce currently accounts for around 15% of total retail in China. Alibaba has said its goal is not to make incremental progress on that 15%, but to digitally transform the 85%.
"We believe the future of New Retail will be a harmonious integration of online and offline, andFreshippois a prime example of this evolution that's taking place," Zhang said. "Freshippo is a showcase of the new business opportunities that emerges from online-offline integration."
While it's still early days forFreshippo, the first two yearsof store operations have yielded some promising results. Customers each make 4.5 purchases a month on average and 50 times a year. Among users who open the Freshippo app, the conversion rate for making a purchase is as high as 35%. On average, online orders account for more than 50% of total orders. For mature stores like the one in Shanghai Jinqiao, online orders are as high as 70% of total orders.
Freshippo is a membership-based shop, with customers registeredthe first time they pay for an order through the mobile app.