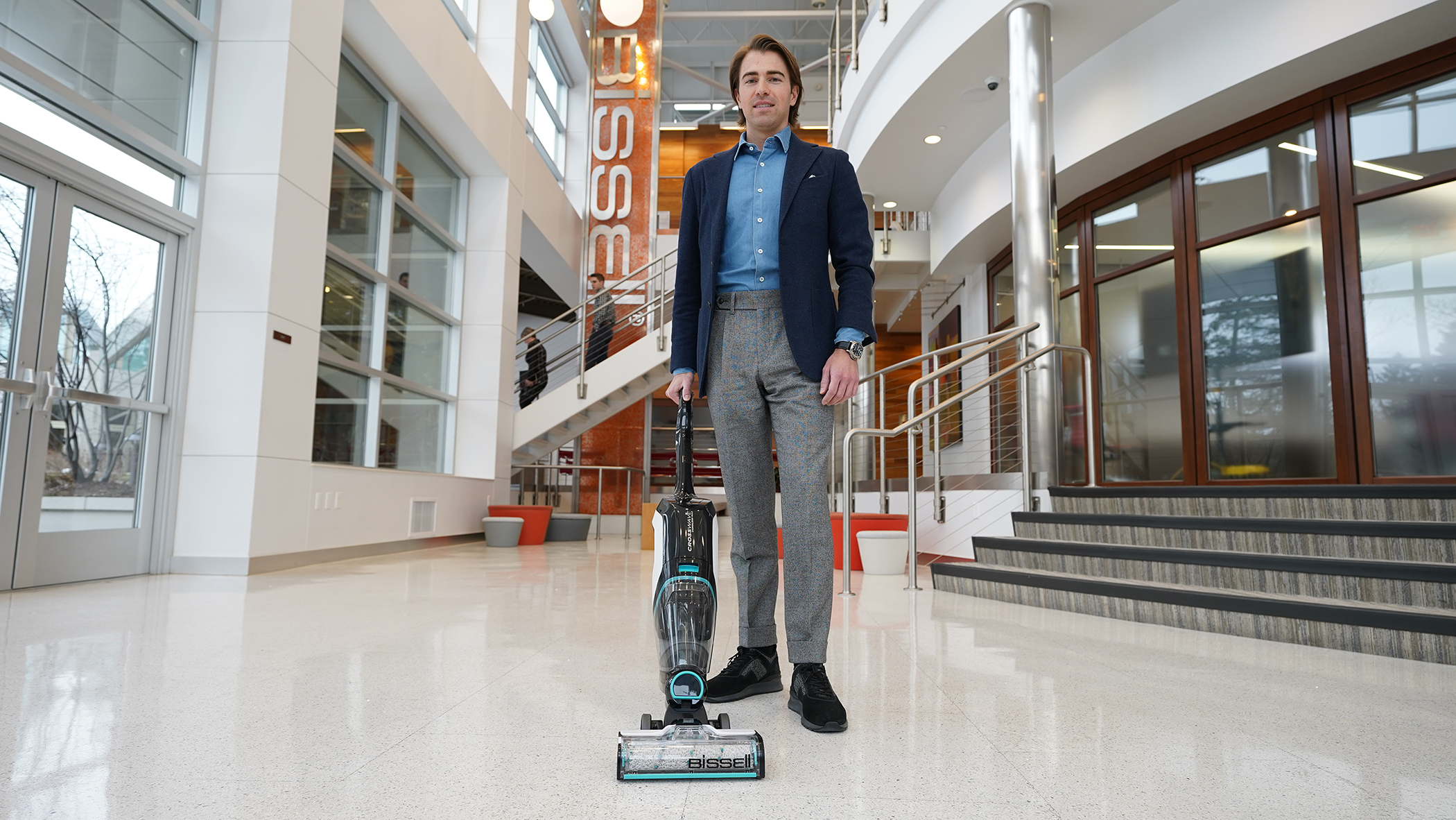 When the Covid-19 pandemic struck China and demand for high-quality floor-care products spiked, family-owned U.S. company Bissell quickly adapted its online strategy to better cater to its consumers' needs.
Over its 144-year history, Bissell has long pivoted to meet changing lifestyle habits and market demands. But the pandemic was a first for the company founded by Melville Bissell in America's heartland.
To address coronavirus-related disruptions to its supply chain, Bissell tapped Alibaba's digital tools and strategies. In its Tmall online store, it began using a recommendation feature that redirects consumers browsing out-of-stock items to pages listing similar products. This helped the company keep up with consumer demands and also effectively manage its inventory.
"It has been the best practice and a lesson we learned in China and then applied to other markets," said Max Bissell, the company's director of deep-cleaning systems.
WATCH: The story of Bissell's sweeping success
The company has also been able to use consumer insights from Tmall to make informed decisions. According to statistics from the e-commerce platform, due to rising concerns over health and home hygiene, there has been a 14% surge in the floor-care category in China since the coronavirus outbreak.
Bissell captured this emerging demand early on by promoting its formula-based cleaning solutions and steam cleaners – products that are particularly effective at disinfecting. To market these to China's stay-at-home consumers during the pandemic, it set up its own account on the Taobao Live video-streaming platform. The account, which hosts hour-long product demos up to six days a week, is tied to Bissell's Tmall store, allowing the company to track all incoming orders and adjust its livestreaming strategy to meet consumer needs.
"Chinese consumers are open to new brands in innovation, but they want to see how the product works," said Max Bissell. "Our products are very demonstrable, so you can show them in action, you can use it on a mess, you can pick it up. And I think that resonated really well with the Chinese consumer and it's sort of a different approach to how we've gone to market in other countries."
Thanks to these agile responses to the pandemic, Bissell saw a significant boost in online sales starting in Q1 and higher return-on-investment results across its listed products.
Legacy of Innovation
Bissell, well-known and well-regarded for over a century from its Grand Rapids, Michigan headquarters, entered China in 2017. Its timing was good. China's floor-care market has seen rapid growth over the past five years. Through its flagship store on Tmall, Bissell's products now reach hundreds of thousands of Chinese consumers. The brand has become so popular in this market that during last year's 11.11 Global Shopping Festival, it was able to double its year-on-year business in just 12 hours.
In many ways, Bissell's ability to weather the coronavirus crisis has to do with its ethos of innovation and flexibility, something that has helped it build its brand both at home and abroad.
During the early days of its expansion into China, Bissell was already tapping Alibaba's insights and analytics tools to better understand consumers' wants and needs.
When it first started working with Tmall, Bissell developed a new product for the China market. The company studied numerous households in Beijing and Shanghai and learned that Chinese consumers were extremely fastidious when it came to cleaning. Its research led to the creation of the Crosswave, a multi-surface floor cleaner that vacuums, washes and dries, all in one pass.
"For us, it was about doing the research and having the knowledge to back up our product-development process, which helped us develop something unique and enable us to be at the tip of the spear," said Max Bissell.
A Healthy Outlook
Going forward, Bissell is optimizing its sales and supply chain, re-evaluating everything from components to tooling capacities to meet new cleaning and consumption patterns. Its China team is also working closely with Tmall to test various content-marketing strategies and features, such as homepage banners, product-detail pages and improved user recommendations.
"There are a lot of macro-consumer trends that are shifting and I don't know if they will ever shift back. People are going to continue to buy online in part because it's so convenient and in part because there will be looming concerns for a period of time," said Max Bissell.
Current insights also show that consumers will be likely to continue paying more attention to personal and home hygiene, even after the coronavirus. As a result, Bissell says it will be focused on developing new products that meet those needs.
"As an organization, we're going to roll with the punches by solving things one day at a time. In situations like these, it's important to make sure we are not stuck or overwhelmed by obstacles," said Max Bissell. "We are at 144 years but still pretty entrepreneurial by identifying new opportunities to grow the business."
Sign up for our newsletter to receive the latest Alibaba updates in your inbox every week.