When Charles III was crowned King of the United Kingdom and the Commonwealth on May 6 he reused his grandfather George VI's coronation glove to symbolize his commitment to sustainability.
The glove was made by Dents in 1937. The small British company also handcrafted Elizabeth II's coronation glove in 1953 and, before that, for George V's in 1911. Members of the royal family have worn Dents gloves at less formal functions for generations.
"We've had a long and glorious history with the royal family, and we're very proud of it," Deborah Moore, CEO of Dents, told Alizila at the company's headquarters in Warminister, southwest England.
Charles III has a long track record of championing sustainability. As Prince of Wales, he turned one of his estates into an organic farming business and was heavily involved in COP26, the United Nations Climate Change Conference.
During the coronation, the sovereign wears the coronation gauntlet in his right hand to grasp a scepter. The glove is made out of white kid leather and embroidered with gilt metal thread, wire and spangles in the form of national emblems, including the Tudor Rose, thistle, shamrock, oak leaves and acorns, Buckingham Palace said in a statement.
The glove's back has an embroidered ducal coronet above a coat of arms and red satin lining. Dents undertook conservation work on the glove ahead of the coronation. "We were very proud that we were asked to conserve the glove," said Dents' Moore.
Hand of the King
Dents has been making gloves for British high society for almost 250 years using essentially the same steps, damping the leather first and then meticulously cutting out the blemishes found on natural skins by hand using shears.
Over 70 pieces can go into making each pair of gloves. The only notable change in the process since the advent of electricity is that artisans stitch these pieces together using machines rather than needle and thread.
Dents makes gloves from four types of leather: sheepskin, deerskin from North America, hair sheep from North Africa, and peccary skin, a rare luxury leather harvested from a wild pig-like animal found mainly in South America.
As Prince of Wales, Charles III awarded Dents a coveted Royal Warrant as a regular supplier to the royals and due to the company's environmental and social credentials. The application process for its Royal Warrant covered everything from its solar-powered factory and waste recycling to the welfare of animals.
"You do have to work for it. You don't just get it," said Moore, who sees the right to display the Royal Arms conveyed by the kitemark as a point of pride and a valuable credential to win customers. "It does help, especially in the export markets," she added.
About 90% of consumers in Asia-Pacific are willing to pay more for sustainable products, according to a survey commissioned by Bain & Co, a consultancy. The survey showed that 14% of consumers are environmentally and socially conscious in the Asia-Pacific region and Europe, topping 8% in the U.S..
Dents is in good company. Other British heritage brands, such as the holder of two Royal Warrants Fortnum & Mason, are also expanding in China and boosting their sustainability effort to appeal to this more discerning consumer.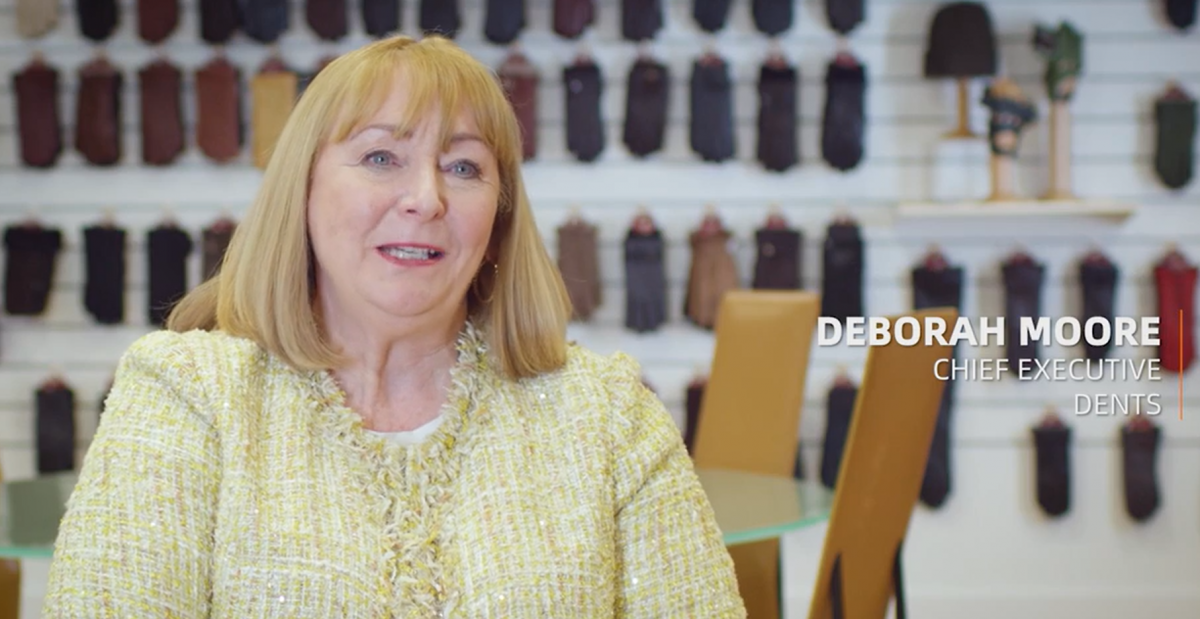 British Exporter
Dents is also a British exporting success story, leaning into its British heritage, the latest consumer trends and emerging technologies in the retail industry to attract consumers worldwide. Its fastest-growing major market is China, where it recently launched on e-commerce giant Alibaba Group's digital marketplace Tmall.
"The China market is going to be our biggest market within the next couple of years," said Moore.
Dents has embraced exporting to fuel growth against a backdrop of a shrinking glove-making industry in Britain.
"I think there are only about two factories left in the whole of the UK, and we are one of them," said Moore. Dents exports to around 40 countries, including sales over its website.
European companies that export are more likely to retain top talent and adopt innovative tools to help them engage customers, according to a new survey by Alibaba. The poll showed that online marketplaces allow businesses to export without the cost of building brick-and-mortar stores in unfamiliar jurisdictions.
China Story
When Moore started at Dents 33 years ago, the company distributed in China mainly through old-fashioned department stores, and sales were marginal for the group. That changed when Dents launched on Alibaba's Tmall Global, China's largest cross-border online marketplace, two years ago. Its sales on the platform doubled from around £500,000 ($620,000) in the first year to £1 million in the second.
"Bearing in mind, this was during COVID, we were really amazed," said Moore, who has been traveling to China for around 38 years and stayed abreast of changes in the world's largest e-commerce market.
For a brand previously relatively unknown in China, such a growth spurt was only possible with Tmall Global, according to Catherine Cui, who is responsible for selling Dents products in China in her role at Super-in Group, a distributor.
"I just can't think of any other way to grow a brand to a million pounds within two years. I do think the most pragmatic way and effective way to grow a brand is actually through Tmall," said Cui.
Around a quarter of the over 9,000 European businesses surveyed earlier this year by Alibaba said they started working with an online marketplace during the pandemic to grow exports.
Cui aims to double Dents' China revenue again this year and continues to invest to keep up with the latest consumption trends.
"We want to bring the brand to £2 million this year. And then we can put more time, resources and money to make sure that there are more specific products for the Chinese market," said Cui.
White-Glove Service
Fashions change swiftly with popular culture. Founded in 1777, Dents is keeping up with the times and becoming a trendsetter in its own right. In the hit Netflix period drama Bridgerton, high society in London donned its wares, sparking a global obsession with over-the-elbow statement gloves.
Reinforcing its relationship with British aristocracy, Dents' products have featured in popular series such as Downton Abbey and The Queen.
Wearing gloves, except in the freezing cold, was once seen as the habit of older generations. That's changing quickly, especially in China where over the past 20 months, Dents has seen sales of women's gloves boom, said Moore.
"We knew we were a strong heritage brand. But what has helped is that Tmall has shown us that we're a cool heritage brand because the younger people have really bought into it," said Moore.
Digitalization also helps brands spot and adapt to new consumption trends swiftly. Dents noticed from Tmall data that its driving gloves have been trending in China. They gained additional cachet when Daniel Craig's James Bond sported them in Spectre and Skyfall.
China and Hong Kong are two of the world's largest markets for watches, and Dents found that men wanted to wear a glove and show off their high-end timepieces, so it made driving gloves with a cutout for the dial.
"Men like to have the cool car, a great watch, and the driving glove…It's been selling really well," said Moore.
Chinese consumers are also fond of Dents' touchscreen gloves, which contain conductive material so that wearers can operate smartphones and tablets without removing their gloves.
Chinese Tourists
Since China reopened this year, Chinese tourists have only been able to trickle slowly back to tourist hotspots like London owing to a shortage of flights. But already, Dents has seen Chinese customers return to its counters at famous British department stores such as Harrods, Selfridges and Liberty London.
Moore expects that will boost the brand's performance on Tmall.
"When a foreign visitor of any nationality comes and sees our brand in major department stores, I think it gives the brand authority," she said.
Cui points out that Chinese tourists are more likely to buy Dents' gloves in UK department stores if they recognize the brand from Tmall. And it works the other way too.
"If they traveled to London, and they saw Dents in the physical store, they're likely to come back to China and find out that we also offer the same thing on Tmall," she said.
To access Alibaba Group's full export research click here
This article was updated to include images of the coronation ceremony