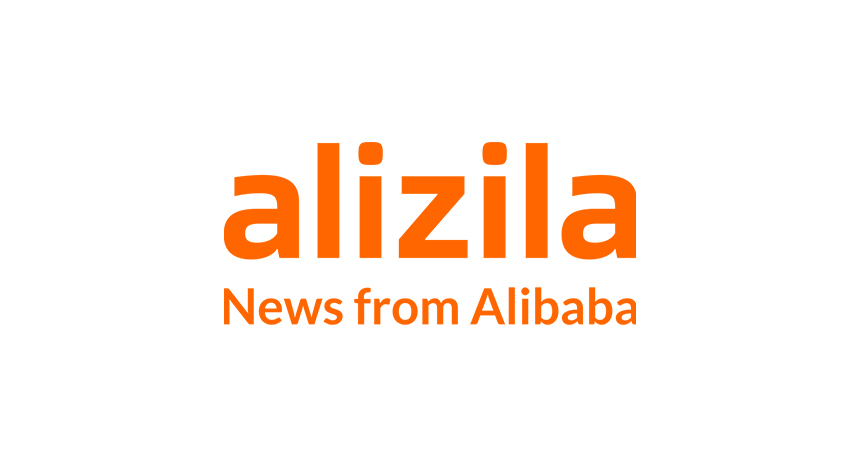 Welcome to Shanghai for Alibaba's ninth installment of the 11.11 Global Shopping Festival. From an obscure date on the calendar, 11.11 has become an eagerly awaited international shopping extravaganza. This year features some key innovations, a gala, more participation from brands and merchants than ever. Alizila will be here until Sunday, providing you with regular updates, so keep checking back with or bookmark the link to this live blog. We're also on Facebook, where we'll be doing video segments, and you can keep up with select 11.11 key moments via our Twitterand LinkedIn accounts.
Saturday, Nov. 11, 2017
12 midnight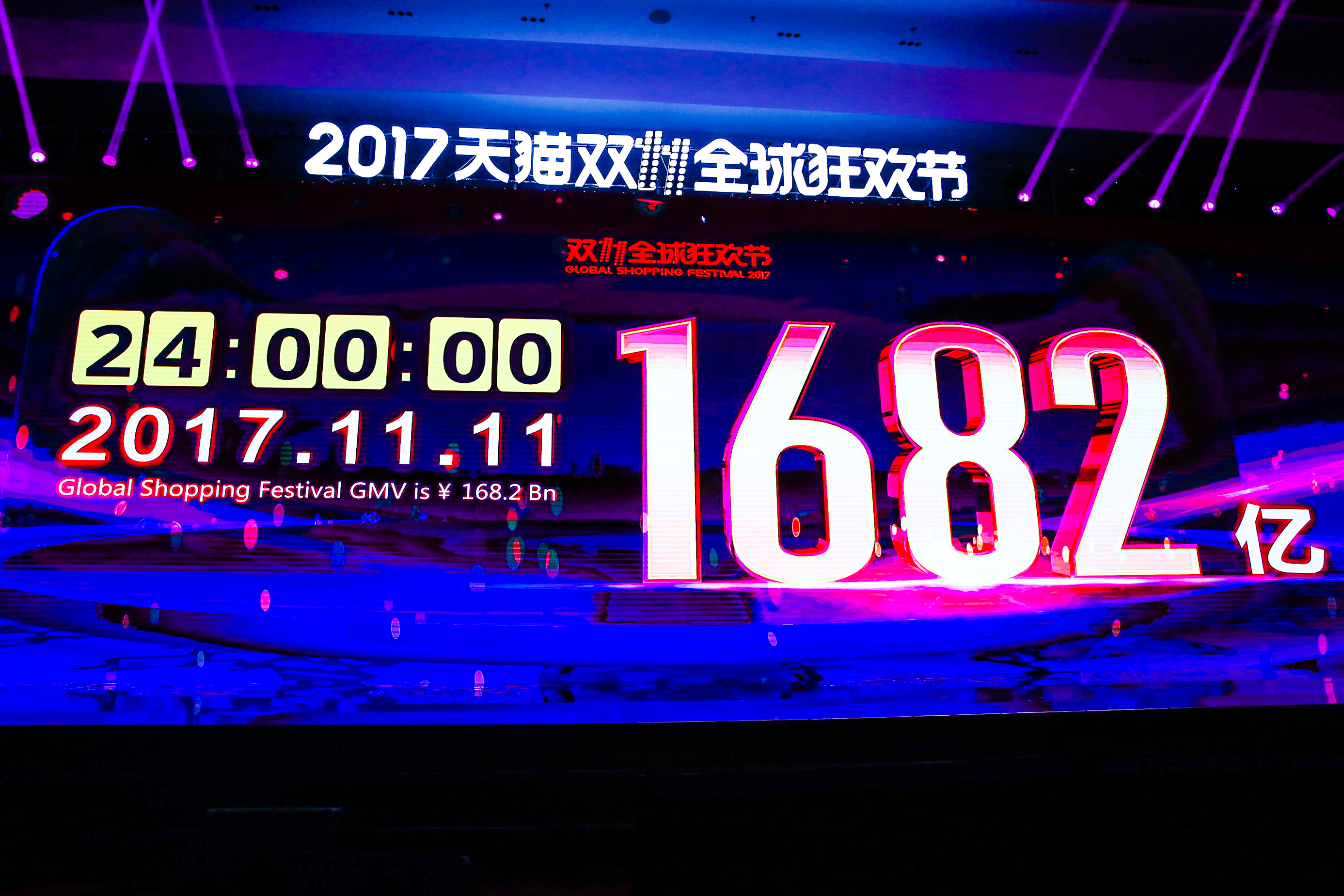 And…scene! The ninth annual 11.11 Global Shopping Festival is history, but what was the final GMV tally? The official number came in at RMB168.2 billion, or more than $25.3 billion—a whopping 39% higher than last year's record-breaking number in renminbi terms. And 90% of that came from mobile. We're going to wind down this live blog, but a full wrap-up is under way. Look for that soon. And thanks for tuning in!
10:34 p.m.
CEO Daniel Zhang just finished a press conference with international media and here are some highlights to share from the presser:
As many merchants are pulling out all the stops to stoke buying, we might see another spike in GMV towards the end of the 24-hour shopathon.
Alibaba focus isn't solely on driving up 11.11 GMV. The company also wants to understand the evolution of customers' buying habits and their lifestyles in order to predict their needs before even they do. To do so means that Alibaba is not only meeting customer demand, but also creating demand.
There are more and more Alibaba fans outside of China, such as in the Southeast Asia region, and this is why Alibaba has teamed up with the Malaysia government create to create a regional hub in Kuala Lumpur.
Setting up a New Retail chain is not something Alibaba is eyeing. Instead, the goal is to capitalize on Alibaba's technology to empower brick-and-mortar shop owners to go digital. The important thing is to understand your consumers so you can provide services and goods that are best suited to your area.
India is an example of a country that could skip the traditional retail model and go straight to New Retail. But there are still some hurdles, such as infrastructures and logistics.
Alibaba is considering taking its annual 11.11 gala overseas, but so far there are no confirmed details to share.
10:30 p.m.
E-payments provider Alipay settles most of the transactions made during 11.11, making Alibaba's fintech affiliate Alipay operator, Ant Financial, essential to the mega-sale's success. Ant CEO Eric Jing said, for Ant Financial, their performance during 11.11 will "serve as an annual report card and a testament to our capabilities."
Jing also announced that tomorrow, Nov. 12, Ant will launch a new function on Alipay, "Huabei Balance," which will allow users to pay off their friends' debts using the popular digital credit card service. Just before leaving the stage, Jing revealed the three lucky members of the media center audience that would have all their current balances on Huabei entirely paid by Ant.
9:50 p.m.
Chief Customer Officer Wu Minzhi talked about the success of Alibaba's artificial intelligence-powered customer service system, Dian Xiaomi, and the need for a new breed of tech workers: "robot keepers," which were defined as customer-service specialists that can identify specific needs of consumers and translate those insights into computer language, improving the accuracy of Alibaba's automated customer service systems. Read "Merchants Deploy Alibaba's AI-Powered Customer Service Chatbot" to find out how Dian Xiaomi is put to use to handle the growing volumes of consumer enquiries on Alibaba's marketplaces.
8:45 p.m.
We've entered the final 4 hours before Alibaba announces the results of the 24-hour mega sale, and a number of the company's top executives are taking the stage here at the media center in Shanghai. Wan Lin, president of Alibaba's logistics affiliate Cainiao Network, was the first. He announced that the number ofdelivery orders generated is now approaching 700 million—already exceeding last year's record 657 million parcelsduring the 24-hour shopping festival.
Upgrading the hardware and solutions of Cainiao's network to meet this demand, especially as New Retail and globalization drive the number of delivery orders even higher, have been a major challenge for Cainiao. The solution, Wan said, was to make "the entire logistics chain more intelligent." For example, the network uses analytics and algorithms to reduce errors in order processing while increasing the efficiency with which those orders are delivered.
Wan added that a partnership with China's top customs authority this year also has helped the company by clearing 10 million cross-border parcels by 4:00 p.m. today—far faster than the two full days it took to clear 5 million last year.
6:32 p.m.
At 6 p.m., total GMV exceeded RMB138.1 billion (more than USD20.8 billion).
5:46 p.m.
As of 5 p.m., total GMV exceeded RMB134.6 billion (around USD20.3 billion). Still seven hours to go!
3:12 p.m.
As of 3 p.m., total GMV has exceeded RMB127.4 billion (around USD19.2 billion) – and still going. Of that total, mobile GMV comprised 91%.
1:09:49 p.m.
We did it!! Just got official word that the 2017 11.11 Global Shopping Festival has surpassed last year's record-breaking total GMV of RMB120.7 billion—with just under 11 hours to go!
There's still a lot more to come from Alizila before the final bell at midnight. Executives from Cainiao, Tmall World and Ant Financial are all expected to speak, as is Executive Chairman Jack Ma and CEO Daniel Zhang. And, of course, that latest numbers from the world's largest, one-day online shopping fest. So keep checking in with us!
12:34 p.m.
Alibaba has touted the power of New Retail to upgrade and streamline the shopping experience for consumers, both online and off. That's why we've seen innovations such as the See Now, Buy Now fashion show, pop-up stores and smart stores take center stage for this year's 11.11 Global Shopping Festival. The bottom line: It's not just about sales.
That said, 11.11 has its share of eye-popping statistics. Here are a few as we approach the 13-hour mark of the online shopping bonanza:
At 7:18:01 a.m., total GMV exceeded RMB90.8 billion, surpassing the daily average retail sales of consumer goods in China in 2016.
At7:22:54 a.m., total GMV exceeded RMB91.2 billion, surpassing the total GMV of 2015's 11.11.
As of 8:00 a.m., 82 brands had passed RMB100 million in sales, including New Balance, Samsung and Shiseido.
At9:36, the number of delivery orders received surpassed the 467 million orders generated on 2015.
At10:40:48 a.m., mobile GMV exceeded RMB100 billion.
At 10:54:26 a.m., total GMV exceeded RMB111.1 billion, with mobile accounting for 91% of it.
Then, finally, at noon, total GMV crossed RMB116.1 billion, or about $17.5 billion.
Last year's total GMV for the full 24 hours of 11.11 came in at $17.8 billion, so expect another post from Alizila very soon when we blow past that mark.
2:18 a.m.
World Record!! Turns out the 256,000 payment transactions processed per second by Alipay is a new world record, according to Alibaba. That number, which took place at 5 minutes and 22 seconds after the start of the 2017 11.11 Global Shopping Festival, represented a year-on-year growth of more than 101%.
Also, at 12:07:23 a.m., the number of payment transactions processed by Alipay surpassed 100 million, equivalent to the total number of payment transactions processed during 2012.
2:00 a.m.
Total GMV has exceeded RMB78.8 billion, of whichmobile comprises 91%.
1:54 a.m.
Alibaba just announced that, as of 1 a.m., 62 brands had passed RMB100 million in sales. Among those names were Apple, Nike, Adidas, Skechers, Zara, Dyson, L'Oreal, Gap and Estee Lauder.
1:06:09 a.m.
Total GMV exceeded $10 billion. 92% of that was from mobile transactions.
1:00:49 a.m.
Total GMV has exceeded RMB57.1 billion, surpassing the total GMV of 2014.
Plus, we've learned that thefirst cross-border delivery to China arrived just 33 minutes and 15 seconds after midnight.
12:40:12 a.m.
Another milestone reached: Total GMV for the 2017 11.11 Global Shopping Festival has exceeded RMB50 billion.
Just as awe-inspiring, according to Cainiao,the first domestic delivery arrived just 12 minutes and 18 seconds after midnight at some lucky Chinese consumer's door.
12:39 a.m.
As mentioned previously, orders spike when 11.11 first kicks off at midnight. So that's typically when we see the most transactions per second. According to Alibaba, there were 325,000 transactions in a single second at one point during the first 39 minutes of the world's largest online sale, while the number of payment transactions processed per second at the peak was 256,000. That's 2.1 times more than last year during the same period.
12:10:10 a.m.
Total GMV has exceeded RMB36.2 billion, surpassing the total GMV of 2013. Mobile GMV was at 92%. Cainiao also said that the number of delivery orders hit 43.06 million at 10 past midnight as well.
12:05:57 a.m.
Total GMV has now exceeded RMB19.1 billion, surpassing the total GMV of the 2012 11.11 Global Shopping Festival. Mobile was still the overwhelming majority of total GMV, clocking in at 93%.
Also, Alibaba logistic affiliate Cainiao Network reported that the number of delivery orders generated reached 3.83 million just 1 minute after midnight.
12:03:13 a.m.
Buy! Buy! Buy! GMV raced past RMB10 billion just over 3 minutes after 11.11 started. Just a minute before, at 12:02:01, total GMV crossed $1 billion.
12:00:11 a.m.
Gross merchandise volume surges in the early parts of the 11.11 festival, as consumers click "buy" on the Tmall shopping carts they've been filling for weeks in pre-sale promotions in the run-up to the event. So it doesn't take long for the milestones to come and go.
Just 11 seconds into the first hour, total GMV has exceeded RMB100 million, 93% of which was generated through sales on mobile devices. At the 28-second mark, GMV reached RMB 1 billion, 97% of which was via mobile.
12 Midnight
After all the build-up and countdowns, it's time for 2017's 11.11 Global Shopping Festival. Alibaba's CEO Daniel Zhang addressed the troops and counted down the last 10 seconds from headquarters in Shanghai. Screens went live exactly at midnight, and the numbers started rolling. We are live, people.
Friday, Nov. 10, 2017
11:58 p.m.
Speaking live from Alibaba's Hangzhou headquarters, Alibaba CEO Daniel Zhang said the shopping festival was made possible through the joint efforts of all Alibaba employees and the tens of thousands of merchants across different cultures, regions and time zones.
"For this year's 11.11, the comprehensive digitalization of Chinese commerce not only showcased the collective power of businesses in China and across the world, it was also an opportunity for our merchants to provide their best services and products for the customers," Zhang said just ahead of the final countdown to 11.11's midnight kick-off.
11:49 p.m.
Just 11 minutes to kickoff.
After greeting the audience in Chinese, gala special guest Nicole Kidman spoke glowingly of Jack Ma and introduced Ma's first movie, Gong Shou Dao.
Though it was hard to glean much about film's story arc and character development from the teaser that aired, Gong Shou Dao looks like a fun martial arts movie, complete with the humor, action and imparting of wisdom we've come to expect.
Ma plays a Tai Chi master who likes to ask his opponents, "have you eaten" just before laying a whupping on them. And he lays it on several of the industry's biggest action stars, both figuratively and literally. At one point, he puts former sumo Grand Master Asashoryu down for the count.
Ma and his fellow stars are releasing the Jet Li-produced movie to promote Tai Chi's spiritual and physical benefits for a healthy lifestyle.
The entire short film will air in November both online and on select big screens.
11:45 p.m.
Fifteen minutes to showtime. A bit earlier, in honor of this year's theme, Happy 11.11, singer/songwriter Pharrell Williams performed his award-winning hit "Happy" with Cantopop star Karen Mok.
Then took the stage again to perform a song written for this year's festival, "Wish You a Happy 11.11," with Canadian-Chinese actor and singer Kris Wu.
10:38 p.m.
Tick tock, tick tock. As the clock ticks ever closer toward the start of the 11.11 Global Shopping Festival, Alizila's Adam Najberg offers up a sneak peek inside the media center in Shanghai that will serve as the beating heart of the festival over the next 24 hours. See the brand hall, the New Retail Mall and the media room packed with journalists gathered from all over the world.
9:50 p.m.
We're halfway through the gala, and a host of international stars continue to take the stage.
Retired Portuguese footballer Luis Figo, who played for Barcelona FC and Real Madrid, showed he could still hit the mark when needed.
Victoria's Secret Angels Lais Ribeiro (left) and He Sui strutted down the runway, sporting the brand's latest line of sports apparel and workout clothes.
And tennis Grand Slam champ and entrepreneur Maria Sharapova made an appearance as well.
Nicole Kidman and Pharrell Williams still to come, so stay tuned! And remember: You can watch on YouTube!
8:30 p.m.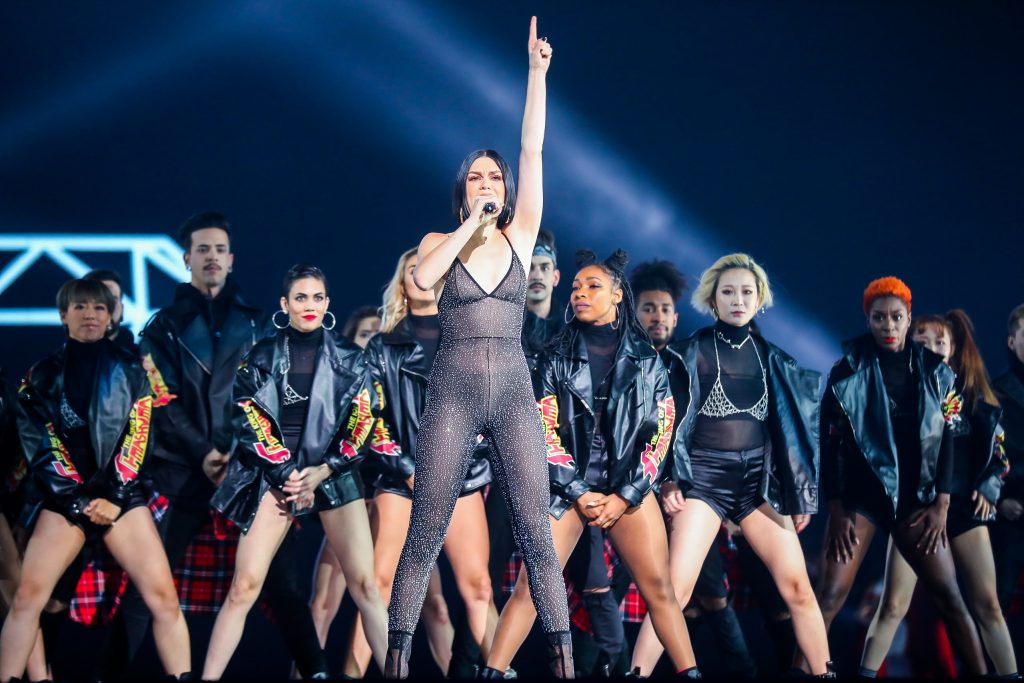 Tmall Genie, one of tonight's "hosts," kicked off the 11.11 countdown celebration.
Only an hour in, and we've already seen performances from pop sensation Jessie J to Irish dance troupe Riverdance. After Crouching Tiger, Hidden Dragon and Memoirs of a Geisha star Zhang Ziyi greeted the audience, American performance artists Blue Man Group have now taken to the stage. And there are constant giveaways and interactive games in between to keep the excitement going.
Keep checking Alizila for more from the Gala—we're here all night!—orcatch it live on YouTube.
7:20 p.m.
Oscar-winning actress Nicole Kidman has arrived Shanghai. She will shortly grace the stage with Jack Ma as an honored guest at Alibaba's 11.11 gala at the Mercedes Benz Arena. Speaking to reporters from the Peninsula Hotel, the film star talked about how she developed an appreciation for Chinese culture, her love for online shopping and how her role on Big Little Lies has strengthened her connection with fans worldwide. She even gave a sneak peek of what she would do at the gala tonight. Hint: It is not in English.
4:19 p.m.
You know that old saying about how sometimes life imitates video games? Alizila's Tom Brennan sure does. He and Danielle Sumita have too much fun showing how Alibaba is using online games to bring consumers into offline stores for this year's 11.11 Global Shopping Festival.
4:11 p.m.
How'd you like to star in a movie with Jack Ma? Maybe you can't be up on the big screen, but you can still take home a personalized movie poster, featuring none other than you and Jack!
Ma is set to make his screen debut as a Tai Chi master in an upcoming short film called "Gong Shou Dao." To promote the film, a fun,interactive Gong Shou Tong feature has been released on Chinese social media and gone viral. The feature lets you become a Tai Chi master as well. After uploading or snapping a photo of yourself, you can superimpose your face onto a selection of martial artists posing opposite Ma. The result is a comical and shareable movie poster with an embedded QR code that allows your friends to create their own personalized versions as well.
Take a look at Alizila's Christine Chou's poster below! Those who read Chinese can scan the QR code at the bottom of the image to create their own versions as well. Have fun!
3:14 p.m.
All eyes are turning to Shanghai for tonight's gala at the Mercedes-Benz Arena, then to what's expected to be a packed media center, where numbers will start rolling on the big screen when the world's largest single-day shopping event kicks off. But all that's just the tip of the spear. The 24 hours that have become an Alibaba flagship event are backed by months of preparation by staff around the world, but especially in the group's Hangzhou nerve center. In the weeks leading up to 11.11, the Xixi and Binjiang campuses are buzzing with activity.
By day and evening, employees are making final preparation for a flawless 11.11. By night, the mood turns celebratory and building are bathed in festive light.
Slideshow: How 11.11 Looks at Alibaba's Hangzhou Nerve Center
[envira-album id="16818″]
11:28 a.m.
Are you excited yet? We are, and we're also counting down to the start of tonight's gala (we've said many times it's "star-studded," so we'll refrain from doing so again). But it wouldn't be an Alibaba 11.11 Global Shopping Festival without the gala, which will fill Shanghai's Mercedes-Benz Arena. Tonight's Chinese-style variety show is a true David Hill production. Pharrell's going to be there. Jessie J, Maria Sharapova, Luis Figo and other Western stars will be onstage. Look for Blue Man Group and Riverdance. And the homegrown talent is also staggeringly good, with Karen Mok, Zhang Ziyi and Lang Lang all in the house. What sets Alibaba's 11.11 gala apart from others is the interactivity, with viewers last year winning clothing worn by the stars and collecting "red packets," a traditional Chinese way of giving away money, all via smartphones, while they watched. We're sure there are plenty of surprises for viewers on China's Youku video platform. If you want to have a peek, you can also catch it live on YouTubeabout seven hours from now. The gala sets the mood and ramps up the anticipation for the stroke of midnight, when the world's largest single-day shopping event kicks off. You can read more about the galahere.
Thursday, Nov. 9, 2017
5:23 p.m.
Alibaba is touting this year's 11.11 as a truly global one. To raise awareness about the event outside of China's borders, it has launched its "Light Up the Landmark" campaign, putting interesting signage up in several major cities around the globe.
As part of the campaign, Australian cosmetic brand Glamerouflage recently released a hot air balloon over the skies of Melbourne that features the Alibaba and Glamourflage logos.
Alibaba also showed its 11.11 colors with the below digital billboard in Manhattan's Times Square.
Tokyo's shopping and entertainment hub Shibuya is next up in the advertising blitz to prep shoppers for the biggest shopping event of the year.
At home, Alibaba's "buildings-as-art" approach for 11.11 advertising is also none-too-shabby. Check out how Shanghai's Aurora Plaza skyscraper has been decked out for the festival.
4:45 p.m.
It happened last week, but we'd be giving the 11.11 season short shrift without mentioning the "See Now, Buy Now" fashion show. It ran over four hours this year, offering a look –and the chance to pre-order–some of the hottest goods on offer. Brands like the format, which allows consumers watching on nearly every platform a realtime way to place their orders instantly, as soon as they see an item or offer they like. "See Now, Buy Now" had some top talent on the stage and rolled out special offers, limited editions and exclusive items and deals to 11.11 shoppers on Alibaba's platforms. The show underscores that 11.11 has become much more than a single-day shopping event. Watch the video below for more details.
4:30 p.m.
What's the big fuss all about with 11.11? Check out this preview reel and find out more about the world's largest shopping festival.
3:38 p.m.
Worried that you'll look fat in those jeans? Never fear. Tmall has reinvented the fitting room to let you virtually try before you buy. Watch Tom Brennan and Christine Chou give the Virtual Fitting Room a whirl.
2:45 p.m.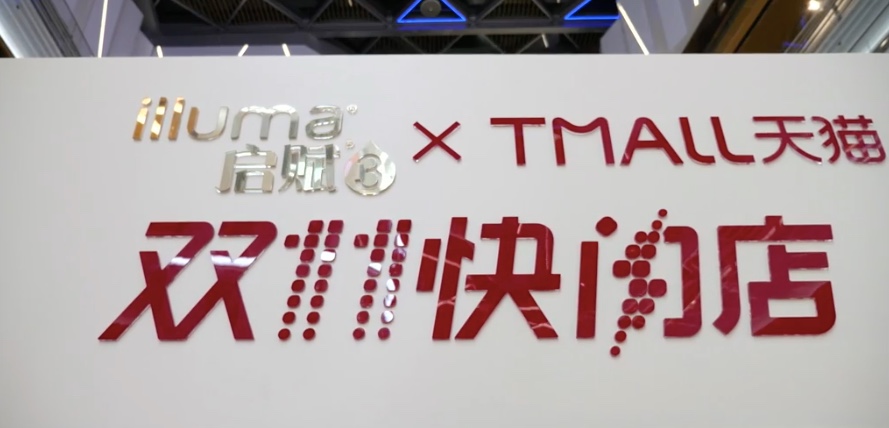 Logistics matter. And they keep getting better. At this year's 11.11, U.S. infant formula brand, Wyeth, is offering one-hour delivery to some of its customers in China. Sixty-minute delivery is available to consumers who live within 3 kilometers of Wyeth's over 1,000 physical stores dotted across China. Most other customers will receive delivery within 24 hours. Here's the full story about what Wyeth's doing at 11.11 this year, including an innovative pop-up store.
2:19 p.m.
One of the themes you'll keep hearing about at this year's 11.11 is "New Retail" –the seamless melding of the online and offline shopping experiences for consumers. Companies and brands realize how important it is to be more-efficient and to improve the experience for Chinese customers. In this video, some of the world's best-known brands talk about how they're adapting their operations to go omnichannel and grow in China.
12:30 p.m.
There are six million mom-and-pop convenience stores dotting the corners of nearly every Chinese city, town and village. They're a mainstay of neighborhoods and local communities. And they've been largely rooted in the late 20th century with their ordering, inventory, displays and payments. Until now. Through Alibaba's Ling Shou Tong (LST) program, hundreds of thousands of them are getting a tech makeover, bringing them online, streamlining operations and improving the customer experience. After the makeover, taking inventory, ordering and delivery are faster, stores look more modern and the owners understand better what their customers want and are buying. The video below offers a closer look at how LST works, focusing on one family-run business that's thriving after its technology upgrade.
11:00 a.m.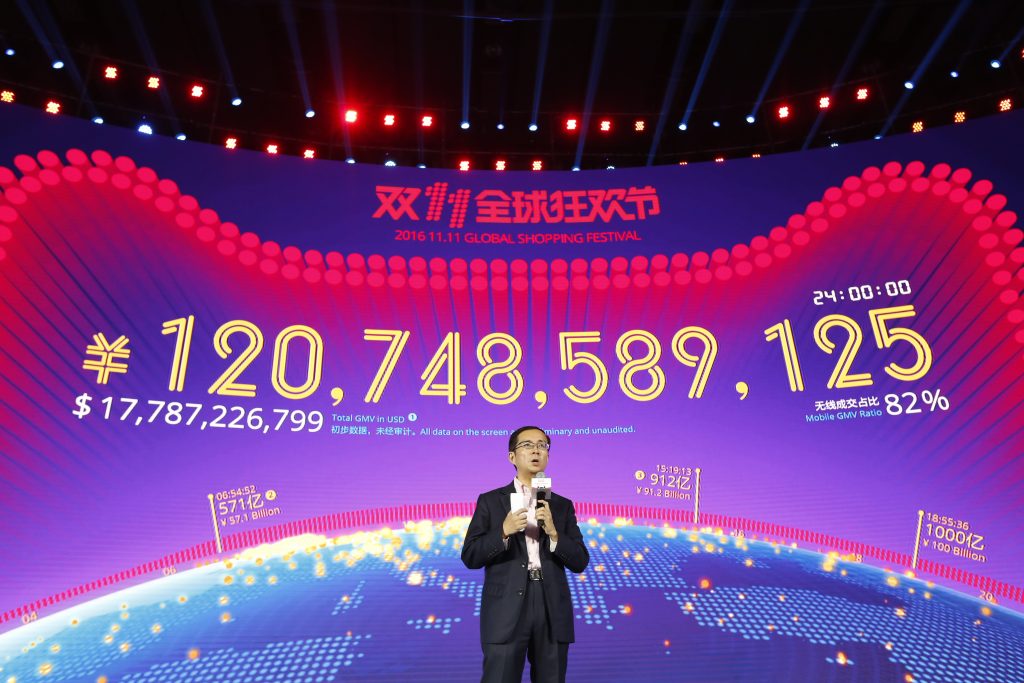 Few people know that the first 11.11, nine years ago, was launched as a means of survival for the fledgling Tmall platform, then known as "Taobao Mall." Alizila sat down with Alibaba CEO Daniel Zhang recently for a candid and far-ranging talk about the history of the event, its growing significance inside and outside China and where he –the architect of Alibaba's 11.11 vision–sees it headed. Read the full Q&A with Daniel.
10:45 a.m. CST
We're just a day-and-a-half away from the start of this year's 11.11 Global Shopping Festival, and you couldn't ask for nicer weather. Blue skies, sunny, temperature in the mid-70's. For what to expect at this year's 11.11, we've hand-selected a couple of primers for you. To see all of Alizila's coverage of the festival in one place, check out this page.