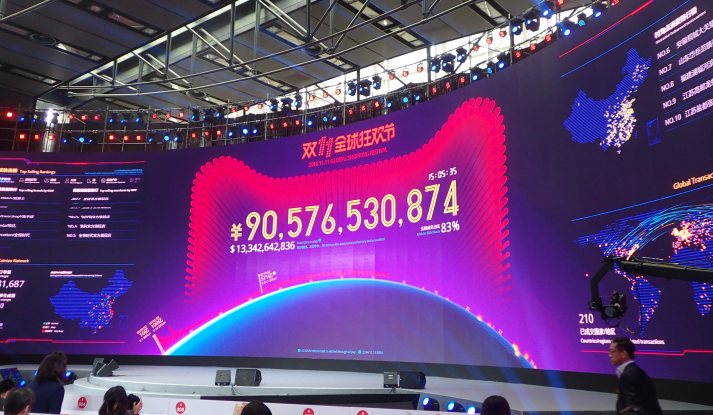 Alibaba Group's 11.11 Global Shopping Festival, the world's largest 24-hour online sale,started Nov. 11at midnight China Standard Time (CST). Check this live blog for updates as the sale progresses.
---
12 midnight CST … That's another blockbuster in the books. The 2016 11.11 Global Shopping Festival just ended. Final GMV tally: RMB 120.7 billion ($17.8 billion). Not that anyone was counting. Alizila will publish highlights of the sale in an upcoming wrap-up story, so stay tuned.
11:50 p.m. CST … You know time is running out on the annual 11.11 shopathon when Jack Ma takes the stage in the media center. Alibaba Group's famed executive chairman just wrapped up a 25-minute speech that detailed where Alibaba Group is headed over the next two decades.
"It's not thinking about ourselves as an ordinary company," Ma told a crowd of several hundred reporters shortly before the close of Alibaba's 11.11 2016 mega-shopping event. "It's about thinking of ourselves as an economy." That Alibaba economy, he noted, was the sixth-largest in China last year and is likely to be the 20th-largest in the world this year.
Ma, like his Group CEO Daniel Zhang did earlier, shrugged off a question about why the group has dropped quarterly gross merchandise volume (GMV) as a key metric in earnings. That's because the narrative needs to be broadened, he explained. While rivals try to push their GMV figures higher through acquisitions and other means, Alibaba is locking its gaze on "social innovation."
"Alibaba is not lacking engineers or customer service representatives. We need economists, sociologists, people with integrated knowledge to deal with challenges," Ma said. Alibaba is using technology and data to converge online and offline retail to move beyond simple transactions.
"There will be a virtual economy on the Internet. All the young people, the SMEs, the businesses'Ķcan leverage the sector to do global buying and global selling," Ma said. "You can use your device, your mobile phone, to connect to this economy to do global business."
"That's why we're not reporting quarterly GMV. It doesn't represent our true identity, and overemphasizing it makes people just think about e-commerce," Ma said.
10:45 p.m. CST … Anyone worrying about Alibaba's 11.11 shopping festival experiencing a shrinking GMV growth rate in years ahead as the mega-sale becomes even more mega is missing the point, said Alibaba Group CEO Daniel Zhang. Fresh off the plane from Hangzhou and acknowledging a bunch of record-busting numbers reached by Alibaba's platforms since the sale began almost 23 hours ago, Zhang told international reporters the company's focus isn't on pure metrics, but the opportunity that lies behind them. "If you look at this as an online game, people see you will have less margin in the future. But when we look at the entire landscape, only 10% of China's total retail is online," Zhang said. "Every form of retail in China is trying to find a digital transformation." So where's this all headed? It's not about predicting next year's GMV, Zhang said. Instead, "what we believe, is that at the end of this, online and offline 'Ķ should be fully integrated."
10:26 p.m. CST … Here's a ranking of the five most popular U.S. brands among Chinese consumers during the sale so far (from No. 1-5): Apple, Nike, New Balance, Playboy, Skechers.
10:12 p.m. CST … GMV hits a "magic number." The total reaches RMB 111.1 billion.
9:15 p.m. CST … Alibaba's fintech affiliate, Ant Financial, plays a monster role in the success of 11.11 because Ant's e-payments provider Alipay settles most of the day's transactions. Ant CEO Eric Jing said the mega-sale provides an annual test for the company's growing array of financial products that serve both consumers and merchants. One of those products is Ant Credit Pay, a consumer loan service that assesses creditworthiness based on customers' online shopping and payment histories. In a country where few people use credit cards, Ant's service appears to be getting traction: Out of 880 million transactions that when Jing was speaking had been completed during the 11.11 sale, 20 percent had been settled by Ant Credit Pay. In other words, roughly one out of five consumers are borrowing from Ant to make their 11.11 purchases.
8:00 p.m. CST … About 8 million consumers sampled Alibaba's vision of the retailing future by test-driving the company's virtual-reality project from Nov. 1 – Nov. 10. The company has been heavily promoting VR as the next big thing in shopping, even setting up a VR online channel called "Buy+" that was flooded by tens of thousands of curious geeks shortly after it debuted in the lead-up to the 11.11 sale.
All you needed totry the technologywas a smartphone, buttheexperiencewas more immersive for those who purchased one of the cardboard VR headsets that were available on Taobao for RMB 1. Shoppers were able to browse, select and pay for products in virtual retail stores of eight merchants in the U.S., Australia and Japan, including Macy's, Costco, P&G, Chemist Warehouse, Freedom foods, Tokyo Otaku Mode, and Matsumoto Kiyoshi. No surprise: 76 percent of the 8 million people who tried VR shopping were born after 1980.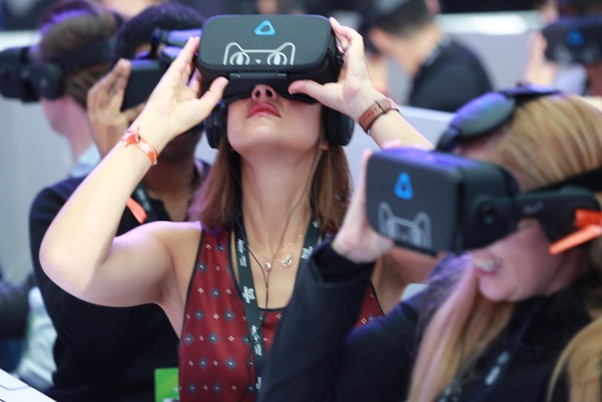 7:47 p.m. CST …At thesale's 19 hour 37 minute mark,total GMV reached $15 billion (USD). Mobile accounted for about 82 percent of total GMV.
6:57 p.m. CST … GMV reached RMB 100 billion 18 hours and 55 minutes into the sale.
6:35 p.m. CST … Alibaba used the 11.11 festival this year to showcase innovations in omni-channel retailing that leverage digital technology to merge and enhance online and offline shopping. One of these initiatives, an augmented reality game called "Catch the Tmall Cat," has been a rousing success. Some 100 million consumers participated in the Pokemon Go-style game following its Nov. 5 launch, vying to win red packets (discount coupons) by searching for and "capturing" virtual versions of Tmall's cat mascot in seven shopping malls in five cities. Check out the hoard of players whodescended on an Intime department store in Hangzhou, China.
On stage the 11.11 media center this afternoon, Chen Xiaodong, CEO of Intime Retail, called the game a promising blend of digital and physical. "The game brought online users enjoyment, and bought crowds to our offline stores, which can be converted into customers and business opportunities," Chen said. "Commence and entertainment are fully integrated." As of Nov.10, 1.7 billion Tmall cats had been "captured." Check out the video for more:
4:00 p.m. CST … With incomes rising in rural China, online shopping has become an important outlet for disposable income. To extend the reach of its marketplaces to the country's hinterlands, Alibaba has built more than 16,000 Taobao Rural Services Centers where villagers can order merchandise online that is unavailable locally. Rural residents have been enthusiastically participating in 11.11 this year. One hotspot has been the small town of Jianlong in Guizhou Province, where more than one quarter of the village's 400 households placed orders during the sale's first 15 hours.
Throughout rural China, favorite international brands during 11.11 have so far been Pampers, Mead Johnson and Wyeth in the maternity and baby product category. Nike has been a top seller among rural residents in sports and outdoor equipment, while Apple has beenone ofthe best-selling mobile phone brands.
3:20 p.m. CST … Alibaba blows past a major milestone! At 15 hours and 19 minutes into the sale, total GMVhit RMB 91.2 billion, surpassing the GMV total for the 24-hour sale last year.
2:58 p.m. CST …14 hours and 33 minutes into the sale, the number of delivery orders received surpassed the 467 million orders generated during the entire11.11festivallast year.
1:10 p.m. CST … At the 12 hour, 29 minute mark of the sale, total GMVexceeded RMB 82.4 billion ($12 billion), with mobileaccounting for 83.55 percent of the total.Alibaba Group President Michael Evans had this to say: "With roughly11 hours to go, we're in a good place."More than 14,000 international brandsare participating in the sale, he said, andsales from international brands have so far accounted for about 30 percent of total GMV.
Leading the 11.11 international charge are merchants from the U.S., Japan, South Korea, Australia and Germany, he said. Most countries have already exceeded the volume of sales recorded for theentire salelast year. "The demand for international products continues to be very strong, the value proposition forChinese consumers for international products continues to be enormous," Evans said.
12:54 p.m. CST … At a breakout session this morning with merchants selling on Alibaba's e-commerce platforms, Group President Michael Evans outlined the most important trends in global e-commerce right now as well as the strategies the Hangzhou, China-based company was using to capitalize on those trends.
Evans said there are hundreds of millions of upwardly mobile consumers in Asia outside of China that are moving into the middle class, and their spending habits are closely tracking those of the Chinese consumers that came before them. Most significantly, these consumers—in Southeast Asia and India—sought out high-quality, imported products from developed markets such as the U.S. and Europe.
"We see that playing out today in 11.11," said Evans, noting also that these overseas goods "will be in demand for a long time." During the sale so far, there have been transactions from 207 countries and regions.
As this commerce plays out online and across borders, the biggest players will not in fact be multinational corporations but instead small and medium-sized enterprises and singular brands and retailers. Alibaba, and Executive Chairman Jack Ma especially, has repeatedly emphasized the size and scale of global commerce among this group of SMEs, and that will be "the core of our global business in the future," Evans said.
Evans pointed to Alibaba's investments in e-commerce company Lazada Group in Southeast Asia and online payments provider Paytm in India as signs of the company's intent to make sure the above-mentioned consumers are shopping and transacting on its platform. The goal now, he said, was to continue expanding that consumer base.
Alibaba observers need only look for markets with high internet penetration rates and consumers who access the web largely through mobile devices, "and you can figure out exactly where we'll be going next," Evans said.
12:14 p.m. CST … The desires of middle-class Chinese and Western consumers are converging rapidly, but their expectations of the online shopping experience? Totally divergent. This according to China retail and e-commerce experts who appeared in a pre-11.11 press event held by Alibaba.
"The Law of Convergence tells us that consumers [worldwide] tend to converge in tastes and appetite, if income levels hold even," said Export Now Chief Executive Officer Frank Lavin. "As the middle class 'Ķ they want the same things." They don't want to shop for them the same way, though. While Americans grit their teeth and click their way through same-same marketplaces, Chinese online shoppers are getting a technology upgrade: during Alibaba's 11.11 sale, they'll be able to browse Macy's aisles through a virtual-reality rig and chase virtual cats in their shopping apps, √† la Pokemon Go. "Shopping has been a chore," said Deborah Weinswig, managing director of Fung Global Retail and Technology. "In the Chinese market, it's more of a sport."
In fact, China is just at the "beginning of a new and early adventure" as mobile, digital technologies enable new retailing innovations, Weinswig said. "You're starting to see things you never saw before and using metadata to inform. It's starting to happen here and now." And not a moment too soon. Michael Zakkour, vice president and China/APAC practice leader for Tompkins International, said the global retail model "needs to be blown up and re-invented 'Ķ and that's the beauty of what Alibaba is doing."
"They are going glam, they are going global, and they are going tech" to re-invent retail, Zakkour said, giving it a "digital heart."
11:27 a.m. CST … Nearing the halfway point of the sale, there's an update on GMV generated on smartphones: At the 10 hour, 25 minute mark, mobile GMV surpassed RMB 62.6 billion, exceeding the total mobile GMV for the entire 24 hours of 11.11 last year.
10:37 a.m. CST … Alibaba has released the following updated figures about the sale so far. These numbers are as of 8 a.m. CST:
Total GMV reached $9.12 billion.
The percentage of mobile GMV to total GMV was 84.9 percent.
The number of countries and regions with completed cross-border transactions: 207
Also, as of 9:14 a.m., the Chinese e-commerce giant said that total GMV of U.S., Japanese, European and Australian and New Zealand products had surpassed those of the 2015 11.11 Global Shopping Festival.
2:00 a.m. CST … During the first hour of the sale, some of the top-selling brands by GMV were: Apple, Onor and Meizu (mobile phones); Nike, Adidas and New Balance (sports and outdoor equipment); Camel, Skechers and UGG (shoes); Haier, Midea and Siemens (large appliances); Midea, Phillips and Ecovacs (small appliances); UNIQLO (men's and women's apparel).
1:42 a.m. CST … Alibaba GroupCEO Daniel Zhang had this to say from Hangzhou not long after the sale passed the one-hour mark: "Back in 2013, RMB 35 billion was our one-day GMV. Now we can achieve it in one hour." Zhang said the reasonsfor this growth includehigher consumption by Chinese consumers and their enthusiasm for buying online, which "has become a lifestyle."
During the first hour, order volume reached a record-breaking peak of 175,000 orders in one second, Zhang added, while 120,000 payments were settled per second at the peak. Last year during the peak of the sale, the communications network run by Alibaba Cloud, the company's cloud-computing subsidiary, processed 140,000 orders per second.
1:30 a.m. CST … At 1 hour 11 minutes into the sale, mobile GMV exceeded RMB36.2 billion, surpassing the total GMV for the 2013 11.11 sale.
12:53 a.m. CST … GMV of U.S. products sold surpassed the total value for U.S. productssold duringthe entire 24-hour sale in 2014.
12:44 a.m. CST … Total GMV surpassed $1 billion in 4 minutes and 54 seconds … Mobile GMV surpassed $1 billion 5 minutes 31 seconds into the sale.
12:22 a.m. CST'ĶGMV tends to soar in the first few minutesafter midnight as pre-orders from pump-primingpromotions in the run-up to Nov. 11 are recorded. This year,pre-promos, which allow consumers to lock in discounts by reserving products in advance, were bigger than ever, so much so that some Alibaba officials were talking about how the 24-hoursalehad become a 24-day affair. One of the highlighted events was an Oct. 23 Tmall.comfashion show in Shanghai,during which viewers watching a live stream of the eight-hour eventcould click to purchase what they saw on the catwalk using Tmall's mobile app.
12:07 a.m. CST … Total GMV blew through RMB 10 billion just six minutes and 58 seconds after the sale began. Total GMV exceeded $100 million in just 40 seconds.
12:00 CST … Alibaba'2016 11.11 Global Shopping Festival begins. They've activated theIMAX-sized datascreen at the media center at the Shenzhen Universiade Sports Center in Shenzhen, China. Sales totals climb as millions of online shoppers race to grab the best deals before sought-after items sell out. This year more than 100,000 merchants, including 11,000 international merchants, are participating. This is up from 27 merchants in 2009,when Alibaba launched the event.
This chart from McKinsey & Co. shows how 11.11 hasgrown (2015 GMV was $14.3 billion):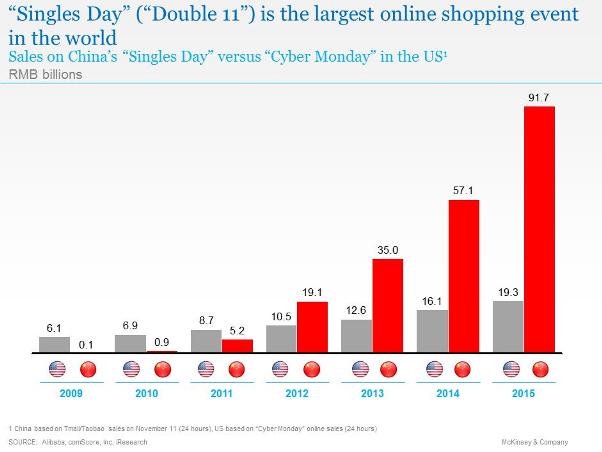 10:25 p.m. CST … Here's a sampling of some of the acts and celebs who appeared at Alibaba's Countdown Celebration Gala:
10:00 p.m. CST … There are a couple of hours to go before Alibaba's 11.11 Global Shopping Festival gets underway. But we're starting this live blog early, because more than 100 million people all over China have likely already tuned into the company's warm-up act—the 11.11 Countdown Celebration Gala—by live stream and TV.
This star-studded, four-hour show, which is kind of a cross between a 1960s variety show and home shopping network, is Alibaba's way of acknowledging that shopping is a form of entertainment in China. "In Western markets, let's say if you are in the United States, when you log onto, say, an Amazon, it is a chore," Alibaba Executive Vice Chairman Joe Tsai told reporters during a pre-11 press conference. But in China, Tsai said, online shopping is almost a national pastime, in part because internet users are young: more than three out of four shoppers accessing Alibaba's shopping platforms through its mobile apps are less than 35 years old.
To make buying stuff even more fun, Alibaba last year inaugurated the Gala, and this year has added more interactive features so viewers aren't just couch surfing while Kobe Bryant, David Beckham, Scarlett Johansson and other celebs are performing (Katy Perry, who was set to headline, cancelled due to a family emergency). There are segments during the show when viewers can play directors by sending feedback via smartphones to change what particular stars do onstage. There are also contests and, of course, shopping. If they like an item of clothing or other item a star is messing about with onstage, they can click and buy "and we will get that delivered to their door very quickly," Tsai said. "So this interactive experience is all part of making shopping a fun event for people."