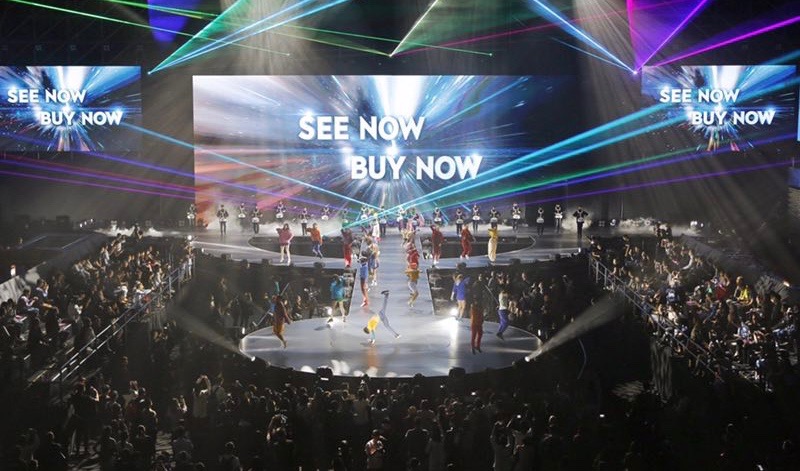 Editor's note: This story was updated on 10.25.16.
Online marketplace Tmall.com on Sunday held a marathon, interactive fashion show in Shanghai with brands from Burberry to UGG taking part and industry icons such as American stylist Nick Wooster and Victoria's Secret model Sui He making appearances, as parent Alibaba Group revs up for the coming 11.11 Global Shopping Festival next month.
For eight hours, the Tmall Global Fashion Show saw about 200 models showing off apparel, footwear and accessories from 80 different brands, 50 of which including Adidas, Gap, Paul Smith, Italian fashion house Trussardi and French cosmetics maker Guerlain were international, while Asian pop starsChris Lee,Christine Fan and Khalil Fong performed hits for the crowd at the Shanghai Oriental Sports Center. But the event was more than just a showcase for the season's latest fashion. Viewers, who could watcha live stream of the event through Tmall's mobile app, were also able to pre-order the items they saw on the catwalk ahead of Alibaba's massive 11.11 sale.
Check out the opening of the fashion show as seen through the Tmall mobile app.
The event was the first in a series of promotions that Alibaba is running to engage consumers in what the company has said would be its most global, most interactive Single's Day sale thus far.
"The Tmall Global Fashion Show is a critical event that kicks off our 11.11 Global Shopping Festival and one that underscores Tmall's tremendous growth in the past few years," Alibaba Group Chief Marketing Officer Chris Tung said in a statement. "For big-name fashion brands across the globe, Tmall has become not only a distribution channel, but also a branding powerhouse as well as a global gathering place for lifestyle and fashion trends," Tung said.
Alibaba planned to use Tmall's popularity in China, where it commands 80 percent of the online B2C market, to generate early buzz among consumers. To that end, the Chinese e-commerce giant made its "See Now, Buy Now" initiative a core part of the fashion show. Consumers could use a "Buy Now" button in the Tmall and Taobao mobile apps while watching the event (they could also watch a stream onAlibaba'sonline video hub Youku.com) to pre-order items. Transactions will be completed on Nov. 11, the day of the 11.11 24-hour sale, at discounted prices depending on products ordered.
For brands, the event was a chance to interact with sophisticated Chinese consumers who shop for entertainment largely via mobile devices. May Ng, vice president and general manager of e-commerce in Greater China for Gap, said the fashion show's mix of online shopping, music and fashion gave brands a chance to connect with consumers in ways they otherwise couldn't on their own.
Gap Greater China General Manager May Ng explains why Gap wanted in on Tmall's fashion show.
The "See Now, Buy Now function, where customers can actually place the purchase and order our products as they see the show [is] a very innovative way to present our products online," Ng said. Viewerswho weren't ready to buy during Gap's seven-minute showcase on Sunday can still view the same apparel on the company's Tmall flagship store and the company's online retail channels, Ng said.
Gap also hired American-born Hong Kong pop star Khalil Fong to perform during its showcase. Ng said Fong's blend of Eastern and Western cultures occupies a niche similar to the one the U.S. clothing retailerseeks tofill in Asia. Coupled with the interactivity of the fashion show, this positioning created "a great effect for our customers to get excited in this period ramping up to Nov. 11," Ng said.
Shirley Tai, general manager of Guerlain China, said she saw similar benefits to participating in the Tmall fashion show.
Guerlain's Shirley Tai in this interview says theTmall Global Fashion Show is key to helping the brand attract new consumers.
"I believe by riding on this event it will roll out our brand to more cities and to more consumers," Tai said. "This is more than just selling a product, but selling the overall experience to our consumer."
Other brands taking part in 11.11, those outside of the world of fashion, plan to use similar engagement tools via Alibaba's e-commerce platforms to reach consumers. Companies ranging from Macy's to Mondelez and Phillips to Pepsico will use live streaming to bring their branding and stories to Chinese consumers. In an interview at the 11.11 kickoff press conference in Hong Kong on Thursday, Mondelez China President Stephen Maher said the annual sale offered both scale and brand awareness at otherwise unattainable levels in China.
"That opportunity only comes once a year, and it comes with Alibaba," Maher said.
Burberryreleased a mist of its Mr. Burberry cologne during the show to present the scent's debut on Tmall.
Following Sunday's fashion show, Alibaba still has a number of initiatives planned in the run-up to 11.11. The company is launching a virtual reality shopping experience on Nov. 1, and will release an augmented-reality game where players can chase Tmall's cat mascot through offline environments, a la Pokémon Go, to receive coupons and prizes. Also on Nov. 1, Alibaba will announce the full list of guests expected to appear in the 11.11 Countdown Gala Celebration that runs in the hours ahead of the sale's midnight launch. Katy Perry has already been named a "global ambassador" for the gala and will perform a number of songs during the show.
Click here for an overview of this year's 11.11 Global Shopping Festival.
Additional reporting by Liyan Chen.