Over the past decade, a growing middle class and rising incomes have been the main drivers of consumption in China, the world's second-largest economy. Now, according to a new study from global consultancy KPMG, it is millennials that will play an important role in shaping China's rapidly expanding consumer market in the years ahead.
KPMG, partnering with Chinese fashion flash-sale site Mei.com, surveyed about 3,000 consumers to find out how millennial consumers (those born between 1985 and 1989) differed from previous generations when it comes to shopping. They found that millennials expect to earn more and spend more in the coming years, especially on luxury goods, and that they'll continue to do the bulk of their shopping online.
That may not seem obvious when considering that millennials' average monthly spend, at about RMB 5,565 ($855) a month, is less than half of their monthly income, according to KPMG. However, 31% of them said they expect to see significant increases in their income over the next five years, compared to 18% of non-millennials. This hints at greater spending to come.
"The survey findings revealed that a generational shift is likely to occur in the next five years, with the first batch of millennials set to overtake older consumers as the biggest spenders in mainland China," KPMG wrote.
Where will that money go? Sixty-eight percent of the millennials surveyed said they planned to spend more on high-end clothing, shoes, jewelry, cosmetics, perfume, bags and accessories in the next year. And although most of these luxury purchases will take place during holidays or shopping festivals such as 11.11, 45% said it was "essential" to own at least one designer item.
Still, millennials' lower incomes have forced them to change the way they shop for luxury, at least for now. In China, they are seeking out affordable luxuries, or those that offer a luxury experience at a price well within reach (below RMB 10,000). Affordable luxuries are easy to attain, whether online or off, as well as easy to understand and use. While these particular goods may be cheaper than more traditional luxury items, 65% of millennials surveyed said they still considered them luxury.
Also popular among millennial consumers are innovative products and services, with 74% endorsing them versus 69 percent for non-millennials. Think smart cars, smart wearable devices, virtual reality and augmented reality. Sharing-economy platforms such as for lodging and bikes were another example. One -third of millennials said they used them compared to 26 percent for older users.
In addition to what millennials are buying, how and where they buy are equally important. That's especially true in China, where innovations in online and offline retail, such as Alibaba's New Retail efforts, are changing the nature of shopping for all consumers. Shopping experiences, driven by engagement with brands and pure, simple fun have made e-commerce the favorite leisure activity for 77% of KPMG's total respondents. The same percentage said their e-commerce activity had increased over the previous year and that it would continue to increase the coming year.
In China, Alibaba's B2C shopping site Tmall has proved the most popular e-commerce platform, with 44% of millennials and 42% of non-millennials choosing it as their favorite online shopping channel.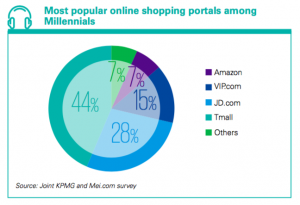 To reach this all-important demographic, KPMG suggested that brands adopt more consumer-centric marketing strategies for the China market. For example, they could market different products under different brands, each targeting a specific set of customers at different price points in order to maximize their coverage. Companies should also pay attention to customer feedback on product pages and social media, which other consumers often refer to when making their own buying decisions. Also, this feedback loop can play a large role in product research and development as well as improving overall customer experience.
"This year's survey has highlighted the extent to which the mainland China consumer and retail market is evolving," KPMG wrote. "To maintain their competitive edge, businesses need to ensure they are up to date with the latest industry developments, population demographics and focus on providing the best consumer experience," leveraging technology to do so.