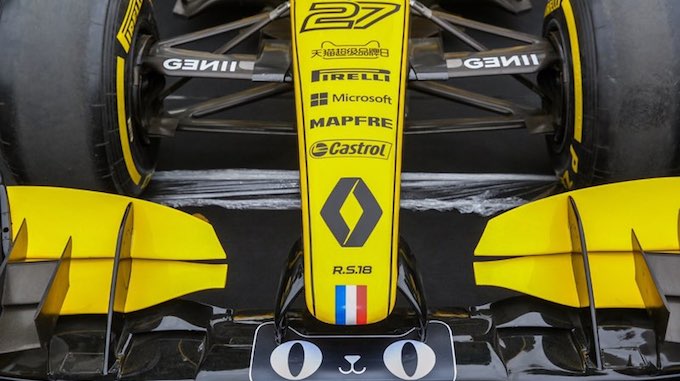 4.12.18: This story was updated to highlight the first branding collaboration between Alibaba Group and Groupe Renault, which will be featured in the Chinese Grand Prix.

The Renault Sport Formula One Team unveiled the latest iteration of their car for the 2018 FIA Formula 1 World Championship Thursday, featuring Tmall's iconic cat logo.
The new version of the Renault R.S. 18 F1 challenger is part of a branding partnership with Tmall announced in February, while Renault opened a flagship store on the Alibaba-owned B2C marketplace. The car will be featured during the F1 races this year, starting with the Chinese Grand Prix, which will run from Friday through Sunday in Shanghai.
The tie-up is part of a specific focus on the China market, which Groupe Renault in its newmid-term strategic plan called "the top priority" for the company.
"China has been identified as a market of strategic importance, and partnering with high-profile companies like Alibaba's Tmall will provide opportunities to significantly improve Renault brand awareness and opinion, starting with the Chinese Grand Prix in April and continuing throughout the year," said Cyril Abiteboul, managing director of Renault Sport Racing.
The deal is the latest major partnership with an international automaker for Alibaba, as the company makes inroads in the auto space with its New Retail-driven "car vending machine" model and recent collaborations withFord,BMW,Volvo,MaseratiandAlfa Romeo.
"A global sporting event such as the FIA Formula 1 World Championship is a great opportunity to boost awareness of the Tmall platform among consumers worldwide, particularly male users," Lu Huan, marketing director of Tmall's automotive division, said.
Lu added that Tmall would pursue further collaboration with Renault and its strategic partners, Nissan and Mitsubishi. "Initially we would like to explore opportunities on the brand level, while we're also in discussions regarding programs on the operations side," he said.
Last month, Groupe Renault said it will also expand its partnership beyond branding to collaborate on connectivity solutions, business model innovation and enhanced operations via New Retail.
As part of the automaker's 120th anniversary celebration in Shanghai, Alibaba, Groupe Renault and Dongfeng Renault—a joint venture between car manufacturers Dongfeng Motor Group and Renault—joined in a strategic partnership to "forge a unique experience to Tmall and Renault customers worldwide," the statement said.
Tmall plans to offer Renault support in areas ranging from channel expansion to business-model innovation tailored to the China market.
"As for Alibaba, we are also proactively exploring how internet technology can be applied to cars. Dongfeng Renault and Autonavi's close partnership will provide all-new smart internet services, which will be equipped on Renault's models as early as this year," Liu Bo, marketing director of Tmall, said.
Already the world's largest car market, China is projected to become the top market for luxury vehicles by 2020, according toL2, a U.S. business intelligence firm that tracks the digital performance of consumer brands. The internet is playing a larger role in how those vehicles are sold, and to whom. According to business-intelligence firmMcKinsey, 23-percent of Chinese consumers aged 18 to 24 are shopping for cars online.