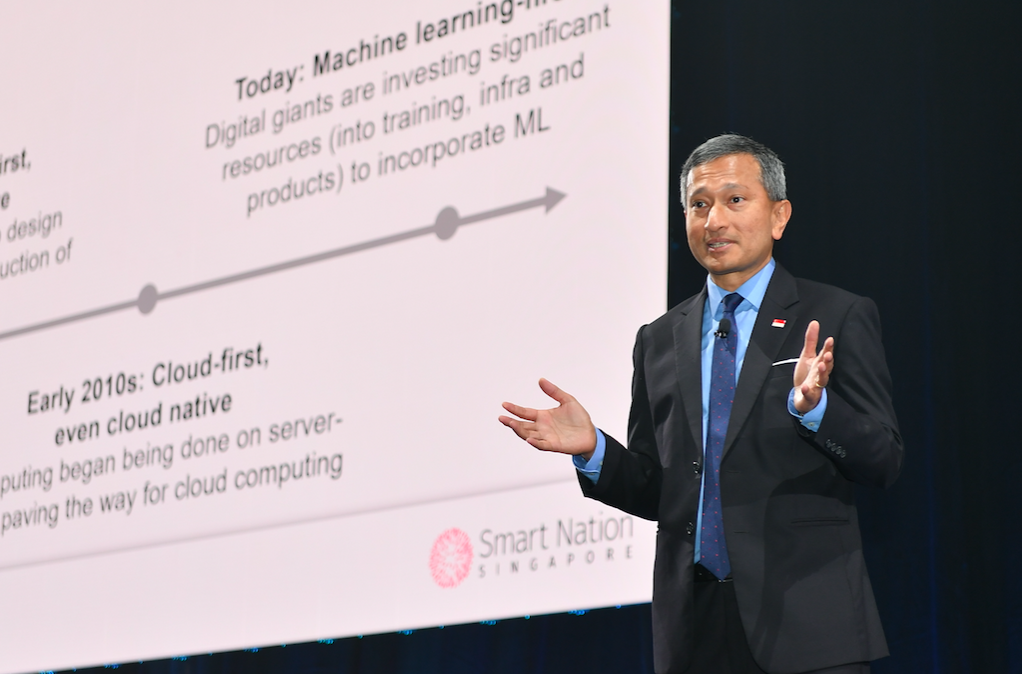 Alibaba Cloud on Wednesday launched a series of computing products for the global market, while also partnering with the National University of Singapore (NUS) to help the city-state further develop its capacity for smart infrastructure.
The announcements came as the Alibaba Group-owned company held its first cloud-computing conference outside of China, Alibaba Cloud Summit Infinity 2018, in Singapore. The conference, attended by Singapore's minister for foreign affairsand minister-in-chargeof the Smart NationInitiative, Vivian Balakrishnan (pictured above), emphasized the importance of Southeast Asia, and the Asia Pacific region in general, to the global economy as well as the company's international growth strategy.
"Asia Pacific is a unique market, and as a global cloud-services provider with an Asian origin, we are committed to leverage our knowledge and experience to build a sustainable regional ecosystem and enrich our offerings to meet the needs of our customers in this digital age," said Derek Wang, the chief solution architect at Alibaba Cloud International.
[content id="21841″]
The products, previously available only in China, are in areas ranging from cloud architecture and machine learning to the Internet of Things and security. They will allow retailers to digitize their operations under Alibaba Group's New Retail concept and make it possible for them to deliver a seamless blend of online and offline shopping. For example, the Machine Learning Platform for Artificial Intelligence offers a suite of tools that allow businesses without an AI background to make use of Alibaba Cloud's computing power. (The full list of products can be found here.)
"These products all have specific features that meet an identified need within the flourishing retail market in Asia Pacific region," Wang said. "E-commerce is witnessing considerable growth and Alibaba Cloud, leveraging Alibaba Group's development, can offer a mature ecosystem to support the regional retail sector."
The uptake of the products in Southeast Asia also launches the company's ASEAN Partner Alliance Program, which aims to develop a sustainable ecosystem of technology vendors, service providers, system integrators, independent software vendors and startups in the region. The program plans to recruit 150 partners and to train 600 sales and technology personnel in the next 12 months to fuel the growth of the ecosystem, Alibaba Cloud said.
The new partnership with NUS, meanwhile, will support Singapore's Smart Nation initiative, which works to improve life in the city-state through technology. As part of a memorandum of understanding signed at the conference, Alibaba Cloud and NUS will launch an innovation incubator program while also allowing NUS students to intern at Alibaba Cloud to study big data, cloud computing, business analytics and artificial intelligence.
Business analytics students at NUS will also have mentors from Alibaba Cloud and participate in "innovative challenges" that give them the chance to solve real-world problems, a statement said. Alibaba Cloud plans to offer an education certification program to students from the NUS Master of Science in Business Analytics as well, in partnership with the NUS Business Analytics Center. Researchers from NUS BAC will also work with Alibaba Cloud to identify potential research projects for collaboration.
"We are very excited to partner with NUS, Singapore's leading academic institution in science and technology, to help nurture the next generation of data scientists," said Raymond Ma, head of ASEAN, Australian and New Zealand at Alibaba Cloud. "The partnership reinforces Alibaba Cloud's ambition of building a sustainable ecosystem where young science talents can learn, develop and flourish."
James Pang, an associate professor at NUS and co-director of the Business Analytics Center, said the university was committed to developing talent in the areas of analytics and artificial intelligence.
"Our partnership with Alibaba Cloud expands students' horizons by giving them the opportunity to learn under mentors from Alibaba Cloud, and gain access to cutting-edge technological developments," Pang said. "In this way, NUS students could pursue their interests beyond their curriculum."
Established in 2009, Alibaba Cloud is China's largest provider of public cloud services. The company first entered Southeast Asia in 2015, opening a data center in Singapore. It now has data centers in Malaysia and Indonesia as well. In addition, Alibaba Cloud's other coverage areas include key international markets, such as the U.S., Germany, Japan, United Arab Emirates and India.