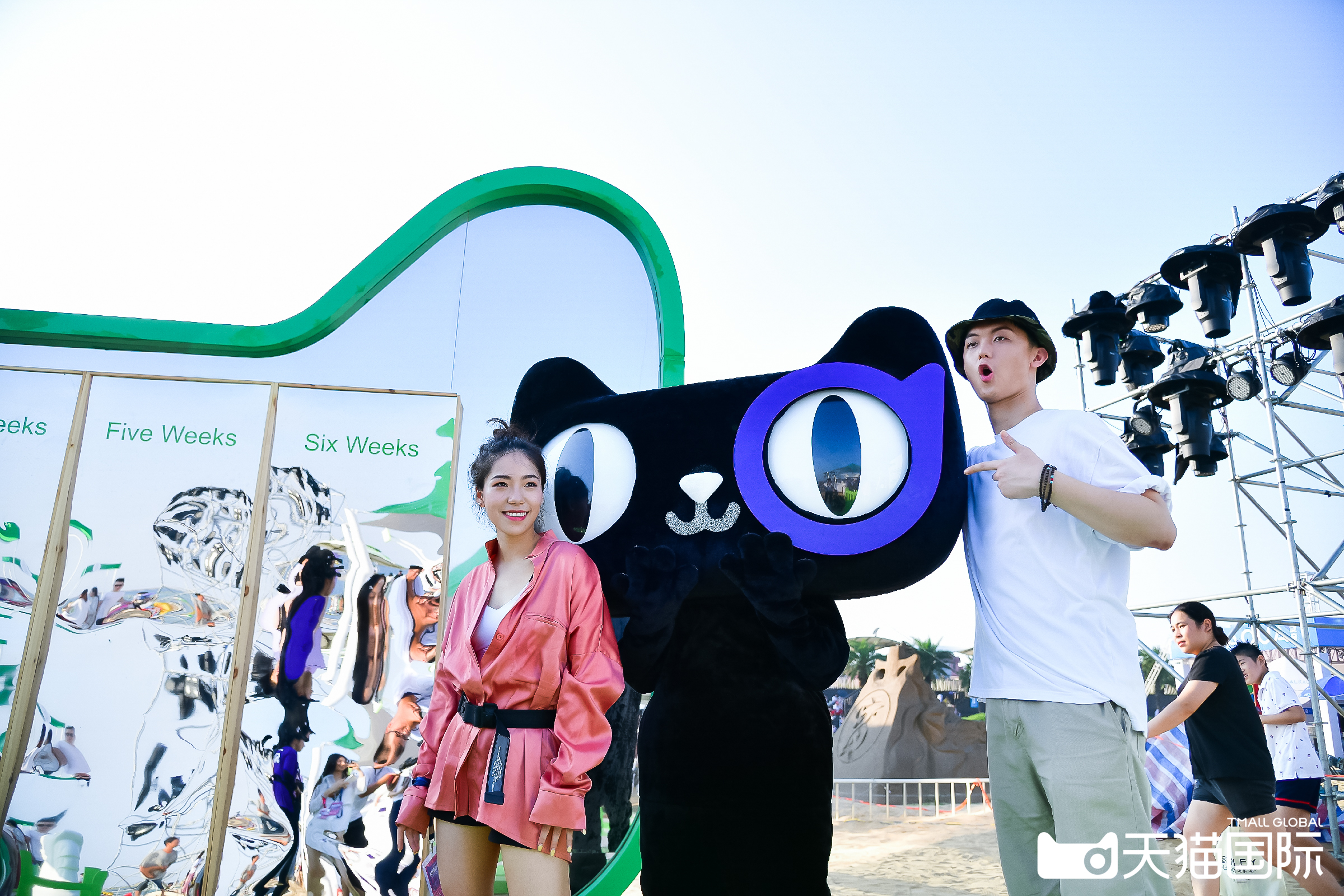 Shanghai's Jinshan City beach was transformed into a boisterous carnival last Sunday, as about 15,000 people attended Tmall Global's first-ever outdoor festival.
With a lineup of China's A-list pop stars and over 100 foreign brands, visitors sampled products ranging from facial masks by French cosmetics maker Filorga to gourmet spicy fish skin crackers from Singapore's Golden Duck and enjoy fun, interactive games, such as the "human claw crane."
The event underscored the growing popularity of Tmall Global, Alibaba Group's dedicated cross-border e-commerce channel, with China's young consumers. As of July, over 50% of the shoppers on the platform are under 27, a demographic that has seen a sharp rise both in its purchasing power and its willingness to try new things, along with a taste for high-quality, imported goods.
"Tmall Global is more than an e-commerce site. We are the bridge that connects the world's hottest brands with the young China consumers who come here to check out the trendiest products from around the world that they can't find in China," said Alvin Liu, the general manager of Tmall Global. "We bring the world to you."
WATCH: Tmall Global turns a Shanghai beach into an outdoor carnival.
According to research firm McKinsey, China's "post-90s" generation, which comprises of 16% of China's total population, is projected to account for more than 20% of total consumption growth in China through 2030, higher than any other demographic segment.
Dubbing this generation as "digital natives," the firm explained this population group "grew up in a China unknown to their parents, one marked by extraordinary levels of wealth, exposure to western culture, and access to new technology."
Tmall Global has been able to tap into that trend by offering trendy and authentic items from new, hip brands not readily available in China. The shopping site carries over 18,000 brands from 74 countries and regions, in addition to accounting for just under a quarter of all imported goods bought online in China.
For foreign brands, Alibaba serves as a gateway to China for those wanting to gain a foothold in the country. The Hangzhou-based e-commerce giant is able to glean actionable insights from its 520 million active users, which it shares with brands to help them better target consumer preferences and market movements.
Japanese beauty product and device maker MTG has seen its total revenue grow eightfold since opening its TMG flagship store two years ago. Five years ago, MTG didn't have a presence outside of Japan. Now, international business accounts for 45% of total revenues, with China comprising 60% of that, said Keizo Nakajima, managing director and manager of global brand business for the Nagoya-headquartered company.
By working with Tmall Global, MTG learned several important facts about China's young consumers that helped to position its products.
"I was especially surprised to learn how young Chinese consumers and how female Chinese consumers are so well-versed in beauty and wellness products. Another thing that really impressed us is how inquisitive and resourceful the Chinese consumers are when exploring a new product," he added.
Raul Chang, the e-commerce director of Filorga said his company had a similar experience using Tmall Global's analytics.
"In Europe, our consumer base tends to be older women. But in China, we discovered that young women are big fans of our face masks. Through Tmall Global, we learned that Chinese consumers are more intrepid than other regions and they can adapt to new products quickly," said Chang.
Since the inauguration of its flagship store on Tmall Global in 2015, China has grown to become the brand's second-biggest market, behind only its home base of France, he added.
"Tmall Global is very convenient, because I can browse and buy many products that I can't find in China, especially beauty products and snacks," said Alice Wang, a 24-year old office worker from Shanghai, who attended the festival on Sunday. "If it is on Tmall Global, I can trust it is real and not fake."
Additional reporting by Jing Wang.