Brands are tapping virtual idols during this year's 11.11 Global Shopping Festival as they venture into the metaverse to attract China's younger generations.
Alibaba Group's hyper-realistic computer-generated influencers Ayayi and Noah are taking up positions as brand ambassadors to help retailers build brand profiles and amass followings among China's digitally-native consumers.
Launched in May last year in collaboration with Ranmai Technology, Ayayi is the first virtual influencer in China. She is known for her pearlescent hair and calm personality, which has helped her gather over one million social media followers.
Ayayi acted as host and curator for a metaverse-themed digital art exhibition in Shanghai between Oct. 21 and Oct. 24 and met visitors in an all-immersive experience powered by sound, light and animated projections.
"We want virtual idols to help brands with the digital upgrade and reach out to younger consumers," said Rocker Hu, manager of digital marketing at Alimama, Alibaba's digital marketing arm.
Virtual influencers have multiplied from roughly nine globally in 2015 to more than 200 this year, according to digital research group Virtual Humans. In China, the virtual idol industry more than doubled between 2019 and 2021, data from market consultant iResearch shows.
Luxury powerhouses, including Dior and Gucci, have led the way by hosting virtual runway shows, and Ayayi has partnered with over 30 high-end brands, including Louis Vuitton, Burberry and Prada, for marketing campaigns in China.
"Chinese young consumers are constantly looking for the wow factor and crave new and unique experiences," said Antonello Germano, a business analyst from market research agency Daxue Consulting.
Ayayi has also been enlisted as a marketing partner by Chinese consumer electronics company Haier this 11.11.
A Custom Fit
Brands are launching their own branded virtual idols, giving them a level of creative control impossible with flesh-and-blood key opinion leaders (KOLs).
Paris-headquartered consumer goods multinational L'Oreal has a 24-year-old French-Chinese virtual influencer named Mr. Ou who is passionate about entrepreneurism and the environment, while domestic beauty brand Florasis' eponymous character wears historical Chinese dress.
"You might have a bunch of virtual idols, a sporty one, a serious one, a fashionable one and an artsy one that to try and appeal to different target audiences," said Mark Tanner, founder of Shanghai-based research agency China Skinny.
Alimama's latest creation, a tall and handsome male idol named Noah, was developed based on consumer surveys on the domestic social media site Weibo.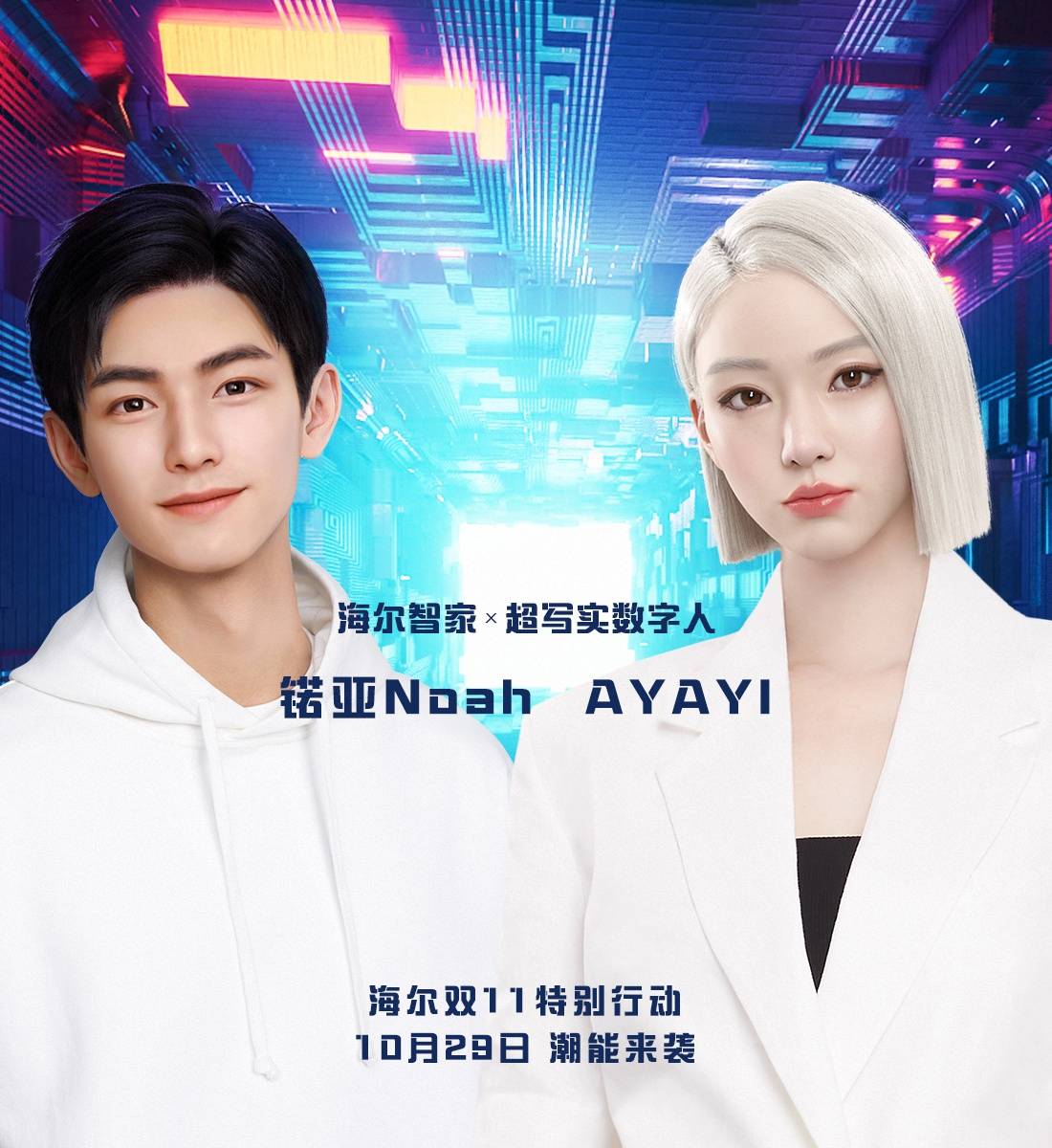 More than 21,000 users voted on his personality, skills and physical appearance, resulting in a cool male model with dark hair who can dance like a K-pop star.
To be sure, human KOLs will not be going anywhere anytime soon, and retailers are positioning themselves to get the best of both worlds.
"Rather than completely replacing traditional KOLs, virtual idols are one way to diversify brands' influencer portfolio," said Daxue's Germano.
Celebrities and KOLs sometimes have their own digital doubles. Last fall, Dior brand ambassador Angelababy debuted her virtual avatar – modeling a Dior purse – at one of the couturier's fashion shows.
IRL (In Real Life)
Digitally-generated influencers gained traction in the last decade by posting their fictional lives on global social media sites like Meta's photo-sharing platform Instagram. But in China, virtual idols are being put to work in the real world.
In a Sept. 19 brand livestream by American fashion house Tommy Hilfiger, Noah spent more than an hour chatting with customers and dancing along to music with human guests.
"This is the first time a metahuman influencer has appeared in a livestream with real people. We rehearsed it at least four times because it's technically very challenging," said Hu.
Developing a livestream with a virtual influencer requires scads of computing power for rendering, and it is very hard to capture the vivid facial expressions and bodily movements of virtual idols, he explained.
"E-commerce in China is much more experience-based," said Tanner, and brands devote significant resources to creating compelling content for consumers.
It paid off for Tommy Hilfiger. More than 670,000 viewers tuned in, and the brand's daily gross merchandise value (GMV) generated by livestreams nearly quadrupled compared to an average day.
Welcome to the Future
Digital humans are becoming the new normal for a generation of young internet users in China, spurred by rapid development and a near-infinite range of applications.
Moving beyond consumer engagement, brands will employ virtual humans as customer service agents, live streamers and support staff on e-commerce platforms and beyond.
"When more and more brands are in the metaverse, I think they might use their virtual idols in that way," Tanner suggested.
This day may arrive sooner than expected. In a metaverse exhibition on Nov. 9 curated by Alimama, guests can view virtual clothing and accessories worn by Ayayi and Noah.
And the Alibaba virtual influencer family is growing.
Alimama launched three new idols this year to partner with brands on the group's platforms. There is blue-haired boy Alpha and his female counterpart, the crimson-locked Muse, while Panda girl – named for her love of her pet panda – rounds out the trio.
"Your imagination is the only limit," said Tanner.