Chinese cosmetics brand Florasis is attracting younger consumers by combining tradition with modern e-commerce tactics.

The digitally native brand's annual gross merchandise value (GMV) grew to over RMB3 billion ($470 million) between its launch in 2017 and 2020.
Florasis is riding a wave of interest in China's cultural heritage known as Guochao, literally "national tide" in Mandarin. Its ingredients and packaging designs are steeped in local tradition and are a hit among Generation Z and millennial consumers.
At the same time, it is participating in major e-commerce shopping festivals, working with key opinion leaders (KOLs) including Lipstick King Austin Li, and creating a customer feedback loop that ensures its products are attuned to China's fast-changing consumer market.
"We did the right thing at the right moment," said Florasis' branding director Lin Zeng in an interview with Alizila.
China's cosmetics market, already the largest in the world, will double from its 2019 valuation to reach $145 billion by 2025, according to investment bank Goldman Sachs.
Chinese cosmetic brands hit an annual growth rate of 78% in 2020, according to data from Alibaba Group's online marketplace Tmall, much higher than the 23% growth rate of cosmetics in general.
Though Gen Z consumers constitute only 17% of the population, they are more likely to try out new brands and spend up to twice as much on beauty products compared with other age groups, according to a study by investment banking group UBS.
Budding Patriots
Chinese beauty, known as C-beauty brands in the industry, jibe with digitally savvy youngsters keen to connect with their cultural heritage while coming of age in an economically powerful China.
"C-beauty brands captured the Guochao trend particularly well…they know how to do story-telling that appeals to Chinese aesthetics," said Kelly Tang, beauty and fashion industry consultant at market research group Euromonitor International.
Hangzhou-based Florasis' products fit the bill. The brand sources local floral essences and medicinal plant extracts for its color cosmetics. Its best-selling lipstick draws inspiration from a 2,600-year-old Chinese love story between a cowherd and a weaver girl.
To be sure, consumers won't just pay for Chinese themed packaging. They are drawn in by the coherent story and image presented by C-beauty companies, noted Tang.
For Florasis' branding director, that means Oriental aesthetics. "It is a total package rooted in Chinese philosophy, from using natural ingredients to finding the balance in key elements," Lin explained.
In With the New
The look and feel of their products may be nostalgic, but C-beauty brands are leveraging cutting-edge e-commerce techniques.
Five months after launching, Florasis opened a flagship store on Tmall and brought on KOLs to kick off its first major marketing campaign.
Austin Li, who once tried on nearly 400 shades in seven hours during an e-commerce livestream, has helped drive sales in Florasis products from the get-go.
"Austin Li was the man that kicked them off being a major brand," said Mark Tanner, founder of Shanghai-based research agency China Skinny.
After describing a Florasis setting powder as "lighter than air," Li followers converged on the brand's Tmall store to buy more than 700,000 units during the 2019 11.11 Global Shopping Festival.
Li once said in an interview that he played the role of "quality control officer" for Florasis, offering pointed reviews and pushing for regular product updates. He said the color of its powder puff is too dark and the mirror on its setting powder is too large, to name a few of his suggestions.
"We invited Austin Li to join in the co-production of some products because of his astute observations of consumers' needs and extensive knowledge of color cosmetics, " said Lin.
Florasis' digital tactics are paying dividends. From 2019 to 2021, Florasis consistently ranked among the top 10 color cosmetic brands on Tmall during the 11.11 Global Shopping Festival, alongside Guangzhou-based beauty unicorn Perfect Diary.
In 2020, Tmall included Florasis among the platform's top ten emerging brands, as its GMV soared.
"We call Tmall one of our primary bases because it has been a major contributor to our GMV," said Lin. "And it will remain so in the future."
Beauty Battle
These e-commerce tactics are helping Florasis survive in a cut-throat market.
"If I look back five years ago, more than half of the brands we were following [aren't] around now…they are here by night, they shake the market and [then] they disappear," said Tanner.
During last year's 11.11 shopping gala, Perfect Diary and Florasis ranked fourth and fifth, respectively, in terms of total GMV value between Nov. 1 to Nov. 11 among Tmall color cosmetics brands, lagged behind international brands.
But Lin is confident that building close relations with consumers will keep Florasis competitive.
The Floraisis team reads customer feedback on e-commerce channels and social media sites. It has also signed up over 200,000 consumers as "beauty co-creators".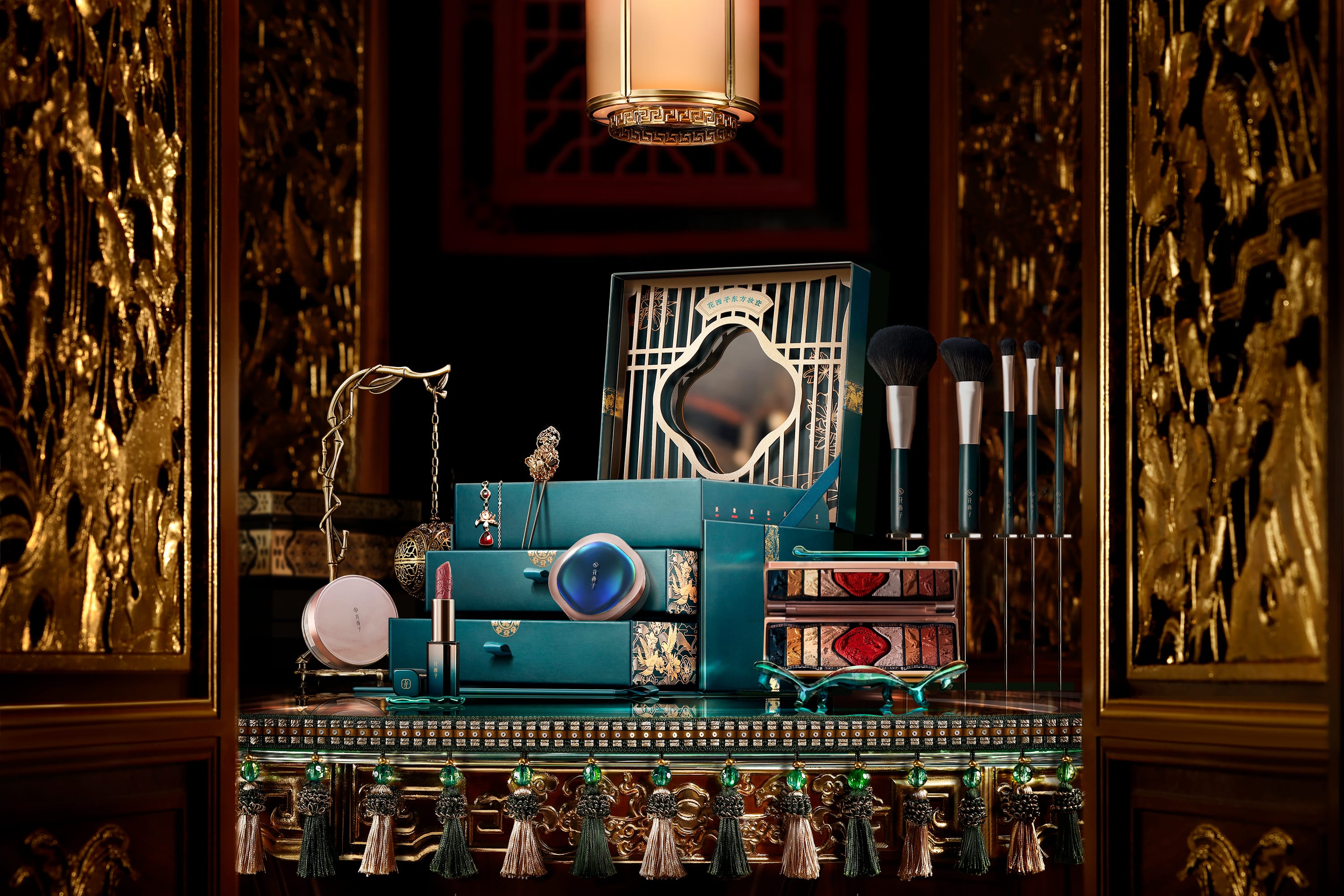 Around 150 of these co-creators receive samples for every step of the product development process, who post their feedback on an online community site for Florasis enthusiasts. The brand then aggregates the feedback and adjusts its formula accordingly, while giving those who provided feedbacks loyalty rewards.
Florasis has found from this process that young consumers like the hair-like strokes of an eyebrow pencil but not its waxy texture; and for eyebrow powder, they like the natural look it gives, but feel that they need greater control over the brows.
The result was a best-selling eye brow pencil, one that has been updated seven times within four years to stay attuned to customer tastes.
"It takes time, but we followed it through because that's the best way to stay close to consumers," said Lin.