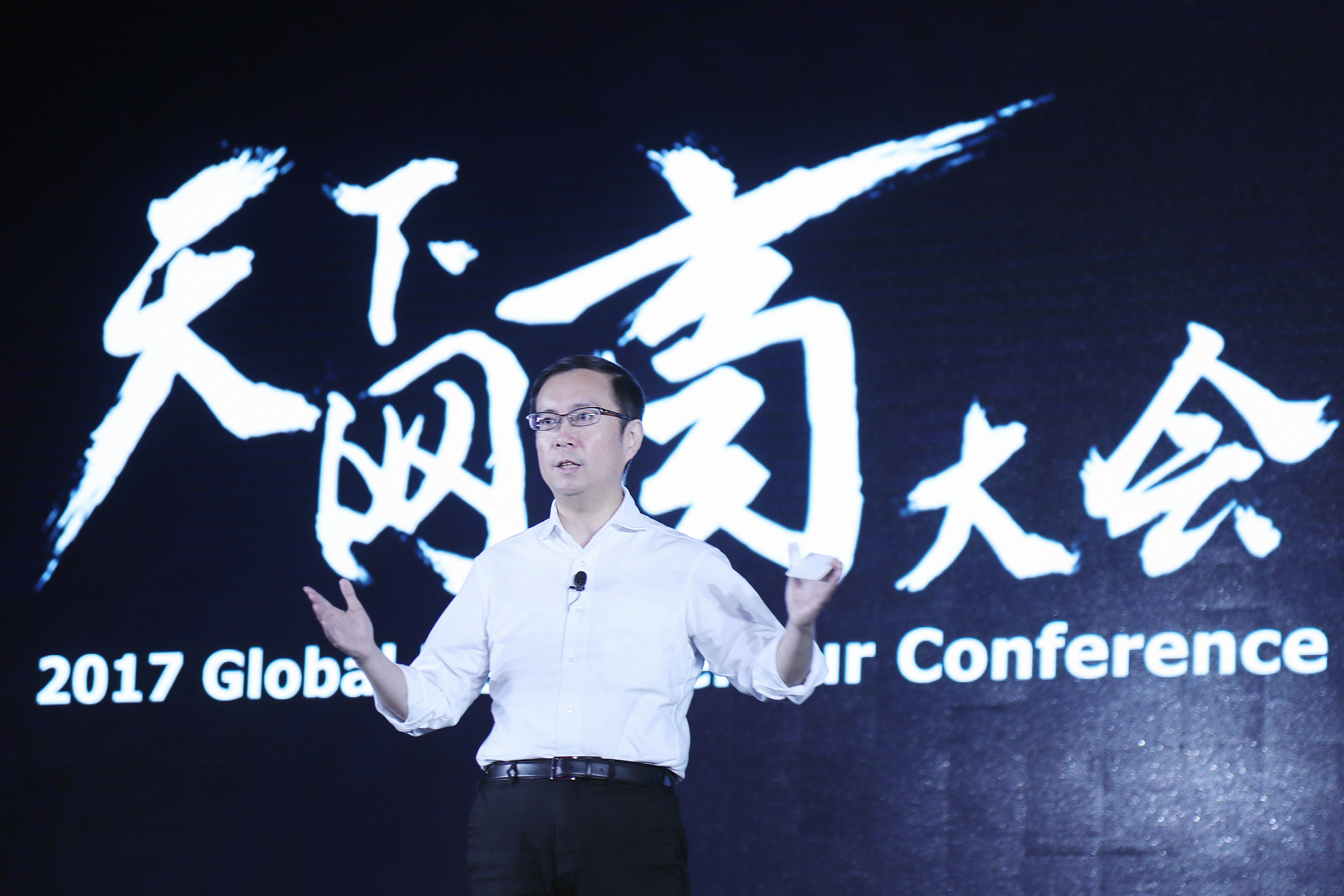 Your retailer may not read your mind, but with the next-generation of big data, it's going to seem like he can.
An e-commerce world where products are designed based on analysis of consumer behavior, where customer needs are met before they even realize they have them, is not far off, said Alibaba Group CEO Daniel Zhang Tuesday.
Speaking at Alibaba's 2017 Global Netrepreneur Conference, Zhang said companies that once modernized and upgraded to capitalize on selling goods and services on the internet will need to do so again. That's because data and algorithms have removed much of the need for guesswork in the retail world. Top-down sales need to give way to online customers shaping the very products being designed and produced for them.
"Via the internet, businesses can see the potential needs of customers by studying consumer behavior data, and then design, market, sell and serve in order to satisfy customers," said Zhang.
The story the data is telling comes in no small part from the growth of Taobao and Tmall. The two Alibaba e-commerce platforms—among the world's largest—have tracked the move of e-commerce into virtually every area of Chinese society,serving a combined 500 million-plus customer base.
"We are moving from satisfying needs to creating needs," said Zhang, a statement far more altruistic than it may initially sound. Zhang emphasized the data collected from consumers allows companies like Alibaba to see where customer needs exist—and meet them—before even those customers do.
One example of "Made in Internet," the theme of the conference and a play on "Made in China," comes from Chinese appliance maker Midea. Midea in 2015 manufactured a dishwasher tailored to the needs of China's millennials. Previous generations of Chinese consumers did not purchase dishwashers, and most of Midea's products had been exported for sale overseas. But data collected from Tmall showed that millennials wanted dishwashers designed specifically for Chinese cookware, not only to clean it but to store it as well. The new smart device also allowed the young shoppers to control the water volume and temperature through the AliSmart mobile app. During last year's 11.11 shopping extravaganza, Midea sold over 8,000 of these dishwashers, setting a new daily sales record.
This "New Manufacturing" is one of a group of trends of "Five News" that Alibaba Executive Chairman Jack Ma first highlighted last November, also including New Energy, New Technology, New Finance and New Retail. Zhang added another on Tuesday, saying "New Netrepreneurship" was the use by internet entrepreneurs of these concepts to reinvent online and offline business. Alibaba announced on Tuesday that it had created a committee dedicated to these Five News to capitalize on the opportunities they present.
Alibaba has so far focused heavily on incorporating elements of New Retail into its business model. Zhang defined it as the use of big data, new technologies, the upgrade of manufacturing and innovative financial tools to fundamentally change the relationship between consumers, merchandise and the retail space. In this world, online and offline shopping are merged, content is used to engage consumers, and the consumer experience plays out on a mobile phone.
In a keynote dialogue, Executive Chairman Jack Ma said this type of reimagining of business was at the heart of "Made in Internet."
"'Made in Internet' is not only empty words I coined, but an urgent and heartfelt call for Netrepreneurs, manufacturers, the finance industry to take notice of global trends and rethink their business models," he said.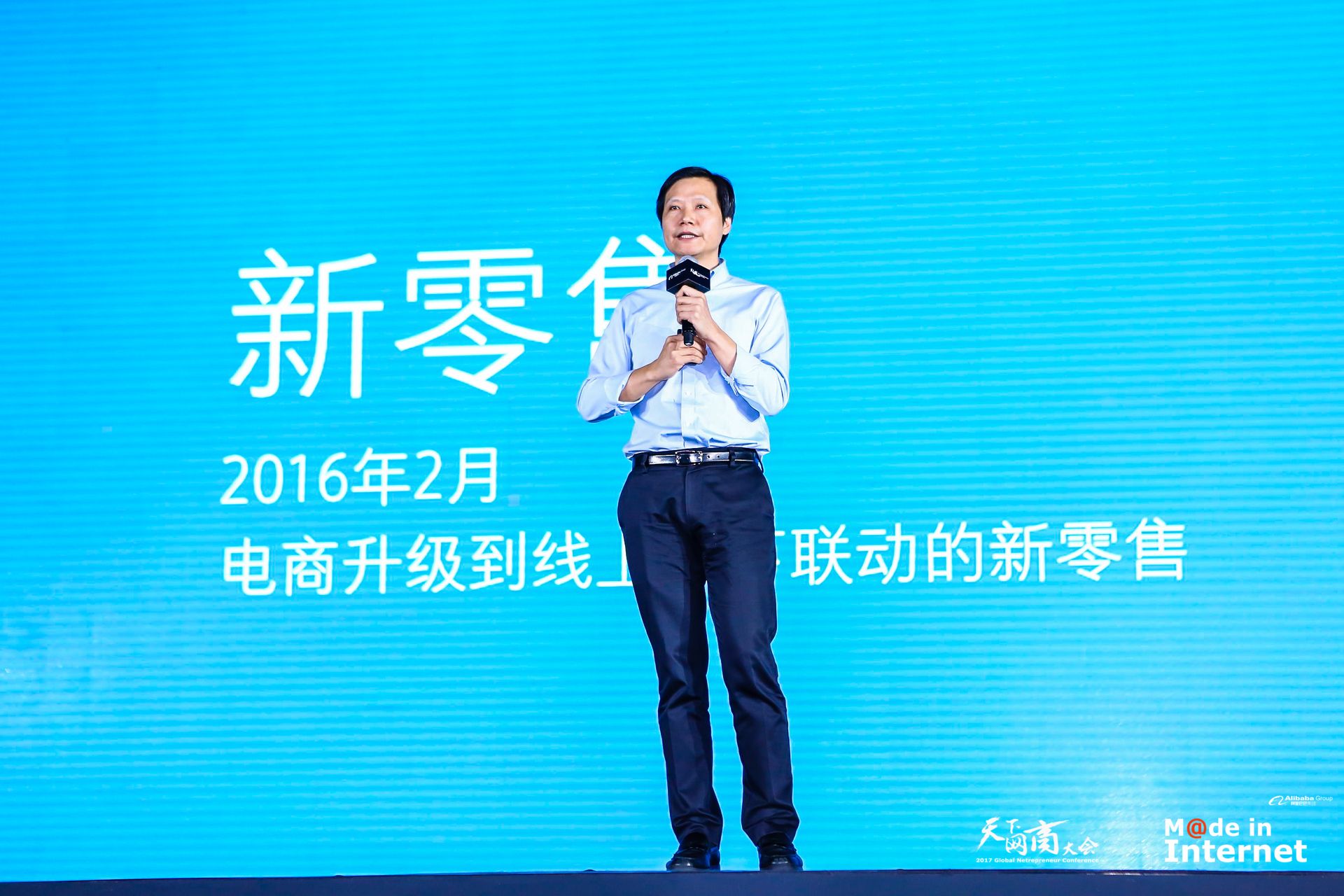 Alibaba is not alone in China in its leveraging of New Retail to grow and improve its business and offerings to customers. Lei Jun, CEO of Beijing-based mobile phone maker Xiaomi, said the company has used the internet—and the data collected from consumers online—to optimize the shopping experience for customers. "In the internet era, we can hear voice of customers and react responsively," he said. But the streamlining of operations is also a major benefit.
"Efficiency is the essence of New Retail," Lei said.
Sweeping changes are also taking place in the mobile payments sector. In India, the use of mobile phones to pay and be paid has changed the financial system in the world's second-most-populous country. Even tuk-tuk drivers accept the market's leading payments platform Paytm, said founder and CEO Vijay Shekhar.
"Paytm is no longer for online customer audience, but also the person who does not have any connectivity [to the financial system] in the traditional sense," he said.
Albert Tinio, CEO of Manila-based GCash, said cash is still king in the Philippines: Seventy-five percent of Filipinos do not have bank accounts. And 40 percent of municipalities and cities lack a brick-and-mortar bank. But the power of mobile payments already proved its worth when GCash partnered with a nonprofit to disperse $2 million to families affected by Typhoon Haiyan in 2013. Improving the country's payments infrastructure to promote banking, and even charitable giving, is a top priority for GCash.
"Our vision is for GCash is to be the bridge of financial inclusion in the Philippines," he said.