Imagine, you're on a work trip and have rushed into your company's local branch to drop off luggage before heading to that all-important client meeting. But the receptionist is on a coffee break.
To make employees' lives easier, Alibaba Group is deploying self-service lobbies where luggage can be temporarily stored 24/7 – that's just one of the innovations in office design popping up across its network of corporate campuses.
Felix Liu, President of General Services Administration at Alibaba Group, said his overarching goal is to balance operational efficiency and employee satisfaction as his team oversees the rollout of such work hacks.
Long gone are the days of uniform cubicles captured in the satirical Dilbert comic strip of hum-drum office life. The heated debate around work-from-home during the pandemic, and then return-to-work, prompted a global rethink about managing office space for a fast-evolving workplace culture.
Liu offered Alibaba's campuses as a case study in stimulating innovation and catering to the way we want to work today. He explained how his team's work supports the development of Alibaba's business while providing a more secure and eco-friendly workspace.
Greener Campuses
At Alibaba's headquarters in Hangzhou, 100% of street lights are solar-powered. Employees can still connect with nature in the original wetlands, complete with willows, bamboo and persimmons.
Liu recapped earlier this month at REwork, an annual summit to discuss workplace trends, how Alibaba applies ESG concepts and digitization to create smart campuses.
Alibaba's general services office manages corporate campuses in 27 countries and regions, over 160 sites and more than 100 cities. These campuses serve over 200,000 Alibaba employees, from different backgrounds and working in a range of industries, from e-commerce to cloud computing.
The company created an institute to research the best use of space, develop office space products and set space standards. Guided by ESG principles, it then seeks to create an efficient, flexible, green, low-carbon, comfortable and pleasant office environment for employees.
Another driving factor is Alibaba's committment to being carbon neutral by 2030, and the company has vowed to slash 1.5 gigatons of carbon emissions throughout its ecosystem by 2035. Part of this journey involves making its buildings eco-friendlier. It has been ramping up efforts since 2020, ensuring all new buildings meet the LEED (Leadership in Energy and Environmental Design) Gold Standard, the second-highest certification level awarded by the U.S. Green Building Council.
Alibaba has built the largest single WELL Gold-certified campus in China, in Area B of its Xixi corporate campus in Hangzhou. The WELL certification process focuses on people's health and wellness. Xixi's Area C, which is under construction, will be the largest LEED and WELL-certified campus in China.
Last year, Liu's team helped transform a 20-year-old factory in Gaoqiao Cloud Harbor Hangzhou, into a space that integrated offices, restaurants and hotels. The renovation used prefabricated materials and modular products, from smart partitions to workstations. Installing energy-saving technologies into the building helped reduce carbon emissions by 79,000 tons. One of the buildings comes close to net zero carbon emission.
Office Hacks
Alibaba has also launched a smart campus platform, where people, space and facilities are digitally connected. It helps manage offices, facilities, security, and commercial services such as canteens and space leasing.
In offices, employees grappling with a problem can scan a QR code on their desk and get a response in minutes rather than hours. This service not only improved employee satisfaction at Alibaba, it has made managing facilities more efficient, said Liu, who previously served as vice president of retail operations of Amazon China.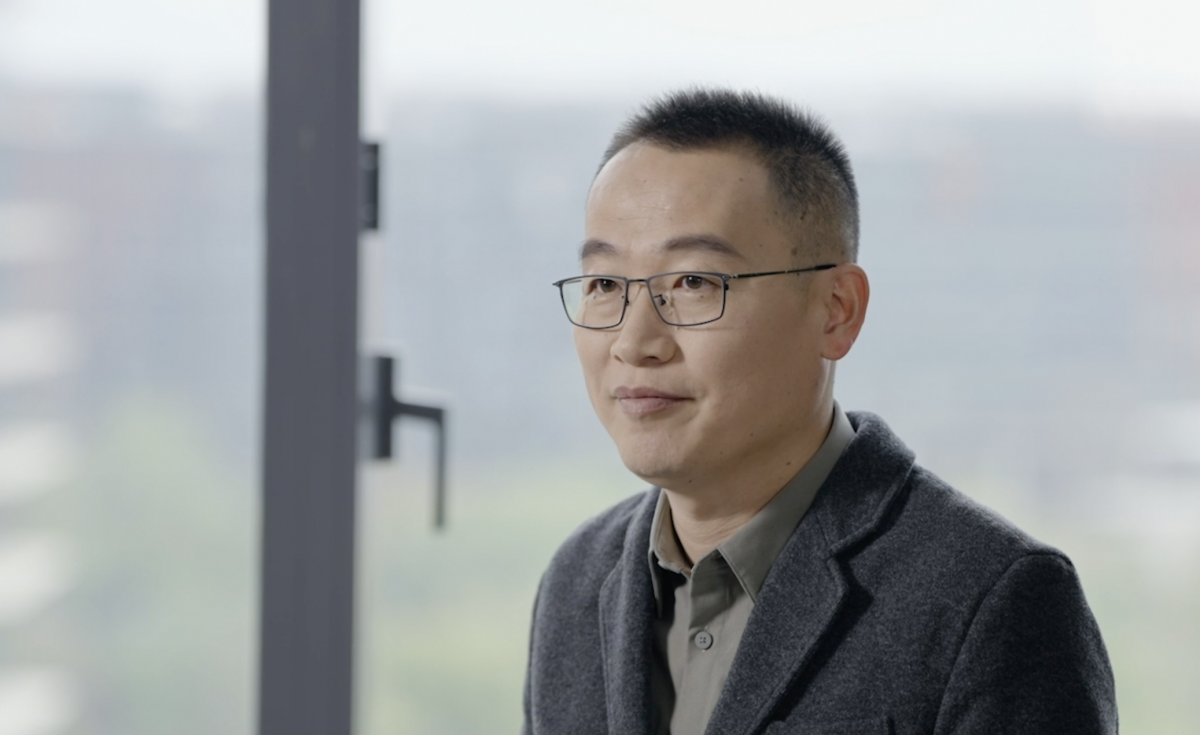 Alibaba's self-service lobbies are transforming into an AI reception + smart cabinet. Employees can submit reimbursement invoices and collect office supplies from the cabinets. The AI-powered reception can also video call a customer service center for those moments when you just need to speak to a live person.
The 24/7 self-service lobby has been well received by Alibaba employees and has saved on labor costs, Liu told the audience at the summit.
Liu's team also mans a central command center that can manage workspaces in real time. On Alibaba's Xixi campus, 99% of equipment is connected and integrated into the central command center. Using sensors and the Internet of Things technology, algorithms control the optimal start-up time of cooling systems to make room temperatures comfortable when most employees arrive at work.
At the push of a button, lighting and air conditioning adjust to weather and conference-room equipment conditions as well as individual's needs. With the help of this system, energy consumption at Alibaba's Xixi campus dropped by 8%.
Smart security has improved the management of personnel entering buildings, sensors and alarms in case of fire and other emergency scenarios. Artificial intelligence minimizes the risk of fire even in kitchens, cars, and laboratories.
Looking to the future of work, Liu sees technology spurring even greater changes to the shape and space management of physical offices. Alibaba is exploring how to deploy service robots, and use operational data to design spaces, improve support and make space management even smarter.