Alibaba Group's cloud computing subsidiary said on Thursday that it is integrating its generative AI model into its intelligent assistant platform Tingwu, its latest move to update applications with the artificial intelligence.
Alibaba Cloud's large language model, dubbed Tongyi Qianwen, will enable the platform to automate meeting tasks such as generating summaries in real-time, capturing key talking points, and creating timestamps in audio or video with summaries.
The move is part of Alibaba Cloud's broader efforts to leverage generative AI to transform its businesses. Earlier last month, it revealed that the large language model will power over 10 functions on Alibaba's enterprise communication platform DingTalk and Alibaba's auto-operating system AliOS.
"As we gradually integrate the Tongyi Qianwen model into our products and services, we hope users can reap the benefits from these compelling AI innovations for their work, study, play and interaction with each other," said Zhou Jingren, CTO of Alibaba Cloud Intelligence in a statement.
Take Note
The integration of the generative AI model transforms the intelligent assistant platform into a one-stop meeting and collaboration tool for companies. It can also cater to needs such as note-taking in virtual lectures and faster knowledge-sharing where users can directly access the section that they want in multimedia content with the AI features.
According to McKinsey's 2023 China Consumer Report, on average Chinese consumers spend nearly two hours per day watching short-video platforms and interact at least once a day with audio and video streaming platforms.
Revenue from online audio and video content in 2020 contributed close to 32% of revenue in the radio and television sector in China, according to the research arm of China's National Radio and Television Administration.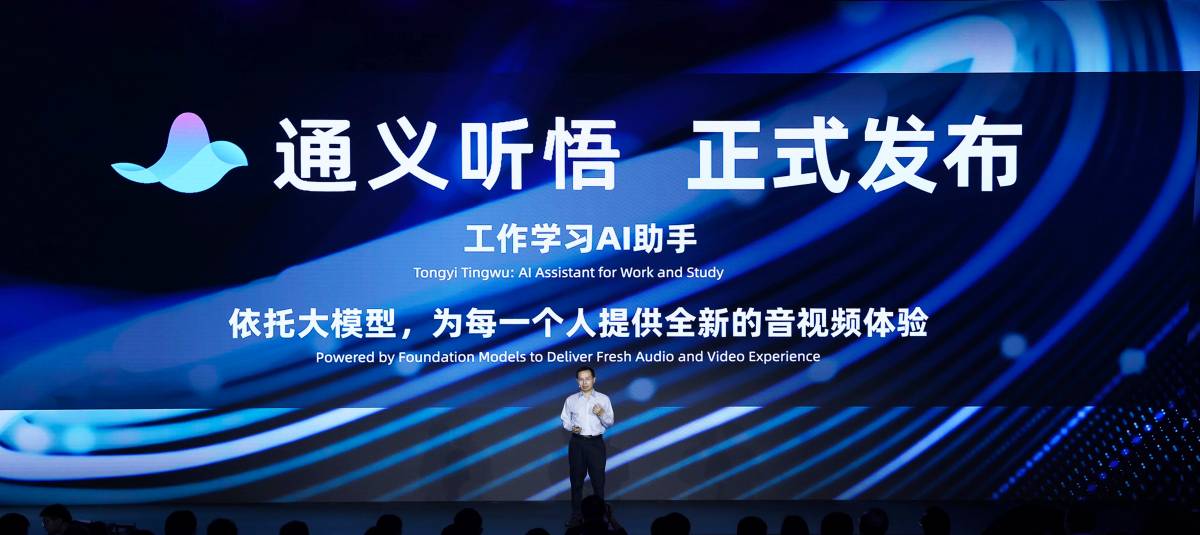 Other than Tongyi Qianwen, Tingwu also leverages the proprietary audio and video models from Alibaba's research institute DAMO Academy. It can transcribe audio and video into text, distinguish between multiple speakers, generate action items and translate the real-time meeting notes from Chinese into English.
Alibaba Cloud said that all users can sign up to use the AI-powered assistant online starting Thursday. It will roll out a number of AI features later this year for Tingwu, including addressing user queries, generating a summary based on PowerPoint slides extracted from videos, and providing real-time translation between English and Chinese for multimedia content.
"We believe that all of our consumer-facing businesses can be reinvented with large models to offer a new AI-based service experience for our users," said Alibaba Group's Chairman and CEO Daniel Zhang during its fourth-quarter earnings call.
Alibaba Cloud revealed last month that it's working with partners across a wide range of sectors to build customized AI models for industry-specific applications based on Tongyi Qianwen.
For more stories on technology across Alibaba's ecosystem, go to our tech page here
This article has been updated with context and an image from a press conference in Guangzhou.