Artificial intelligence took center stage at Alibaba Cloud's annual Apsara Conference as the cloud computing company leveraged the technology to help revolutionize industrial development and content creation.
The cloud computing company rolled out a suite of domain-specific models trained on its large language model Tongyi Qianwen, as well as a digital avatar creation tool and an AI text-to-image tool.
"We hope that our proprietary models can deliver real values to our customers to improve operation efficiency and stay competitive," said Alibaba Cloud's CTO Zhou Jingren.
The Apsara Conference, in its fifteenth year, is taking place in Hangzhou from Oct. 31 to Nov. 2. It has drawn over 400 enterprises, institutions and organizations from around the world. Delegates can choose between more than 500 sessions and stroll around an exhibition space of over 40,000 square meters.
We scoured the exhibition halls, listened to the sessions and pulled together a summary of the major AI tools Alibaba Cloud unveiled during the Apsara Conference
Character Creation & AI Chat Model
During Apsara, Alibaba Cloud unveiled a suite of industrial models built on Alibaba Cloud's foundational model, Tongyi Qianwen. The models can boost productivity and enhance user experience for individual and corporate users in areas ranging from finance and law, to coding.
Among those domain-specific models is a character creation and AI chat model dubbed Tongyi Xingchen. It allows people to engage in human-like conversations with virtual characters. The platform can generate human-like responses based on the personality traits of the characters the users select, be they fictional or historical.
The tool also allows users to craft characters and use them for companionship, emotional support and entertainment. The AI model can memorize what it has been told during multiple rounds of conversation.
Reading AI Model
To help users read documents and take notes, Alibaba Cloud launched a knowledge management assistant called Tongyi ZoneWit. Users can upload documents to the tool in various formats and have the Tongyi Qianwen-powered reading assistant make summaries, extract information and answer questions related to the documents in Chinese or English.
The reading assistant can handle documents of up to 1,000 pages and over 1 million words. It can process documents written in highly specialized language, including technical essays.
Customer Service AI Model
Alibaba Cloud's LLM-powered customer service model, Tongyi Xiaomi, makes it easier for enterprises to build customer support services and enhance user experiences with human-like responses.
The model can have human-like conversations with customers by connecting to an enterprise knowledge base. It also offers a more user-friendly service experience, with improved natural language processing, analytical and inference capabilities. For example, it can infer the customer's intent through inquiries and generate the response that best serves the customer's needs.
Virtual Character Generation Tool
Alibaba Cloud rolled out two applications powered by its text-to-image model Tongyi Wanxiang.
One of the applications aims to generate product photographs with virtual characters for e-commerce merchants. Users can upload a product photo and strip the background from the product with Alibaba Cloud's proprietary AI image segmentation model. They can then create a virtual character and a background image to present the products.
Sketch-to-Stylist Picture Tool
The other application turns rough sketches into colored images in different styles, ranging from oil paintings, watercolors to anime. It can help designers shorten the creative process by turning their ideas into images in seconds.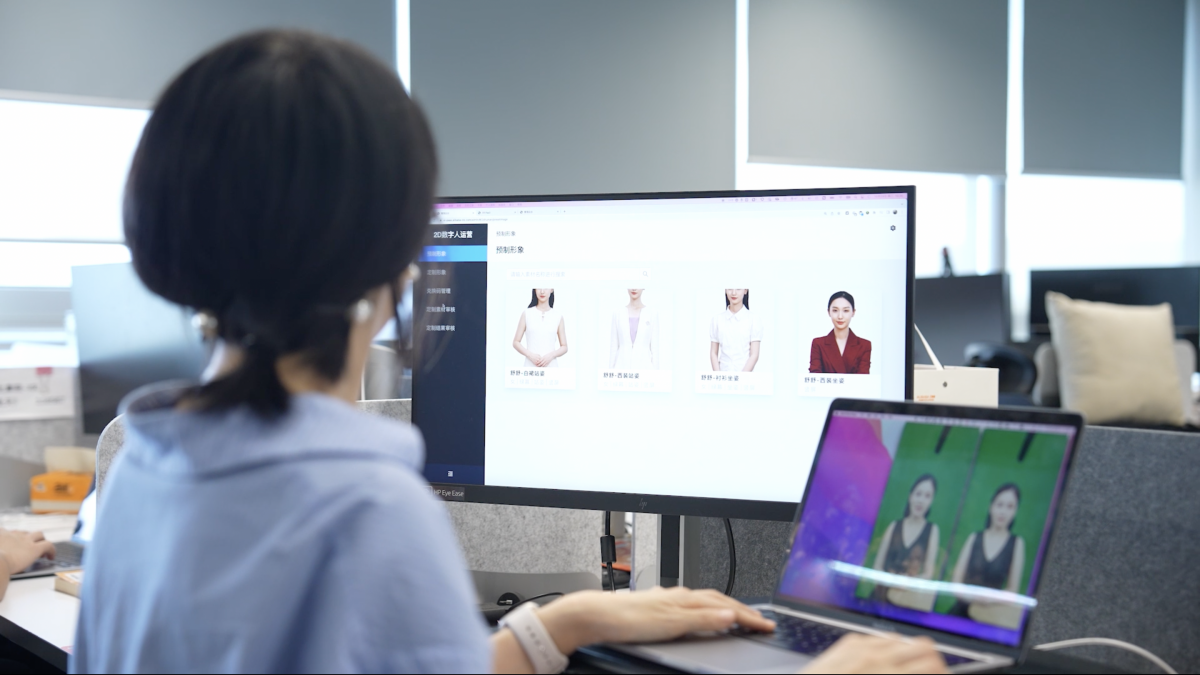 Digital Avatar Creation Assistant
At Apsara, participants can check out a tool that allows them to turn a three-minute video of themselves speaking into a camera into a digital avatar.
It extracts facial features from the video and then uses 3D modeling to reconstruct the 3D shape of the human face and turn it into an avatar. Compared to creating a digital character manually, the tool makes it much faster and easier for corporate customers to leverage digital avatars for daily operations.
E-commerce merchants can select from a number of prebuilt digital avatars or create their own to help boost customer engagement for promotional videos on e-commerce platforms. News organizations are also leveraging digital humans to deliver a steady stream of content. They can stand in for human anchors during non-peak hours to save costs.