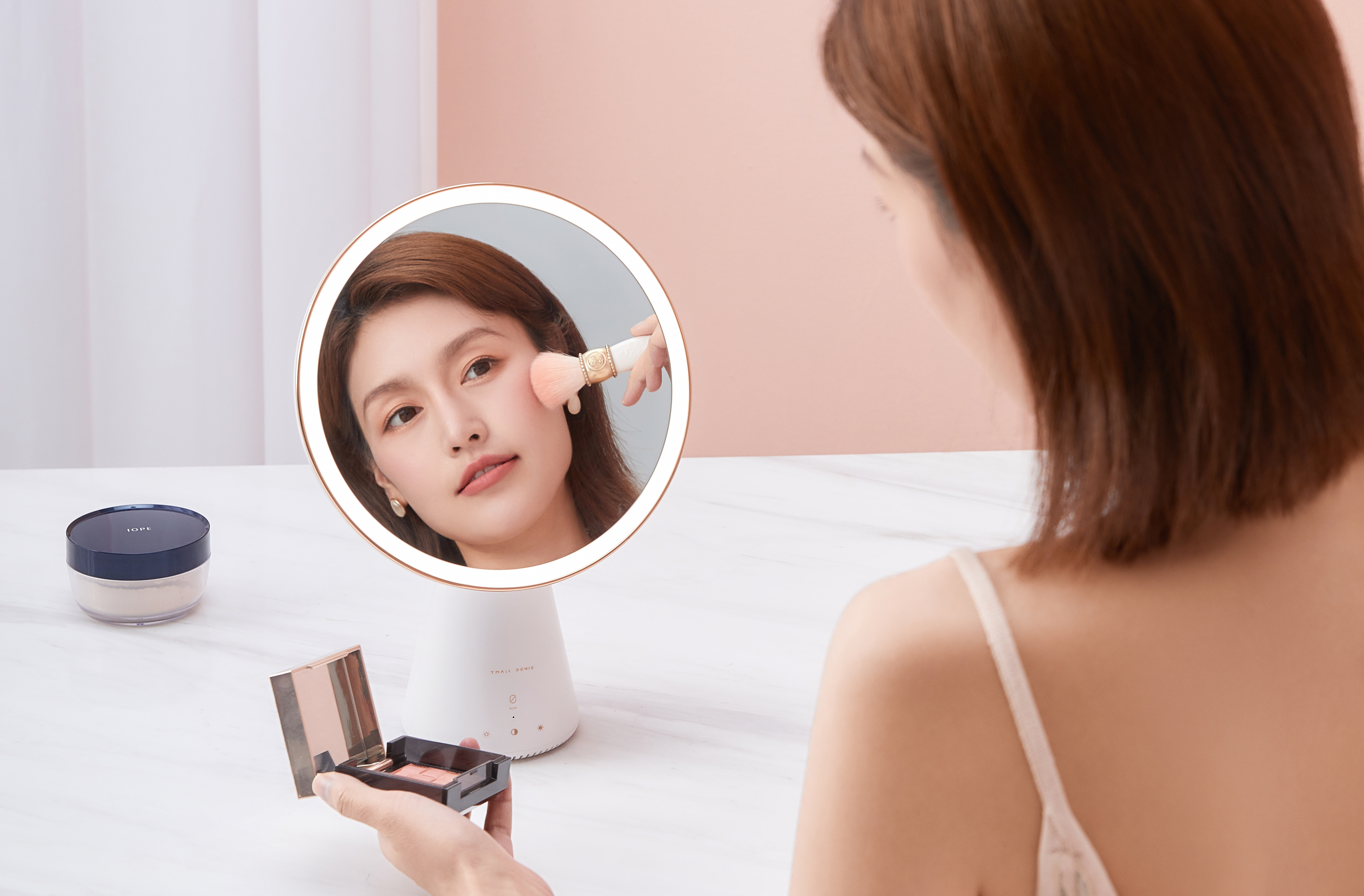 The artificial-intelligence research unit at Alibaba Group has launched three new iterations of Tmall Genie, China's most-popular smart speaker, including a voice-controlled smart mirror tailored to beauty consumers.
Following its debut at the company's annual Tmall Beauty Awards in March, Alibaba A.I. Labs officially released the eight-inch makeup mirror, which responds to voice commands just like the classic Tmall Genie. Users can adjust its brightness to recreate the effect of dimly lit party environments or natural sunlight to create flawless makeup looks. It also partnered with 14 beauty brands, including La Roche-Posay, Kérastase, Sisley and Johnson & Johnson, to incorporate beauty tips and branded content, as well as introduce services such as skincare assessments, UV-exposure forecasts and beauty-routine reminders.
WATCH: Inside Alibaba A.I. Labs Product Launch
Besides the eight hours typically spent at work, most people spend two-thirds of their day in three locations – the bedroom, the living room and inside the car, said Miffy Chen, general manager of the Labs.
"Our new products released today are not only product upgrades, but we also want to upgrade the experience that people have in these three major living spaces," she said.
Another new product is the "Tmall Genie CC," which was designed with the Chinese family in mind. It has a seven-inch, built-in monitor offering video content from popular Chinese streaming platforms, such as Youku, Bilibili and Mango TV, and also functions as a landline for users to make and receive phone and video calls via voice control.
Alibaba A.I. Labs also debuted an in-vehicle smart speaker created in collaboration with Amap, Alibaba Group's navigation-solutions provider. Designed to fit inside a cup holder, the speaker is integrated with the car's "infotainment" system. When users use voice control to activate Amap and get directions, the map automatically pops up on the screen. Users can pair it with a dashcam for more-refined directions, powered by augmented-reality technologies, such as seeing real-life road images on the dashboard screen with clear, visual reminders on when to make a turn or change lanes. The in-vehicle speaker is now compatible with select Volkswagen models, with plans to further expand to other auto brands.
In a February report, global research firm Canalys estimated that smart speaker shipments reached 78 million units worldwide in 2018, up 125% from 34.7 million units the previous year. It also forecasts that the Chinese smart speaker market alone will increase by 35% to 29.6 million units shipped this year, compared to 2018.
Since Tmall Genie's launch in 2017 through January of this year, more than 10 million, the Labs said. It is ranked third globally, according to the latest Smart Speaker Analysis from Canalys.
Developing its Internet of Things ecosystem capabilities has been a key focus, as the Labs expands smart speaker applications to various sectors and user environments. Today, it can control about 100 million devices from over 600 home appliance brands, including Bosch, Siemens and Dyson.
"The success of Tmall Genie underpins Alibaba A.I. Labs' vision to develop innovative and inclusive technology that brings greater convenience to our customers," Chen said.