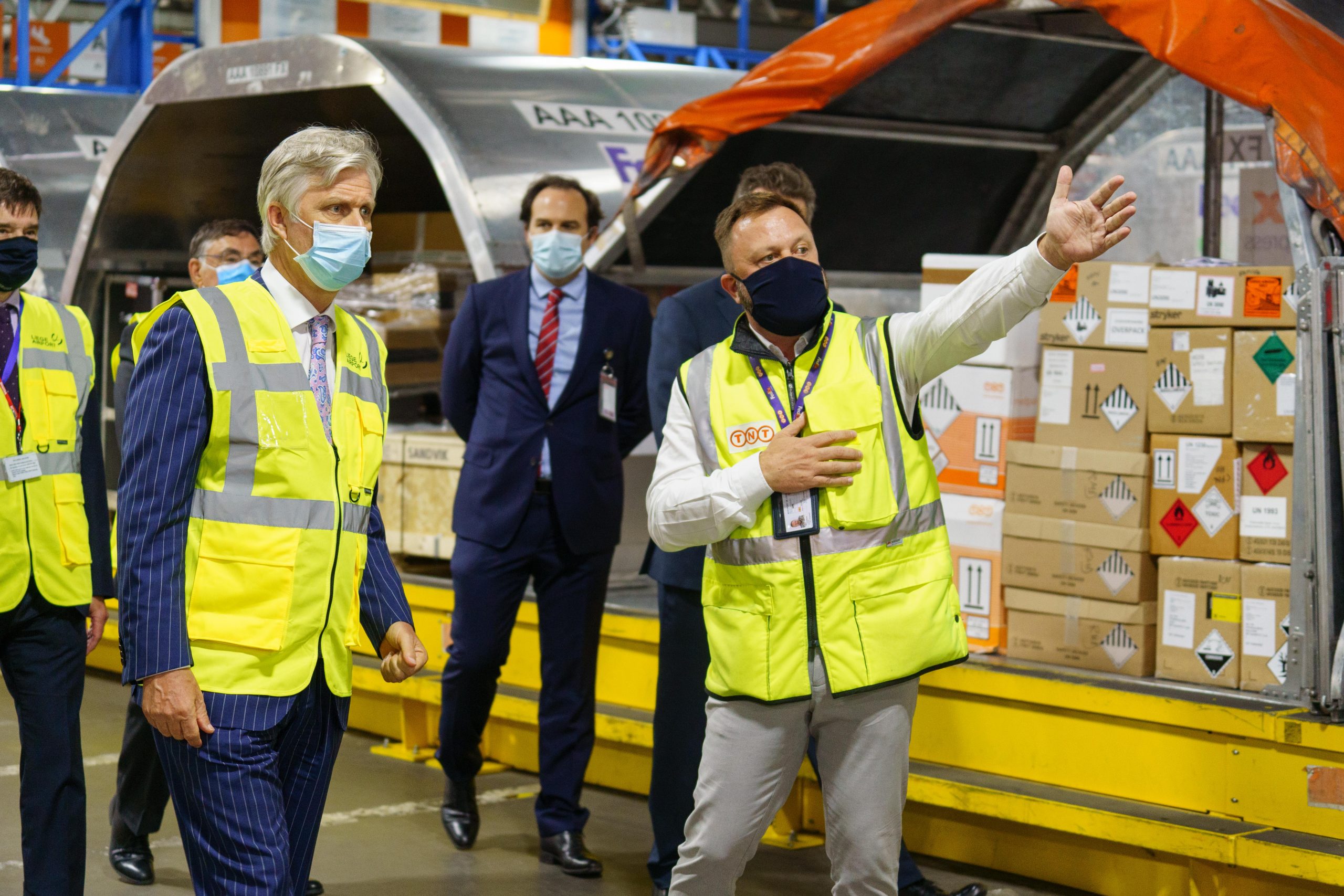 The Alibaba News Roundup is a weekly digest of events and happenings across the company. This week sees the release of Alibaba Group's Fiscal Year 2020 Annual Report. We also cover a keynote speech by Jack Ma at the World Artificial Intelligence Conference as well as comments from His Majesty King Philippe of Belgium on coronavirus-relief efforts carried out at Alibaba's eWTP hub at Liege Airport.
To receive the latest news direct in your inbox, sign up for the weekly Alizila newsletter.
Alibaba Group Publishes Annual Report
Alibaba Group on Friday released its Fiscal Year 2020 Annual Report. The report details the company's performance, developments and milestones in the 12 months ended March 31, including its reaching $1 trillion in gross merchandise volume for the first time. In a letter to shareholders, Alibaba Chairman and CEO Daniel Zhang said: "Even in a highly uncertain world, we can always find some certainty. We know without doubt that the ongoing digital transformation of our economy and society will be unstoppable." Read Zhang's full letter here and access the report here.
Jack Ma Speaks at World AI Conference
Alibaba founder Jack Ma spoke Thursday at the opening ceremony of the World Artificial Intelligence Conference. During the event, which was attended by prominent figures in science and technology fields, Ma said the Covid-19 pandemic had accelerated the pace of digital innovation, adding that human wisdom was essential in ensuring machine intelligence and technology capabilities are put to the best use to help solve global challenges. Click here to read more about the event.
King of Belgium Recognizes Alibaba, Liege Airport's Covid-19 Relief Efforts
During his visit to Liege Airport on Thursday, King Philippe thanked staff and key partners of the airport, which served as a critical air-freight hub during Covid-19, for their efforts in distributing medical supplies to Belgium and across Europe. The king joined a roundtable discussion with representatives from Liege Airport and its key partners, including Alibaba Group. He expressed appreciation for the Electronic World Trade Platform hub, which enabled the rapid distribution of supplies to some of the hardest-hit European countries following the coronavirus outbreak in February. In 2018, Alibaba and the Belgian Government established the first eWTP hub in Europe, partnering on initiatives to promote trade, technology, training and tourism between Belgium and China, as well as investing in the development of Liege Airport as a leading logistics hub in Europe.
New Research Center Launched to Accelerate AIoT Innovation
On Wednesday, Alibaba announced the launch of a new AIoT Innovation Center, which will bring together scientists and resources from across the company's units, such as Alibaba Cloud, DAMO Academy and Tmall Genie, to foster the development of artificial intelligence of things technologies – the synthesis of artificial intelligence and the internet of things. Ku Wei, who will head the new center, said it will serve as an "accelerator" to help small and medium-sized home-appliance manufacturers transition towards digital operations at lower costs and explore the potential of advanced AIoT technologies. The center will oversee three labs, one each for user-experience research, product development and developing new protocols for industrial design and quality management. In May, Alibaba pledged to invest RMB10 billion this year to strengthen its AIoT ecosystem surrounding its smart speaker, Tmall Genie, as well as to integrate more content and services across the company's platforms to elevate its user experience.
Ele.me Expands On-Demand Services in New Upgrade
To better meet the needs of China's growing on-demand economy, Ele.me on Friday announced a series of major upgrades to the app. Starting July 17, users will be able to make use of expanded door-to-door services and wider product selections in addition to the meal deliveries on which its original business was based. The app will also offer more video and livestreaming content as well as enhanced features, such as more-personalized user recommendations and a refreshed customer-loyalty program to reward users with more perks and benefits. Click here to learn more about the new Ele.me upgrade.
Kaola Sees Stars with Zodiac Customer Service
Want shopping recommendations from a straight-shooting Scorpio or logistics guidance from a meticulous Cancer? Kaola's Black Card members can now find such astrological assistance with a new feature that connects them with customer-service representatives of zodiac signs most compatible with their personalities or inquiry needs. This all-star service is one of the latest upgrades to Kaola's membership program. Black Card holders on the cross-border e-commerce platform can also enjoy a host of other specialized customer-service features as well as benefits such as coupons and discounts.
Ant Group Enters Blockchain Partnership with Cosco Shipping
Shanghai-based Cosco Shipping, one of the world's largest container-shipping lines, has inked a partnership agreement with Alibaba affiliate Ant Group to explore blockchain applications in the global shipping space. Ant said its proprietary blockchain technology can help streamline Cosco's shipping procedures and ensure that key information – such as container records and logistics certificates – are secure, tamper-proof and can be easily shared among stakeholders along the value chain, including shipping companies, harbor managers and supply-chain financing entities. Ant currently overseas the largest enterprise-oriented blockchain platform in China, capable of processing 1 billion transactions every day, per the company.