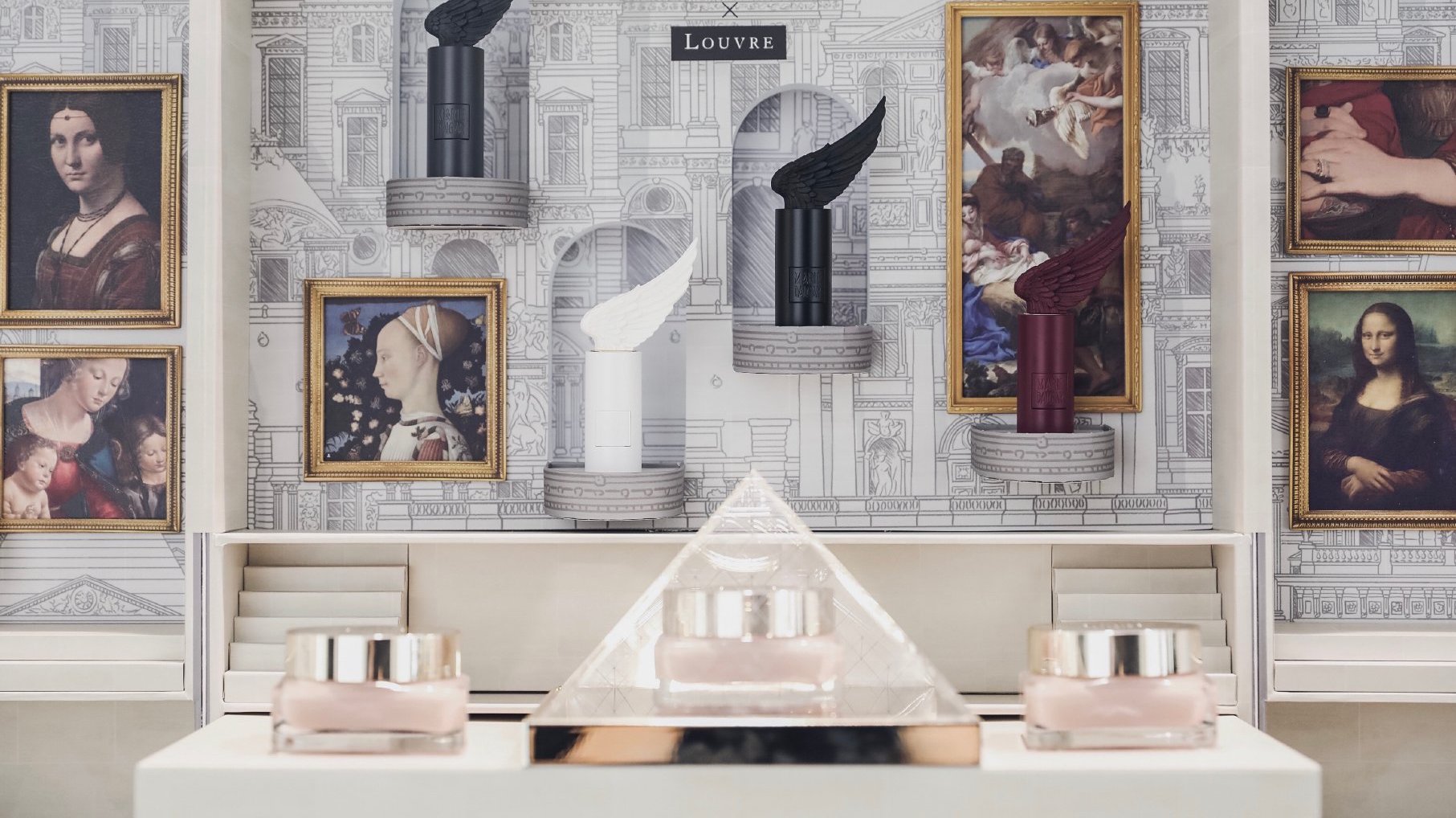 This week, French art museum the Louvre and Alibaba Group licensing branch Alifish set out on the path to (winged) victory after winning a nomination for a top industry award.
At the beginning of the pandemic, the two joined forces to create a work of art all of their own, culminating in a series of limited-edition consumer products based on the musée's masterpieces. This collaboration has earned recognition by industry body Licensing International.
In other news, Alibaba's logistics arm Cainiao Network stepped up its presence in South Korea this week with its first distribution center opening for business.
Alibaba, Louvre Collab Nominated for Award
Alibaba licensing platform Alifish was nominated this week by Licensing International's 2022 Asian Awards for its work bringing the wonders of French art museum, the Louvre, to Chinese consumers.
Paris-based Louvre joined forces in 2020 with Alibaba to launch a flagship store on B2C e-commerce platform Tmall and an Alifish content agreement was vital in this effort.
Alifish used data-analytic tools and licensing expertise to identify the most beloved among the Louvre's roughly 38,000 pieces of art.
The product-development team then used the findings to innovate various art-inspired items. These ranged from lipsticks in the shape of the Winged Victory of Samothrace to eye shadow compacts themed after the Venus de Milo.
The annual Licensing International Asian Awards recognizes outstanding achievements in the region's licensing markets. Judges selected Alifish and the Louvre's project from among 300 entries.
As the award process reaches its final stage, licensing executives from around the world are invited to cast their vote for their favorite entries online. The winners will be announced later next month.
Cainiao Ramps Up South Korean Presence with Distribution Center Opening
Cainiao launched its first distribution center and trucking route in South Korea this week to serve the group's e-commerce platform AliExpress.
Customers in the country can expect to receive their packages from Mainland China in three or more working days under the new set-up, which will see parcels sent to the centrally located distribution center just outside Seoul, before final delivery.
The new center is equipped with smart technology, including automatic assembly lines and smart distribution of small parcel sorting.
"The localized logistics network, along with a cost-effective logistics solution, will enable cross-border merchants to continue meeting consumer demands and improve their overall shopping experience," said Shawn Louis, Executive General Manager for Cainiao and Chief LazGlobal Logistics Officer.
Together these measures will cut operating costs by 10% and slash more than 12 hours from processing and handling times.
Cainiao's logistics upgrades come just in time for the upcoming March 28 sale, which has seen South Korean AliExpress customers ordering many parcels in past years.
"We look forward to achieving [the distribution center's] full potential during the upcoming 3.28 sale," he noted.
Last year, Cainiao launched a sea freight route between China and South Korea, with chartered ships operating six times a week.
Alibaba's DingTalk Sets Course for Commercialization
Alibaba Group's workplace communication and collaboration platform DingTalk laid out plans to commercialize its product suite for the first time this week, as it launched the latest version of its app.
"Commercialization is to promote a positive feedback loop in the digital ecosystem and [this], rather than subsidies, is what makes an ecosystem sustainable," said DingTalk's president Ye Jun.
The commercialization roadmap places greater emphasis on serving enterprise clients. Locally known as DingDing, the platform hit 500 million users worldwide in October.
In a three-pronged approach, DingTalk will sell three upgraded models to enterprise users that want more customized features.
At the same time, it will develop a commission model with independent software vendors and also foster relationships with hardware manufacturers.
Originally designed to provide digital services to small-to-medium enterprises (SMEs), DingTalk has built a following among large corporate clients, after integrating with Alibaba's cloud computing platform in 2020.
Read more here
Ant Group Appoints New Regional Head for Southeast Asia
Ant Group has named Jia Hang the Regional General Manager for Southeast Asia as the financial services platform bolsters its capabilities in the fast-growing region.
Based in Singapore, Ant's regional headquarters for Southeast Asia, Jia has over 20 years of experience in payments and financial technology.
"Amid a stronger push for businesses to recover and thrive by advancing digitally to innovate for the future, we must be right where our customers are," Jia said in a statement on Wednesday.
As part of this push, Jia said Ant would leverage Alipay+, a suite of cross-border mobile payments and marketing solutions launched in November to connect merchants with payment methods. It will also lean on an ecosystem of established industry partners.
He also noted that Ant would contribute to nurturing local tech talent with initiatives such as 10×1000 Tech for Inclusion. This open and global fintech training platform was launched jointly by the International Finance Corporation, a member of the World Bank Group, and Alipay in 2018.
Learn more about Jia's appointment here
Alibaba Appoints PAG's Weijian Shan As Independent Director to Board
Alibaba Group has appointed Weijian Shan, executive chairman of investment group PAG, as an independent director to its board.
The e-commerce giant will draw upon Shan's experience spanning the business worlds of both China and the U.S, as an investor, banker and academic.
"I believe Alibaba will benefit greatly from his deep knowledge across different industries and global perspective," said Daniel Zhang, Chairman and Chief Executive Officer of Alibaba Group in a statement on Tuesday.
Beijing-born Shan became PAG's chairman and CEO and founded its private equity business in 2010 after more than a decade as a partner at investment firm Newbridge Capital (now known as TPG Asia) and later at TPG.
Prior to his career in private equity, Shan was a managing director of U.S. bank JP Morgan, where he was the chief representative for China between 1993 and 1998. He was a farm laborer in China's Gobi Desert in his youth.
"His breadth of experience and depth of understanding are extraordinary… Alibaba is highly fortunate to now have Shan on its board," said Joseph Ferrigno, a private equity and credit veteran in Asia and Founding President of the Wharton Club of Hong Kong.
Read more on Shan and his role on the board here
Alibaba Boosts Share Buyback To Record $25 Billion
Alibaba Group said it will hike its share repurchase program to $25 billion from $15 billion, the largest ever buyback undertaken of a Chinese internet stock.
Announcement of the buyback, which will run for two years through March 2024, sent Alibaba's shares over 11% higher in Hong Kong trading to close at HK$110.20.
"The upsized share buyback underscores our confidence in Alibaba's long-term, sustainable growth potential and value creation," said Alibaba Group's Deputy Chief Financial Officer, Toby Xu.
As of March 18, the company has purchased 56.2 million American depositary shares (ADS) under the previously announced buyback program for $9.2 billion.
Scooping up its own shares is a mark of faith by Alibaba in its continued growth despite pandemic-induced headwinds. Alibaba's ADS price has tumbled 56% in the past year.
"Alibaba's stock price does not fairly reflect the company's value given our robust financial health and expansion plans," said Xu.
Read more here
Alibaba Cloud Makes Net Zero Targets Personal with Carbon Tracking Tech
Chinese schools and communities are tapping Alibaba Group's cloud computing arm to build personal carbon accounts as the country vows to become carbon neutral by 2060.
Alibaba Cloud launched its Energy Expert platform in February this year, allowing people to track their carbon footprint and receive credits worth money when making low-carbon choices.
"The platform is designed to encourage people to adopt low-carbon behaviors and be environmentally accountable," Chen Lijuan, General Manager of Product and Solution at Alibaba Cloud, told Alizila.
Expect to earn 200 carbon credits when you lick your plate clean and 554 credits if you take the subway, according to the measurement system devised by Guangzhou-based certification body CEPREI, in partnership with Alibaba Cloud.
More than 1,492 companies and communities use the platform, which has helped them save roughly 394,000 tons of carbon dioxide emissions, according to Alibaba Cloud.
Find the full story here