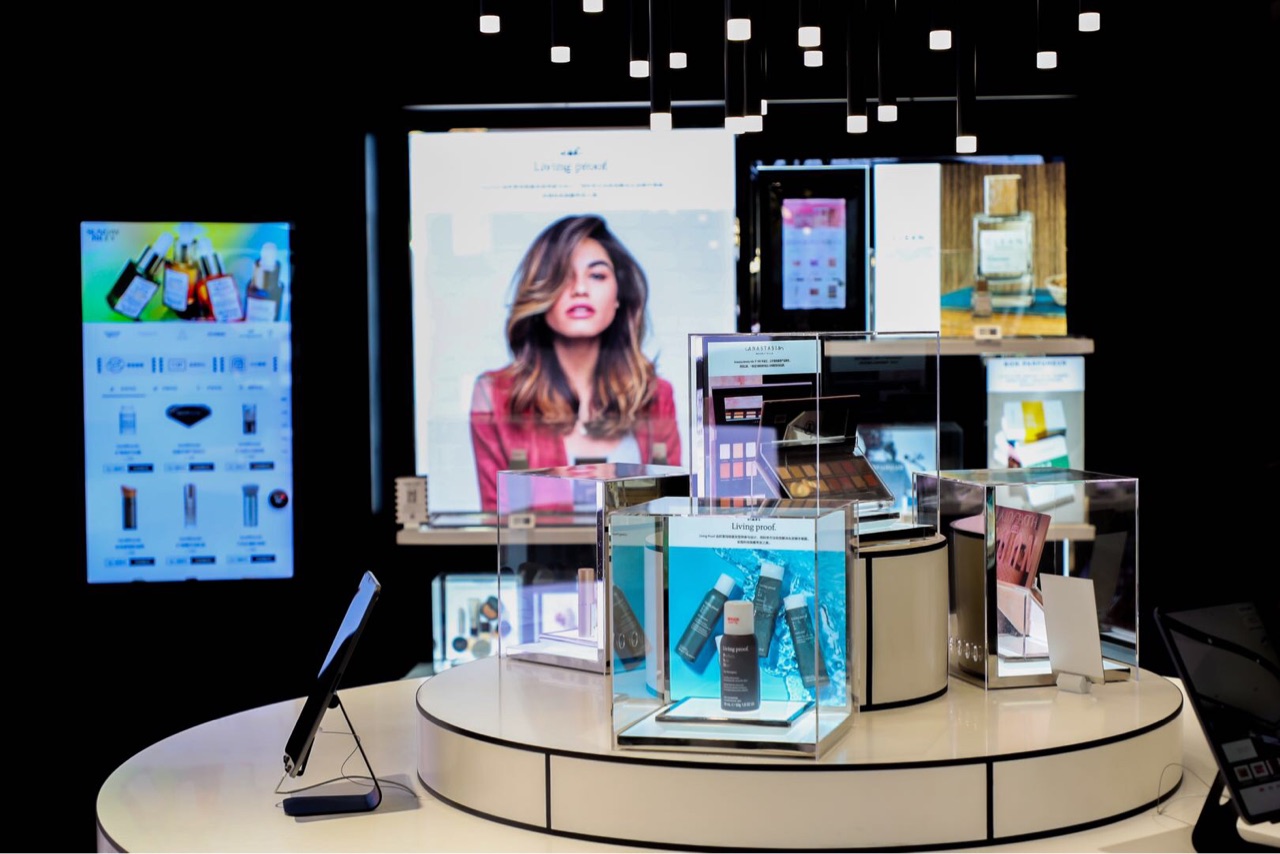 The Alibaba News Roundup is a weekly digest of events and happenings across the company. This week, we look at Alibaba's earnings for the fiscal year ended March, a GMCC webinar with some of the world's leading infectious-disease experts, and the increase in luxury spending on Tmall as shopping-starved consumers come out of quarantine.
To receive the latest news direct in your inbox, sign up for the weekly Alizila newsletter.
Alibaba Announces Financial Results for Fiscal 2020
On Friday, Alibaba Group reported solid revenue growth and a new milestone of US$1 trillion in gross merchandise volume transacted across the Alibaba Digital Economy in the fiscal year ending March 31, 2020. Read the press release covering the results in more detail here.
Experts Discuss Covid-19 Vaccine Research at GMCC Webinar
More than 500 medical experts worldwide joined a Monday webinar hosted by the Global MediXchange for Combating Covid-19, the platform launched by the Jack Ma Foundation to share medical insights and best practices in fighting the pandemic. The two-hour discussion homed in on recent advances in the development of Covid-19 treatments and featured presentations from leading infectious-disease researchers David Ho, Paul Kellam, Sharon Lewin and Linqi Zhang.
Alibaba Invests in AIoT Ecosystem, Debuts KFC-Themed Smart Speaker
During a Wednesday press event, Alibaba Group announced plans to invest RMB10 billion ($1.4 billion) this year to expand its artificial intelligence of things ecosystem surrounding its flagship smart speaker, Tmall Genie. Separately, Alibaba has partnered with fast-food chain KFC to co-design a smart speaker bearing the image of the franchise's famed founder, Colonel Harland Sanders. Consumers will be able to use the KFC-themed Tmall Genie to order breakfast items from over 5,000 locations in China.
'Revenge Buying' on 5.20 Fuels Luxury Rebound
Alibaba's B2C e-commerce site Tmall said it saw a growing trend of "revenge buying" this month, as Chinese consumers indulged in spending sprees to make up for time lost in lockdown. The platform reported record-level participation from luxury brands for its 5.20 sales campaign on May 20, an unofficial romantic holiday that's celebrated in China as the date said aloud in Mandarin sound close to "I love you." More than 150 premium brands debuted 5,000 new products and those such as Cartier, Longines, Chanel, Yves Saint Laurent Beauty and Tom Ford released special-edition gift boxes for the event. Tmall's luxury division said consumers placed over 400,000 orders of luxury goods that day, while total luxury spending increased by 61% year-over-year. On the eve of 5.20, French luxury fashion house Chloé also broadcast its first official livestream and drew over 62,000 views, while Balenciaga raked in 38,000 new followers shortly after opening its flagship store on Tmall's Luxury Pavilion.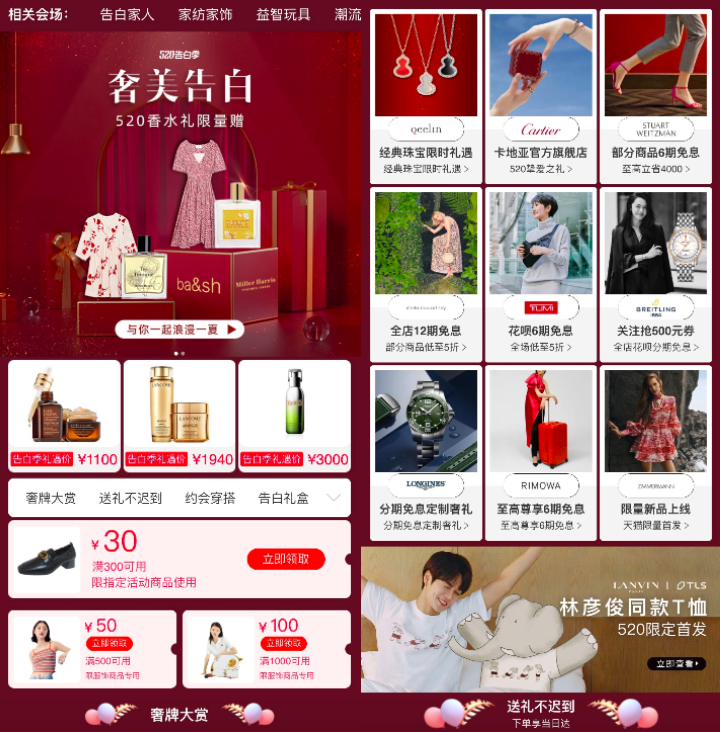 Sephora Launches New Online Store on Tmall Global
LVMH-owned global cosmetic chain Sephora on Wednesday launched its online store on Alibaba's cross-border e-commerce platform Tmall Global to fulfill Chinese consumers' growing demand for overseas beauty products. The store offers more than 600 products from 25 brands, including emerging and cult-favorite cosmetic brands such as Sunday Riley and Natasha Denona. There's also an offline component to the campaign, where shoppers in Shanghai can physically browse, experience and purchase featured products in store. The 80-square-meter display area features interactive technologies, including a "magic mirror" for augmented-reality makeup trials and "cloud shelves" for consumers to explore products virtually. For more news on brand partnerships, visit our Brand Page here.
For Museum Day, Alibaba Brings Cultural Heritages to Consumers
On International Museum Day on May 18, Alibaba rolled out a livestreaming campaign for people to explore museums and cultural heritage sites online. Museums around the world that have been forced to close during the pandemic employed Taobao Live, Alibaba's livestreaming platform, to give virtual tours of their artefacts and exhibitions. Close to 100 museum directors and cultural gurus joined the campaign to host tours and to interact with viewers via livestream. Meanwhile, in China, there's been a surge in interest for cultural and museum-related products among consumers. During the pandemic, some museums have even partnered with Alibaba's on-demand delivery platform Ele.me so that consumers can conveniently shop for gift-shop items and have them delivered directly to their homes.
Lazada Sees Uptick in Livestreaming Amid Pandemic
Alibaba's flagship e-commerce platform in Southeast Asia saw over 27 million active viewers on its LazLive livestreaming platform last month as more brands used the tool to connect with consumers during the Covid-19 pandemic. Last month, total gross merchandise volume generated via LazLive increased by 45% from the previous month. Lazada said it aims to further increase its daily livestreaming sessions by 50% and grow total viewers by 40% by the end of June. It also leveraged the growing popularity of the livestreaming tool to drive donations for countries hit by the coronavirus, such as by holding the Music for Charity LazLive series in Thailand, where it's been matching each view with a THB 1 donation to local hospitals. During Ramadan in Indonesia, it is donating IDR 2,500,000 for every 10,000 views – and up to IDR 25,000,000 per episode – to Indonesia's national Zakat agency, BAZNAS.
Cainiao Preps for Alibaba's 6.18 Campaign
Alibaba's logistics arm Cainiao said it's prepared to support the expected surge in online-shopping demand in what would be China's biggest sales event since the outbreak of Covid-19. It plans to increase overall shipping speed – with some products delivered in under an hour – while strengthening fulfillment services for small and medium-sized businesses, manufacturers and farmers. Its Cainiao Post pick-up stations also installed new contactless technologies, allowing consumers to pick up their packages within seconds using designated order codes. Meanwhile, a fleet of self-driving delivery carts across some universities and residential areas in Shanghai, Tianjin, Zhejiang and Sichuan has been launched to deliver packages straight to consumers' doors. Cainiao also plans to deploy over 100 dedicated chartered flights and 20-plus China-Europe freight-train lines to support cross-border shipping during the sales campaign.
Ant Group Releases New Corporate Responsibility Report
On Thursday, Ant Financial Services Group published its 2020 Corporate Social Responsibility Report, detailing some of the company's efforts over the past year. As of the end of 2019, its online private commercial bank MYbank had served 20.87 million small and micro-enterprises and individually owned businesses, of which 80% had never obtained a business loan from a bank before. In late January, Ant launched a dedicated section on Alipay for services related to Covid-19, including real-time coronavirus updates, online medical consultations and grocery deliveries. As of mid-February, these services have saved users from making at least 90 million trips out of their homes during the pandemic, per the report.
Daraz Launches Online Gaming Platform in South Asia
Daraz on Tuesday launched a new online gaming app in collaboration with India's Paytm First Games. The new platform, Daraz First Games, aims to become the leading mobile gaming destination in South Asia and will leverage popular titles from Paytm First Games. According to Edouard Gheerbant, chief growth officer of Daraz Group, the platform will "enable Daraz to capture the fast-growing mobile games market opportunity" in the region. Games on the app encompass different genres, from online sports tournaments to multiplayer challenges, and many will allow players to earn points that can be redeemed as vouchers for use on Daraz's e-commerce platform. The app has already launched in Bangladesh and will soon be made available in Pakistan, Nepal, Sri Lanka and Myanmar as well.