Alibaba Group's global mathematics competition announced its 2023 winners over the weekend, crowning the youngest-ever prize winner to get full marks in the history of the five-year competition.
Research institute DAMO Academy unveiled the results at a ceremony at Peking University on Sept. 16. Qu Xiaoyu, a 17-year-old sophomore at the university, earned a perfect score in the competition to claim first place alongside three others.
The four stood out among 685 contestants across 19 countries in the final round after making their way through 50,000 entrants in the qualifiers. The four gold winners each received US$40,000 in prize money.
The competition also awards six contestants with silver awards, 10 with bronze and 50 with honorable mentions. In the five years since its launch, the competition has attracted more than 250,000 participants from over 70 countries and regions.
How One Food-Delivery App Cut Single-Use Plastic With A Tweak
Small lifestyle changes can make a big impact when adopted at scale. In China, the country of big numbers, the results can be dramatic when consumers make greener choices.
Economists explored how businesses in the world's second-biggest economy can "nudge" online shoppers to become eco-friendlier in partnership with delivery platform Ele.me.
By turning the default option on app to "no cutlery", Ele.me pushed up the share of utensil-free food deliveries by 648% versus a control group.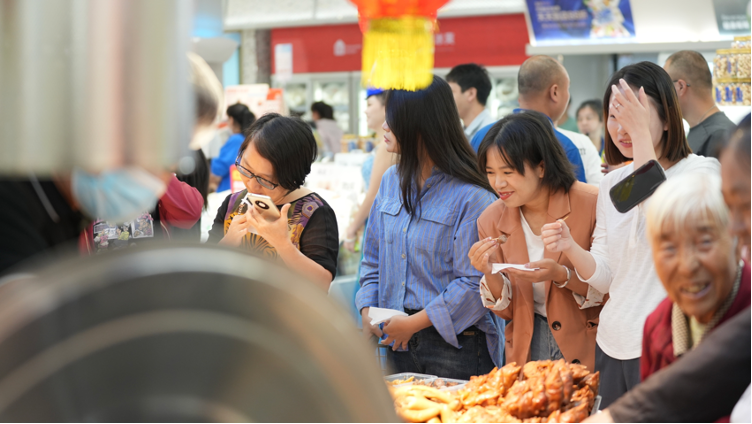 Freshippo Opens a Store a Day in September Expansion Frenzy
High-tech supermarket chain Freshippo is unveiling 30 stores across China in September, averaging one opening a day to keep up with consumer appetites for fresh food from around the world.
Freshippo has become one of the largest supermarket chains in China since launching in 2015, and by the end of September, the company will have over 350 stores in total.
The latest openings include 16 Freshippo Xiansheng supermarkets, whose name means "fresh food" in Mandarin and feature a variety of local and overseas fresh and packaged foodstuffs that can be bought in-store or ordered online.
Learn more about the spate of openings
Pack Leader: Timberwolf Attracts Following Among China's Pet Owners
American premium pet food brand Timberwolf showed its wild side at Pet Fair Asia 2023 in Shanghai last month, with colorful displays featuring the predatory ancestors of our modern fur babies.
The event, which marked its 25-year anniversary this year, is the largest pet supply exhibition in Asia and drew more than 250,000 visitors to see 2,200 exhibitors over four days.
For first-time joiner Timberwolf, this was a moment 15 years in the making. The brand launched in China in 2008 but struggled to gain a foothold among local consumers until three years ago when Timberwolf partnered with cross-border marketplace Tmall Global to broaden its reach.
Alibaba Pictures Buys Live Entertainment Brand Damai Amid Events Revival Across China
Alibaba Pictures is buying the operator of offline entertainment business Damai for US$167 million as China's live entertainment industry recovers post-pandemic.
The Hong Kong-listed movie producer plans to expand Damai across the live entertainment value chain, magnifying its advantages of scale, raising barriers to entry, and building brand awareness for its offline entertainment business.
"We believe this transaction heralds a new chapter for the new Alibaba Pictures," said Jie Li, President of Alibaba Pictures.
Discover more about China's live entertainment renaissance
A Third of U.S. Small Businesses See Supply Chain Snags Hurting Trade: Survey
Global supply chain concerns are on the minds of nearly half (46%) of American small-business owners, and over a third (38%) expect these factors to dent corporate performance, a poll commissioned by B2B e-commerce platform Alibaba.com revealed.
The survey of more than 300 American small businesses reflects a challenging international economic environment. To overcome these hurdles, many small businesses are looking to digital solutions.
Roughly a third (34%) of survey respondents cited digital payments as the most useful digital sourcing-related tools for small businesses, followed by package tracking and prompt delivery (26%), money-back and easy return policies (17%) and after-sale protection (11%).